BREWzilla got off to a great start as soon as we walked in the door. We received our tasting glasses which were 5oz in size and they came with the Cleveland Beer Week logo printed on the glass. We also received our tasting tickets which were conveniently attached to a lanyard which made them as hands free as possible. Finally, we got to pick up our Cleveland Beer Week T-shirts.
As far as the set up was concerned I thought they did a great job spacing out the breweries and that allowed plenty of room for the masses of people to walk around without feeling crowded at all. I also think it helped to cut down on the wait time for a sample. The most I waited all night for a sample was only a few minutes. The breweries were spread out all over the Galleria, but organized very well. On the first floor the Ohio breweries were all grouped together which I liked because it gave us a chance to really see and appreciate just how good we have it! The Food Court had some great food from Winking Lizard and Heinen's. We had a great cheese steak from Winking Lizard which really hit the spot after many samples of great craft beer! Other types of food, such as Giant Pretzels, were also available as you walked around. There was also live music being played the entire night. On the second floor the Brewers Circle was set up in a private area. Inside there was an excellent selection of more unusual beer and the collaboration brews that were special for Cleveland Beer Week. I really enjoyed my time in the Brewers Circle. I really enjoyed speaking with the many brewers who were in attendance. Most were more than willing to talk it up about their brews. The whole event was simply amazing and everyone that was there with me all agreed that we cannot wait until next year already! Great job Cleveland Beer Week!!!
Now...My list of samples in the order that I sampled them.
Founders Breakfast Stout
Buckeye Pumpkin Dead
Lagerheads Bedhead Red
Hoppin'Frog/Rocky River collaboration Rocky Frog Imperial Porter
Great Lakes/Cellar Rat collaboration Berlot Barrel Aged Strong Ale
Fat Heads/BlackBox Wet Hopped IPA Hop Along Cascadey
Brew Kettle White Rajah IPA
Hoppin Frog IPA
Laguniatas Hop Stoopid
Bear Republic Hop Rod Rye
Green Flash West Coast IPA
Harpoon Leviathan
Weyerbacher Hops Infusion
Buckeye Hippie IPA
Indigo Winter Solstice
Total Weihenstephaner Original
Willoughby One Hopper Crystal IPA
Ohio Brewing Old Happy
Brew Kettle Red Eye PA
Breckenridge Lucky U IPA
Northcoast Acme IPA
Hoppin Frog Boris

Rocky River Granger City Stout
I am not even going to attempt to review the beers from last night because when you sample so many different types in one evening it really isn't fair. I will however be going out to buy some of my favorites from the evening to do Brew Reviews on in the coming weeks. My top five brews of the night are...
Brew Kettle White Rahja IPA
Fat Head's Head Hunter IPA
Buckeye Pumpkin Dead
Green Flash West Coast IPA
Founders Breakfast Stout
My Cleveland Beer Week In Review
O

n Friday the 15th I attended the Winking Lizard 10-10-10 Tapping at the Bedford Heights Location and then headed over to the Fat Heads IPA Fest--

Check out the Review
On Saturday the 16th I had dinner at Beer Engine and was there for the tapping of a new Lagunitas Brew!---Check out the Review.
On Monday the 18th I attended attended the Heinen's Hop Tasting Event. Glenn from Heinen's really had a great selection to taste from along with having several cheese and cracker snacks to refresh our tastebuds from all the different hops! A wonderful start to the week!
On Thursday the 21st I attended the Winking Lizard event in Bedford Hts with Buckeye Brewing---Check out the Review
On Friday the 22nd I attended Melt in Cleveland Heights for dinner and some Cleveland Beer Week Specials!---Check out the Review
On Saturday the 23rd I attended BREWzilla!!
My Cleveland Beer Week "Awards" for Best Brews I had During Cleveland Beer Week
Being a Hop-Head I attended a few events that were all about Hops. So I had many IPA/Imperial IPAs this week... here are my Top 5 NEW IPA/Imperial IPAs that I've never tried before:
Brew Kettle White Raja IPA

Bear Republic Mach 10

Pizza Port Whambo
Being the fall season I also had a good number of different Pumpkin style ales. Here are my Top 5 Pumpkin Ales:
Buckeye Pumpkin Dead
I only had a handful of Stouts this week but one really stood out far and beyond the rest.
I had the chance to try all 3 of the Dogfish, Stone and Victory Saison du Buff. My top choice: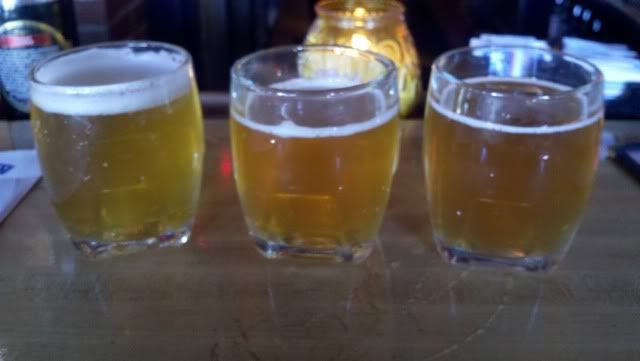 Stone is in the Middle