On the 2nd to last night for Cleveland Beer Week I choose to stop in Melt to try out their selection of unique drafts from Dogfish, Stone and Victory, as well as try out one of their famous grilled cheese sandwiches.
Food---With many tasty options to choose from I narrowed it down and selected the Porky Cheese. The sandwich came with two hearty pieces of perfectly toasted bread that were stuffed with honey ham, crispy bacon, and Swiss cheese. It also came with some hand cut fries. I was a big fan of this sandwich because of how well all of the flavors melted together yet they still worked on their own to give the sandwich different flavors. The heated honey ham became a little softer and it really allowed it to let its honey flavors come out. The bacon however was very crispy which played well with the softer ham. The cheese was melted all over everything which really helped to connect flavors. The bread was another play on texture because it was buttered and toasted to perfection.
My girlfriends choice was the Spinach Pie. It came with

wilted garlic spinach, roasted red peppers, grilled onions, and feta cheese.
This sandwich was excellent too. So good in fact that I'll be getting it for myself the next time we go back. This sandwich was all about textures and flavors as well. On the soft side there was wilted spinach, peppers and onions. On the tangy and salty side you had the feta which paired amazingly well with the spinach, peppers and onions when heated up and allowed to soften up from its normally drier and crumbly texture On the crispy side you had that wonderfully buttered and toasted bread again. The fries that came with the meal were hand cut and flavorful. We both really enjoyed our food and we thought the use of flavors and textures was done well. 4.5/5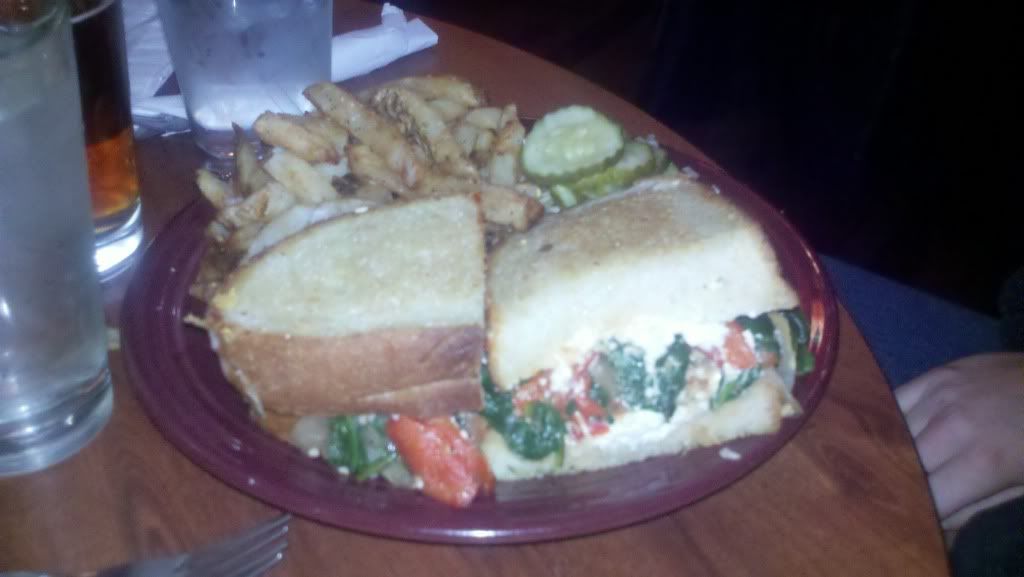 Drinks---Being Cleveland Beer week they had some special brews on tap, but even outside of Cleveland Beer week their draft and bottle list is extensive and beer drinkers are sure to find something that they are going to enjoy. Tonight I enjoyed a wonderful stout by Dogfish Head called "Miles Davis Bitches Brew". I also got the special sampler of the Saison Du Buff that was brewed in collaboration between Dogfish Head, Stone Brewing Co, and Victory Brewing Company. Here is an excerpt from Dogfish explaining the process used for this special beer. "Saison du BUFF will first be brewed at Stone and then replicated at each of the other two breweries - same recipe, same ingredients, three different breweries throughout 2010. Plans call for Saison du BUFF to be a 6% alc/vol Saison brewed with parsley, sage, rosemary and thyme. This beer will be brewed three times, once at each brewery using the same recipe." I thought this was a really cool idea and I had to try all three. The sampler came with three 6oz pours which allowed me to really taste the three together many times. In the end I liked the Stone version the best, Dogfish just narrowly edged Victory for second. Finally, I had the Heavy Seas Mutiny Series-The Great Pumpkin. This Pumpkin ale was simply amazing! For a detailed review click on the beer's name or go to the CraftBeer Review Page. 5/5
Heavy Seas Mutiny Series-The Great Pumpkin
Overall---I started my night at the bar while I waited for company to arrive. My service was fast and friendly. The bartender that was serving me was very engaging and really knew her beers! Once I put my name in for a table it only took about 20 minutes to get seated. At Melt that is very fast because they are usually so busy, but were were lucky and went early in the evening before the rush. Once seated our waitress continued the fast and friendly service. After we ordered our food only about 15-20 minutes elapsed and our food was at our table. The atmosphere of Melt is fun, laid back and friendly. With the combination of really creative and tasty food, a killer beer selection and good service you can see why people rave about Melt even though it is only "Grilled Cheese Sandwiches." 4.5/5