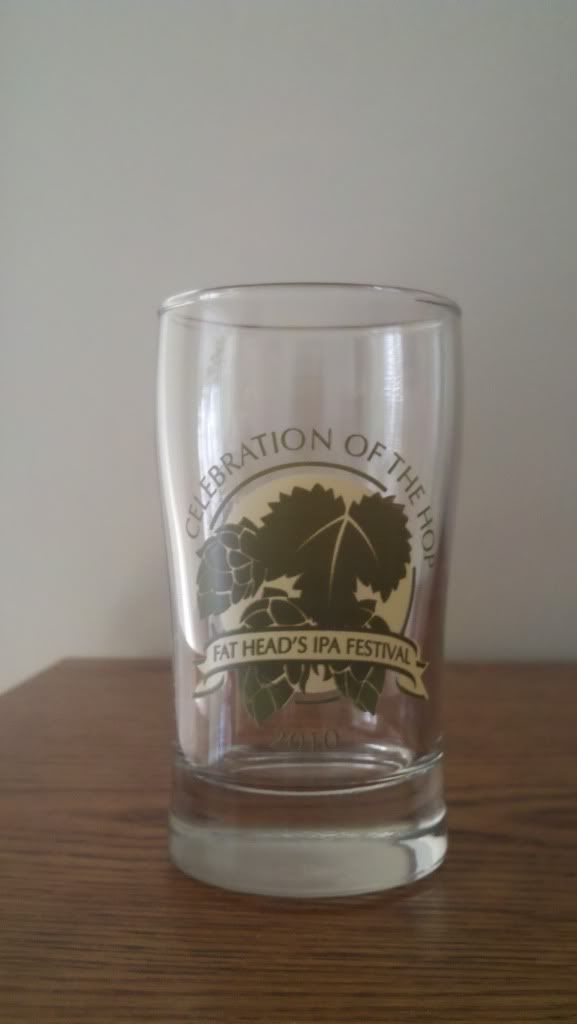 The Event---The Fat Head's IPA Fest was a huge success in my eyes. The venue for the event was outside on the front patio under a large
tent. This was very nice because it kept everyone comfortably warm and out of the wind but it also allowed you to freely walk back into the restaurant to visit others who were not doing the tasting. They had the perimeter of the tent set up with tables for the different beers (They had about 30-35 beers to choose from.) The beers were clearly labeled with signs that gave information about the brewery, location, beer name/type, ABV and most also had the IBUs. The sample glasses were 5oz in capacity and very nice. Each pour filled the glass to the top so it really gave a good tasting opportunity over say a 3oz pour. There was also some live music. What I really liked about the music was that it wasn't too loud! I could freely talk to anyone without having to yell. Speaking of talking to people, I met some of the owners and the brewmaster last night. They were a pleasure to talk to and they really did a fantastic job of hosting an event that is sure to draw more and more people every year. I appreciate that they limited the number of tickets because it made walking around and getting another sample a breeze. The longest I had to wait for a sample might have been 1-2 minutes tops! This was a great event for HopHeads and a great start to Cleveland Beer Week.
Food---(This is more of a mini-review since my main focus was on the Beer Tasting Event.) Our Designated Drivers had a table inside and once again our food was very good. We kept it very simple since my friend and I were going back and forth from tasting to the table to visit our girlfriends. Chicken fingers, mild wings and fries were all that we ordered. Everything was excellent and the order came out quickly despite being very busy. I love the chicken fingers because they are very lightly breaded in what is a fine breading. This makes it so you are not eating lots of breading which you find on lots of chicken fingers. I picked the buffalo sauce which was spicy, but not too spicy to the point where it would hurt my tastebuds for the beer tasting. The fries were fresh and crispy and with a little malt vinegar they were excellent! The wings were also very good and the mild sauce has very good flavor without all the heat.

The Beers---
I had a chance to sample the following beers in this order. I choose these ones over others because I have never had any of these before. (Except Head Hunter which I had to have again!) To be fair in my tasting I rinsed the glass after every beer and I also took a few notes along with every beer I sampled so I could fairly rank them and also give a quality Brew Review!
Bear Republic Mach 10
Pizza Port Jetty IPA
Pizza Port Get Wet-Wet Hop IPA
Fat Head's Hop-a-Long IPA
Coronado Idiot Double IPA
Columbus Super Fresh H-O-P IPA
Sierra Nevada Estate Homegrown Organic Wet Hop Ale
Flying Dog Double Dog Double Pale Ale
Buckeye Brewing Black IPA
Ithaca Flower Power Imperial IPA
Pizza Port Whambo IPA
Pizza Port Welcome Back Wipeout Double IPA
Fat Head's Head Hunter IPA
Fat Head's beers were not entered in the Tasters Choice contest so I will not enter them in my rankings although I can say they would rank pretty high. (Head Hunter is one of my Favorite IPAs ever.) My ranking of the beers from my favorite to my least favorite are as follows:
Bear Republic Mach 10
Pizza Port Whambo IPA
Ithaca Flower Power Imperial IPA
Pizza Port Jetty IPA
Columbus Super Fresh H-O-P IPA
Pizza Port Get Wet-Wet Hop IPA
Flying Dog Double Dog Double Pale Ale
Pizza Port Welcome Back Wipeout Double IPA
Coronado Idiot Double IPA
Sierra Nevada Estate Homegrown Organic Wet Hop Ale
Buckeye Brewing Black IPA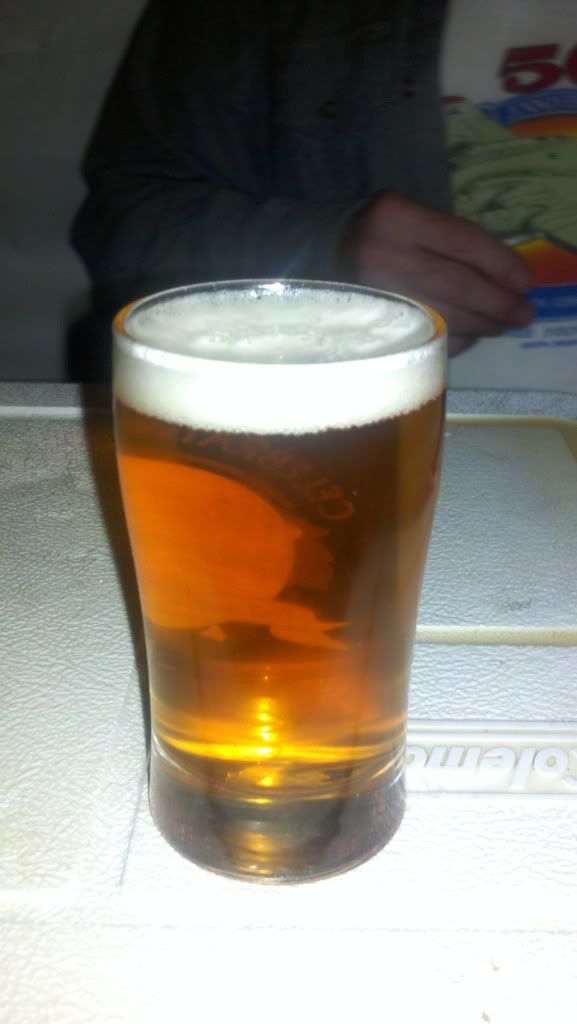 The Bear Mach 10 really blew me away. It had such an amazing citrus smell that before you even drank it you loved it. Then as you drank it the hops and citrus combined to give you an extremely drinkable beer that was 125 IBU and 9.2% ABV. As a HopHead those 125IBU were so well done that I think that put it ahead in my mind. In a competition with so many great beers it was really hard to pick my favorite, but I had to and the Bear Mach 10 was my pick of the night. I also thoroughly enjoyed the Whambo IPA from Pizza Port. My least favorite was the Buckeye Black IPA simply because I felt it was too heavy of a beer compared to the rest. That being said it was not bad at all and I do plan on picking up a 22oz bottle during Cleveland Beer Week because of its unique flavor!
Look for individual reviews of these beers on the
Craftbeer Review
page throughout Cleveland Beer Week. I'll be sure to post an update on Twitter and Facebook when a new Brew Review is available. Also, if you are not a follower on the blog, sign up through Google Friend Connect and you can get updates that way as well.