The group at
Emerging Chefs
really did it this time. The venue they choose was on the top floor of building 44 in the Tyler Village. Tyler Village is one of the largest urban redevelopment projects in the country. These old factory buildings are being revitalized and repurposed for businesses who want to stay in downtown Cleveland. Emerging Chefs picked a room that has yet to be refinished. This allowed them to take a blank canvas and put their spin on it. What was amazing was how the venue transformed as the night went on. As the natural light decreased the interior lighting seemed to change the venue. Here are a few pictures to give you an idea of what I'm talking about.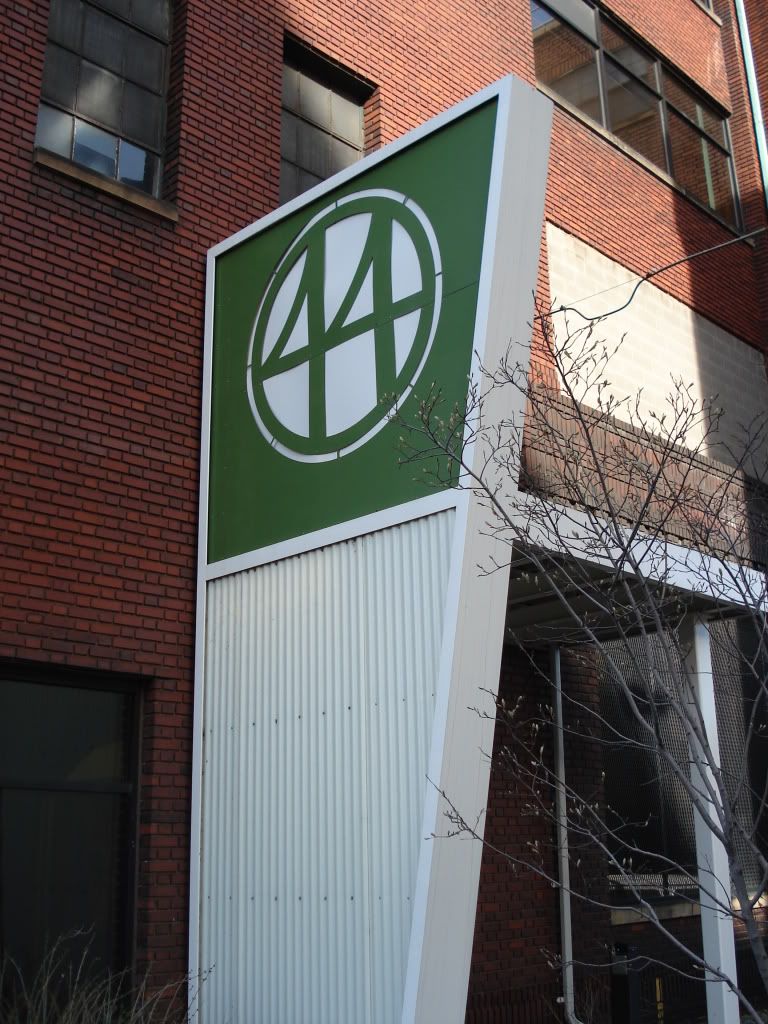 Beginning of the Night
End of the Night
The Chef behind this great meal was none other than Chef Ellis Cooley of
Amp150
. We were also pleasantly surprised to have Chef Adam Bostwick of
Melange
helping out and adding a few additions to the menu as well!
Amuse-Adam
. This featured tomato leather, bocconcini, and spring pea puree topped with chroizo oil and micro greens. The chorizo oil had a spicy kick to it which completmented the freshness of the bocconcini and the spring pea puree. It was paired with a lavender champagne. What a great way to start the meal!
First Course--
Yellowtail and Hamichai Crudo with a puree of apples and dill. It also came with gelled celery. The flavors here were all very fresh and light. Individually, the components to this dish were good, but when put together in one bite they merged into something so much more. The puree added a creaminess to the jelly-like texture of the celery and the soft texture of the fish. I really enjoyed this first course.
Second Course--
Torchon of Foie Gras. This came with a play on Ice and Snow and a brioche funnel cake. It was paired with a glass of Pinot Gris. The Foie Gras itself was great, but what had the table buzzing was the "ice and snow". The white powered which looked like powered sugar was really Foie Gras that Chef Cooley created via some molecular magic! The Ice was really gelled ice wine. The brioche funnel cake was a fun way to tie in with the Foie Gras. Once again we realized that when you merge all of these components into a single bite the flavors were simply outstanding.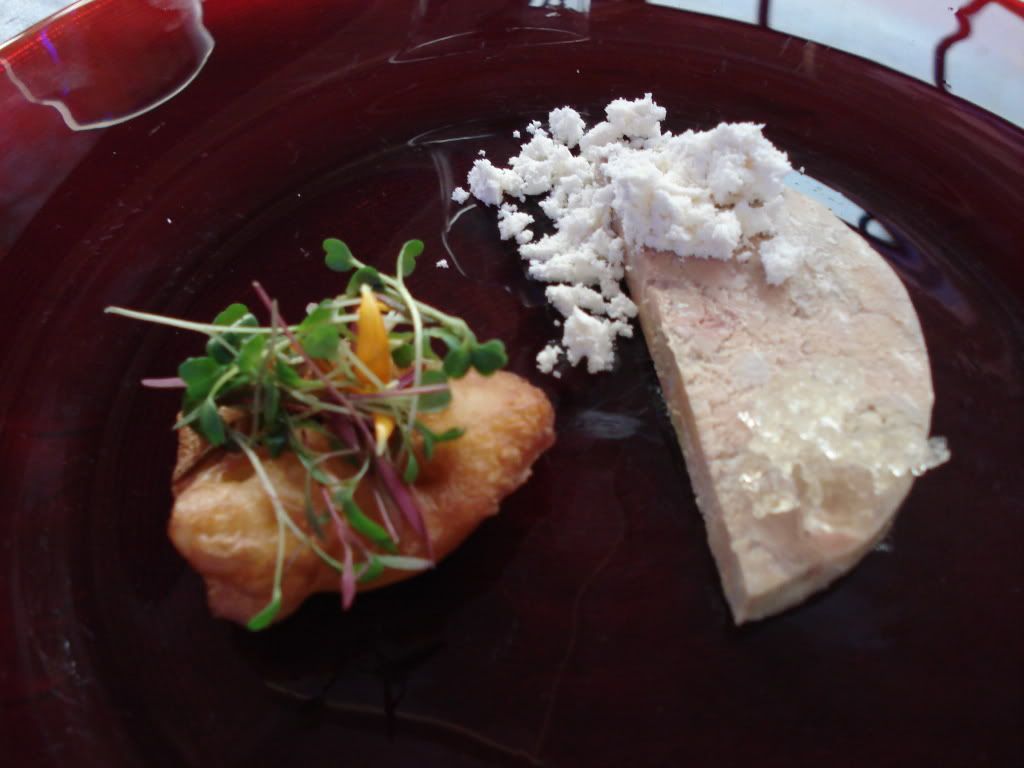 Third Course--
Pea and Coconut Soup with a homemade marshmallow, carrot jelly and a crispy tulie topped with a dusting of carrot. It was also served with Pinot Gris. The first thing I hope you notice about this dish is the color. To the eye this dish was a piece of fine art that totally fit the theme of dinner by design! Once our spoons got to work our palates became very happy. We learned very quickly from the first few dishes to combine everything into one bite. The soup was rich and savory while the marshmallow added another type of creamy sweetness. The carrot and pea flavors stood out the most to me. I would love to see this Pea and Coconut Soup on the AMP150 menu because this was simply amazing.
Next we were served the
Adam-Intermezzo
. They carved out a slice of lime and created a faux tequila shot. What you see is actually a mixture of cilantro, lime juice, jalapeno, agave syrup and salt. It was turned into a jelly using agar agar! Since it was a "shot" I decided to eat the entire jelly like portion all at once. The first flavor to really hit me was the lime and the salt. It was a very fresh taste that quickly was followed by a good amount of heat from the jalapeno. The creativity that went into this one little "shot" was amazing and had our table impressed!
Fourth Course--
This was called Black and White. It featured Bay Scallops, Farro and Squid Ink. It was served with Pinot Noir. The scallops were prepared perfectly. The interesting part of this dish for me was the farro. I've never had it before and to me it was a cross between the texture of rice and cous cous. The farro had a whole grain like texture and flavor to it and the squid ink added a salt flavor to it as well. I very much enjoyed eating the soft scallops with a bite of farro for some added texture.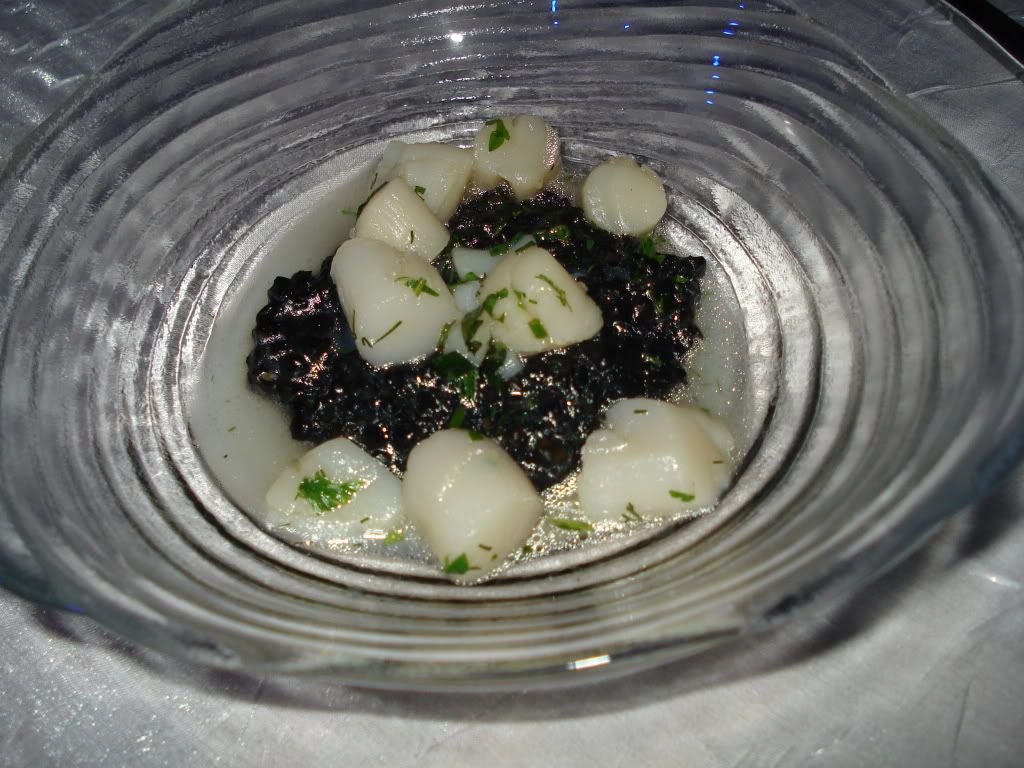 Fifth Course--
Herbed Lamb Loin with Cippolini Soubise, Fava Beans, and a spiced chip. The lamb was very tender and flavorful. The soubise was creamy, while the chip was packed with flavor, most notably cheyenne and anise. The fava beans and lamb clearly made my mind reference Silence of the Lambs!
Sixth Course--Dessert--
The description that we were given said "Bacon, Sour, Apple, Sweet." We kept asking ourselves what in the word does Chef Ellis have up his sleeve. Then out came a dessert with 7 different components! Hydrated Honey, a beet and chocolate smear, beet jelly in citric acid, white chocolate foam, milk chocolate panna cotta with bacon tuile, and a milk chocolate and dehydrated apple powder truffle!! There isn't much more to say about this desert than WOW. Everything on this plate was simply out of this world. This dish was true Iron Chef quality in my eyes!
Overall the entire night was a blast! The Dinner by Design theme was perfectly matched to the venue and to the food. Kudos to Emerging Chefs for another great event and Kudos to Chef Ellis Cooley for showing us that creative, out of the box thinking can taste amazing! Also, it was great to be able to sit our friends Renee from
Brewers Daughter
and her husband Paul from
Journeyman Cook
.
Be sure to check out these other reviews of Dinner By Design from my blogger friends at
WhyCLE
and
Poise in Parma
.
Here are some past Emerging Chef event reviews I've written as well.
Check out there upcoming May Event too!
Disclosure: I was given a single free media pass to attend the event. My Fiancée's Ticket was purchased with my own money. This review is 100% my own thoughts and opinions.