Ever since Palate has opened I have been itching to go there for dinner. In addition to seeing that Iron Chef Michael Symon chose to dine at Palate recently, I've also read nothing but positive reviews from area bloggers and food writers. Myself and a few other Cleveland Bloggers/Foodies,
WhyCLE
,
Hungry In Cleveland
and
Poise in Parma
, decided to make the trip to Strongsville with our significant others to see for ourselves what all the buzz was about.
If you have been to Palate before, this menu will look different to you. That is because Chef Jeff Jarrett has revamped the menu for the spring to reflect more seasonal food items.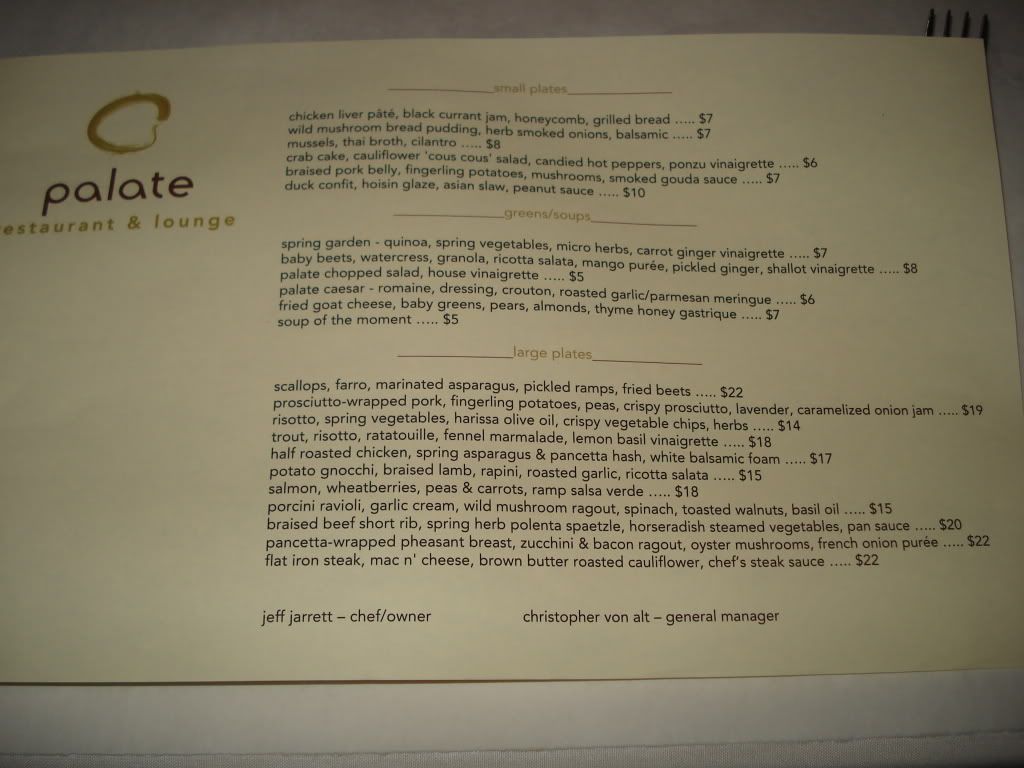 Click the picture for a larger view
After looking over the menu our each couple decided to order one small plate. This would give us all a chance to sample several of the different small plate options that all sounded so good. All four of the small plates came out together so these are in no particular order.
FOOD
First Small Plate
--Chicken Liver Pate with black currant jam, honeycomb, and grilled bread. The chicken liver pate by itself on the toasted bread was excellent. The extra crispy bread added an excellent contrast in terms of texture to the creamy and flavorful pate. The currant jam took this dish up a notch by adding a sweet component and really made this something I could have eaten a whole plate of. Although the presentation of the pate in the jar was fun, it became somewhat cumbersome because the top heavy jar kept falling over on the plate.
Second Small Plate
--Wild Mushroom Bread Pudding with herb smoked onions and balsamic. First, I have to say that visually this dish was put together like artwork. Second, the Wild Mushroom Bread Pudding impressed someone who does not really care for mushrooms...ME! I had a few bites and thought it was moist, earthly and very flavorful. The balsamic added a nice acidity to the dish which I thought went well with the earthy flavors.
Third Small Plate
--Duck Confit with hoisin glaze, asian slaw and a peanut sauce. This dish was nothing short of perfection on a plate in my eyes. The duck had a wonderfully crispy skin that had a very tasty sweetness to it thanks to the hoisin glaze. The peanut sauce also added an earthy richness to the duck. The inside of the duck was every bit as good as the outside. It was moist, flavorful and tender as can be! The slaw was slightly salty, but overall this is one of the best pieces of duck confit I've had the pleasure of eating.
Fourth Small Plate
--Braised Pork Belly with fingerling potatoes, mushrooms and a smoked Gouda sauce. The pork belly was crispy and packed with amazing flavor. The potatoes were seasoned amazingly well and were very tasty. The Gouda added a mild sweetness and saltiness to the dish. I had one perfect bite of pork belly, potato and sauce and that was enough to make me order this again my next trip to Palate.
4.75/5
!
Drinks
The drink menu at Palate offers a good selection of mixed cocktails and bottled beers (there are no draft beer options). Here is a look at what was being offered in terms of beers.
wine offerings
.) With an excellent wine list, tasty mixed drinks and at least a few craftbeer options I'd give Palate a
3.75/5
for drinks. (Offering some draft beer options would increase this score in my eyes.)
Atmosphere and Service
When you enter Palate it is clear you are entering a fine dining restaurant. The colors are earthy and the atmosphere is friendly and warm. Our sever for the night was top notch. Her knowledge of the menu was excellent. In fact, after she went over basically the whole menu with us I asked her if there was anything she didn't know about it! Also, after our meal Chef Jarrett took some time to come out and talk to us about his menu, his restaurant, and other various food topics. It is clear from talking with him that he is dedicated to using fresh ingredients and to bring a fine dining experience to Strongsville! Atmosphere and service were as good as you'll find anywhere in Cleveland, downtown or suburbs, and gets a
5/5
!
Overall
Palate lived up to all of the reviews I've read. Great food, great service and just a great restaurant addition to the southern suburbs of Cleveland. I highly recommend you make the trip to Strongsville to see for yourself just how good Palate is. Overall Palate gets a
4.5/5
.
WhyCLE
,
Hungry In Cleveland
, and
Poise in Parma
.
Disclosure: Chef Jarrett did have knowledge that we would be having dinner at his restaurant through the set up of our reservation. Our table was not granted any free dishes or discounts on any of our food or drinks.