Emerging Chefs is at it again! On April 13th from 6pm-9pm "Dinner by Design" will feature Chef Ellis Cooley of AMP150.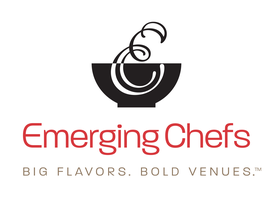 "Dinner by Design"
Cleveland's Champion of Culinary Design
"Design is a plan for arranging elements in such a way as best to accomplish a particular purpose."Charles Eames, noted American Designer.
And the purpose of "Dinner by Design" is to witness the bold eloquence of Chef Ellis Cooley's culinary designs. Chef Cooley is a master of arranging elements, mixing ingredients (just so), and crafting the perfect meal, dish and plate. Design is simplicity. Design is complexity. Design is intelligence made visible. Design affects the senses – it alters your tastes.
Please be our guest as we utilize a stunning hallway (it is also about cool space) in the historic (and well-designed) Tyler Village as the venue for Chef Cooley's hypnotic culinary designs. Chef Cooley is the Executive Chef of AMP 150 (www.amp150.com) located in the Airport Marriott. He's a strong supporter of local farmers and purveyors and backs up his farm-to-table commitment with beehives and a quarter-acre garden behind the hotel. His culinary design is excellence personified.
Special Giveaway Information!
If you buy 2 tickets from the link posted below you'll be entered to win 2 free tickets to a future EmergingChefs event!
Only 4 tickets left.
Click here to buy them->
Eventbrite Ticket Sales
Disclosure: I'm part of the affiliate marketing program and will make a small percentage of money based on sales through the link on my site.