Last night a twitter follower asked where she should for dinner. She mentioned Westside and American style food. My response to her was Deagan's Kitchen. I've had dinner at Deagan's one time and during this experience the food was excellent and very reasonably priced. (
1st Deagan's Kitchen Review)
I've also been to Deagan's a few times just for drinks. After I suggested Deagan's, my fiancee asked where I wanted go to have dinner. I took my own advice and we decided to head to Deagan's for a follow-up review.
The menu at Deagan's has many options to choose from, plus they offer nightly specials. We had a hard time deciding what to order so we decided to do our own "Chef's Tasting" by ordering several small plates instead of us each getting one entree. I inquired if they have considered offering a Chef's Tasting option in the future. I was told it was definitely being considered, so we hope to see that option soon.
To start out meal we decided to order the Devils on Horseback. Devils on Horseback are bacon wrapped dates, that came with watercress and some chile paste on the side if you wanted a little extra kick. I thought the plating of this dish was very visually appealing, especially the bright green and reds of the chilies. The taste took things a notch up from the looks. The bacon wrapped dates were amazing. The dates were warm and very rich. They have a creamy, smooth texture to them which paired very well with the crispy, smoky bacon. I tried the Devils without the chile at first to get a general taste, which was excellent. As soon as I added the chile paste they became outstanding. The chile gave a moderate kick of heat which balanced the smoky bacon and sweetness of the dates. If you go to Deagan's I 100% recommend you get this as your starter. Both my fiancee and I couldn't stop talking about how good these were and for only $6.00!
Next, we decided to try the Pommes Frites ($6.00). They came seasoned with sea salt, pepper, and topped with shaved romano. On the side was a spicy
sriracha mayo. The frites were cooked nicely and the spicy srirach mayo was superb. I am a huge fan of salt and usually my fiancee is telling me to use less salt. That being said, the frites were vastly over-seasoned (super salty). We did manage to eat 3/4 of the basket, but it took a lot of shaking of the frites to try to get some of the seasoning off. Even with that, the seasoning still overpowered the wonderful spicy mayo. I'll get these again, but I'll be sure to ask for "light seasoning."
Our next dish was the Amish Chicken Wings ($8.00) that came topped with a soy chile jam and chopped green onion. The wings themselves were cooked perfectly. The wings were moist and tender on the inside with a crispy skin on the outside. The soy chile jam on these had a decent amount of heat to them, and the soy sauce flavoring was mildly in the background. I found the heat level of these wings to be around a 5.5/10, but my fiancee could only manage to eat two of them because of the heat. I also enjoyed the fresh chopped onion that came on top. A small touch that added a bit of freshness to the sticky chile jam. If you are a fan of things that are somewhat spicy I think you would really enjoy these wings too.
The final dish we ordered was the Peking Duck Confit Mac and Cheese ($8.00). When we saw Duck Confit and Mac and Cheese we both knew we had to try it, plus our waitress said it was amazing. It was a combination of shell pasta, duck confit, roasted shallots, mahon cheese, and peas. The dish was very creamy but cheese flavor in the dish was mild and didn't stand out as much as we hoped. In fact, the nutmeg in the dish stood out more than the cheese. I love nutmeg, but I know for some it can be a little overpowering. Also the bits of duck confit were few and far between. Right now you might be thinking we didn't enjoy this dish, but we both actually did like it. Sure we would have liked a little more cheese flavor and a bit more duck, but overall the taste was pleasing.
By this point in the meal we were full and decided to put an end to our tasting for the evening. Our favorite dish tonight was hands down the Devils on Horseback, and I'd give second place to the Amish Chicken Wings. With less salt on the frites and a little more cheesiness to the mac and cheese our make-shift chefs tasting would have been a home run. Tonight, I'd give the food at Deagan's Kitchen a 4/5.
As I've mentioned in my
first review
, Deagan's does a wonderful job with their beer list. The regular draft beer list includes approximately 20 drafts with 5-10 seasonal/rotating handles. If there isn't something on draft, don't worry, the bottled list is every bit as good and well organized. Other drink options include a good wine list and varoius cocktail options. To check out whats offered check out their
drink list
. My choice for the night was a very tasty
Ithaca Flower Power
. For a review of this brew
click here
and be sure to check out my other
Craftbeer Reviews
too! I'm a huge fan of Deagan's drink selections, and their rotating tap list.
5/5
.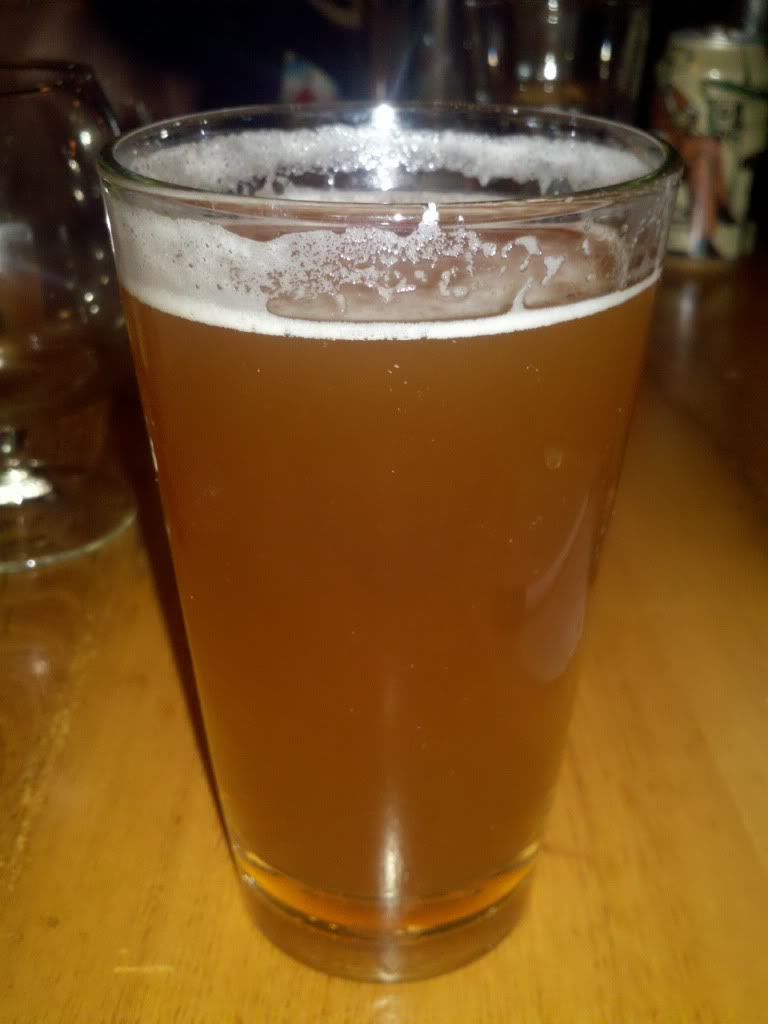 Deagan's is great for a date or for a night out with family or friends. Sitting around us were a few couples, a group of 6 friends hanging out and having fun, and a large table of 12 that included children. To see this on a Friday night should tell you what kind of place Deagan's is. Our service for the evening was top notch. Our server was super friendly and was not shy about telling us what she really liked on the menu. Outside of just telling us a dish she gave us reasons why she liked certain dishes without trying to push us one way or the other. She also took the time to find out answers to a couple questions we had about our meal that she didn't know off the top of her head. We couldn't have been happier with our service for the evening. 5/5.
I went to Deagan's tonight because of the food, drink selection and the good service we had before to do a follow-up review. I'm happy to say that we both enjoyed our food, our drinks and our service again. I recommend you put
Deagan's Kitchen
on your list to visit soon. Overall
4.5/5
All thoughts and opinions written on either of my sites are my 100% own, and all reviews are written with 100% full disclosure.