This review marks the start of something new in my life. On December 31st, 2010 my girlfriend became my fiancee. To celebrate our engagement we went to New Years Eve dinner at
Washington Place Bistro & Inn
. Since opening at the very end of November Washington Place has received a lot of positive press. I wanted to see what it was all about. Here is a short excerpt from their website describing their vision:
"Washington Place offers modern American fare featuring local cheeses, produce and meats. An eclectic yet affordable wine list and signature cocktails can be enjoyed in the new lounge or on the extended outdoor patio in the comfort of the Little Italy neighborhood."
Food
-
--When we were seated, a small plate of bread and butter were brought to our table. Two slices of the bread were peasant bread while the other two were bread made with cheddar cheese and Great Lakes Dortmunder Beer! The bread came with a smoked salt and garlic butter. Not much more to say that delicious and a perfect way to start the meal!
We then ordered an appetizer off the special New Years Eve menu. We picked the stuffed dates. These dates were stuffed with choriz
o sausage and came served on top of polenta. The dates were soft and sweet while the chorizo added a wonderful spice to cut the sweetness. The polenta was rich and creamy, yet still had some textured aspects to it. The seasoning was light which paired well with the dates and the sweet sauce. The sauce that was drizzled around the polenta had a very natural sweetness, almost a molasses taste to it. Each of the three aspects of the dish alone were good, but when we had these all together in one bite the taste became something very special! I hope they consider putting this option on regular menu. (If you are on foursquare you get 1/2 off your appetizer with your first check in and after that 1/2 every fifth check in. Become the mayor and you get a free appetizer each time you dine!)
For an entree my fiancee chose the braised pot roast. (Thanks to Alicia from Poise in Parma for the recommendation!) It came with carrots, roasted garlic mashed potatoes and a "big red" reduction. The pot roast was so tender and moist that it literally melted in your mouth. Only a fork was needed to gently peel the meat apart. Alone, the pot roast was simply amazing, but combined with the garlic mashed potatoes and the savory reduction one great bite turned into one amazing bite. Neither of us could really get over how good this dish was. The meat was clearly cooked with great care and was cleverly paired with a wonderful sauce that only enhanced its flavor. I personally will order this for myself next time we go back!
For my entree I chose the hanger steak. It was prepared medium rare and came with asparagus, fresh cut fries and a blue cheese butter sauce. The meat was cooked absolutely perfectly. The outside was wonderfully seared while the inside was soft and packed with flavor. I appreciate a cut of meat cooked perfectly, especially a hanger steak that needs to be served medium rare to maintain flavor and tenderness. The fries were very fresh, lightly seasoned with course salt, and drizzled with the very tasty blue cheese butter sauce. I was impressed how well this sauce went with both the steak and the fries. We really liked this entree as well and we wouldn't hesitate to order it again.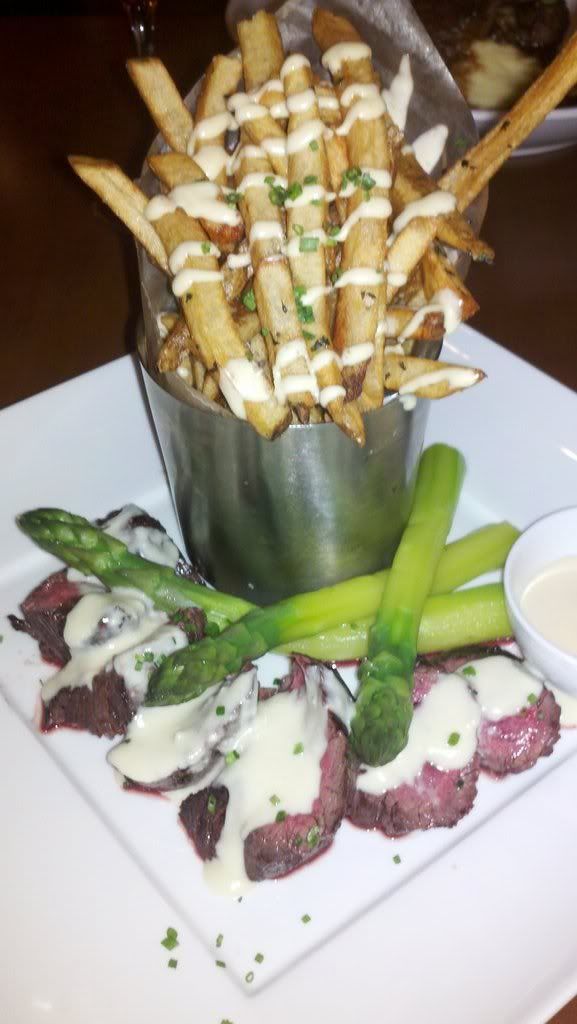 Once we were finished we had to get a desert to cap off what was truly a great meal. We both saw the pumpkin cheesecake and immediately settled on it. What came out about 10-15 minutes later was totally unexpected. Set in front of us was a pumpkin that was filled with pumpkin cheesecake. It was sitting atop a graham cracker crumble and a rum caramel drizzle! The cheesecake filling was great, but what we loved was digging out some of the fresh warm pumpkin in combination with the cheesecake and the graham cracker crumble. We were blown away by the flavor and the creativity put into this dessert! We could have eaten this all evening it was so good.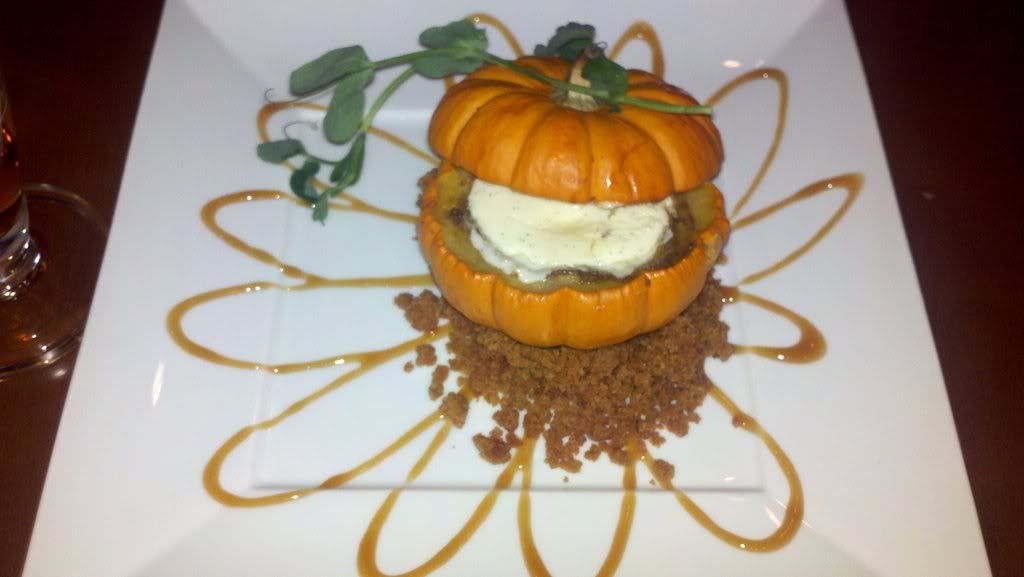 From the very first bite of bread to the very last scoop of pumpkin cheesecake we were impressed with every single aspect of our meal. Neither of us had one complaint about our food and we left very full and very happy. Food wise Washington Place Bistro and Inn gets a 5/5.
Drinks---The drink menu consists of many selections of wine and some really interesting and creative cocktails. There is also a very good bottled craftbeer list that is extremely reasonable in terms of price! Bottles ranged from $4-$6 each. (The draft beer selection was however limited.) My fiancee had a sparkling pomegranate cocktail that was made with La Marca Prosecco and fresh pomegranate seeds. I had a Dogfish Head 90min IPA, Be sure to check out the Craftbeer Review Page for a review! With a great selection of wine, cocktails and beer you are sure to find something to pair with the great food. 4.5/5
Overall---As you pull in the parking lot you are greeted with a complimentary valet. This is a very nice touch considering parking in Little Italy is always a chore! When you walk in the restaurant you realize you are in a wonderfully decorated and very elegant establishment. The decor and mood is fine dinning, yet friendly and relaxed at the same time. We had a reservation and we were seated right upon arrival. Our server came over right away and explained the drink menu and the specials for the evening. She was knowledgeable about the menu and the food which made making smart food choices very easy. The entire night our server was friendly and attentive, we couldn't have asked for better service. Something we really appreciated in addition to the great service was the care and creativity used in plating our food. It was clear that the chef cared not only about the flavors on the plate but how our other senses played with the dish. With great food and service, and very reasonable menu prices, this restaurant is now added to our short list to go back to very soon! Overall in terms of restaurant quality 5/5.