Some friends asked my fiancee and I to go out to dinner to celebrate our engagement and it was my job to come up with a place to eat in the Willoughby/Mentor area. I wanted to try somewhere new, and Ballantine in downtown Willoughby came to mind. Even though we have all been to Ballantine before to have drinks, we have ever eaten dinner there. Ballantine to me is a Gastropub. They offer a variety of craftbeers and their menu reflects more of what you would expect to see at a higher quality restaurant, but don't take it from me, here is what Ballantine says on their
website
: "
We'll strive to bring you the highest quality ingredients, the greatest beers available to the market, & great service that you can come to expect every single visit. We represent New American cuisine and American & Belgian craft beer brought to you in a non-traditional surrounding. We are not just a restaurant or simply a bar with food, we are a fusion of a steakhouse, stone-oven pizza place, beer bar, & eccentric cocktail lounge
."
Food---Ballantine's slogan which is printed front and center on their menu is "Wood Fired Pizza, Chops and Bier". One of their most popular offerings are their Dry Aged Steaks. Here is how they describe their dry aging process: "We use choice beef and age it for 21 to 45 days. During this process a crust forms on the outside of the loin. This layer is trimmed away, leaving steaks that are superior in tenderness and flavor. During the dry aging process, the juices are absorbed into the meat, enhancing the flavor and tenderizing the steaks." Being a huge fan of steaks, I was 100% getting some sort of steak offering. If you are not a steak fan they have many other choices such as seafood, chicken and even some vegetarian choices. I liked how they had beer pairings listed for several of the entrees. I thought this was a wonderful addition to the menu that could really help people make a smarter beer choice.
Now onto our meal...After looking over the menu and going back and forth on a few steak choices, I ended up picking the Filet Oscar. It came served with lump crab meat, Bearnaise sauce, and asparagus. All steak meals come with with a side of their Belgian fries, a small garden salad, and one other small side. For my other side I picked the Mac and Cheese. This meal was priced at the higher end of their menu, $28, so I was expecting some really excellent quality food. The salad that was brought out was all mixed greens, and came topped with a little mozzarella cheese, red onions and a few grape tomato halves. The house balsamic dressing was very good and the salad was a nice way to start the meal. Simple, yet effective.
Next came my entree. The first thing that struck me was how the the filet was smothered in sauce. I love Bearnaise sauce, but to me the amount that was poured over this prime cut of meat was excessive. You can see in the picture that the steak is covered and there is quite a bit of sauce on the plate as well. As I ate, the sauce continually dominated the flavor of the steak. At points during my meal, I was scraping off the sauce just so I could enjoy the steak. I was disappointed because this 28 day aged steak had no chance to shine through this sauce. Also, the amount of lump crab meat that came with it was very minuscule, there were literally 3 tiny pieces of crab meat on top of the steak. Aside from the plethora of sauce and virtually no crab meat, the steak was pretty good. I ordered the steak cooked medium, and it came served more close to medium well, but it was by no means dried out. Needless to say I was a little disappointed by my steak and the preparation of the Filet Oscar. The Belgian fries are described on the menu as crispy, thick cut, and seasoned with rosemary and garlic. My fries were half crispy and half soft, they were thick cut, but they were underseasoned to the point that my fiancee didn't even think they were seasoned at all. I love fries, but I left over half of what you see in the picture on the plate because they were not appetizing.
With and underwhelming steak, and fries that were not very good, there was one saving grace to my main meal...the mac and cheese. The macaroni was cooked perfectly and everything was well seasoned with salt, pepper and hint of garlic. The top layer of the mac and cheese had a wonderful crumble topping that added some great texture to the velvety cheese underneath it. The cheese was creamy and full of flavor. I really enjoyed this mac and cheese, and my fiancee also couldn't keep her fork out of it either!
Besides eating my mac and cheese, my fiancee ordered the Isreali basil cous cous and added grilled chicken to it. The dish came served with mixed vegetables and a dill creme fraiche. What you don't see in the picture is the chicken because it came out without the chicken. I didn't want to delay her eating so I took the picture right away so she could start her meal. After about three to five minutes our waitress brought her a grilled piece of chicken that was sliced and she added to her dish. The cous cous was cooked perfectly as were the vegetables and chicken. The problem with this dish was that is was bland. Even after thoroughly mixing in the dill creme fraiche we both agreed the dish desperately needed some salt and pepper to help to bring some life to it. Adding salt and pepper at the table helped, but this dish really needed to be properly seasoned as it was bring prepared to really bring out the flavors in the dish. My fiancee liked the dish, she just didn't love it.
Overall neither of us were overly impressed by our meal. On one hand I did have a side salad, a steak and fries, and a side of mac and cheese. That is a good quantity of food. On the other hand the best part of my meal was the salad and mac and cheese, which is not what I paid the $28 entree price for. The steak was good once I scraped away the plethora of sauce. The cous cous and chicken were average once some seasoning was added to it. The meal was by no means horrible, but for the price we paid and for the descriptions of the plates we both expected higher quality. What I think could have made this meal better overall would be to serve less overall food quantity, and to provide higher quality portions. Food wise I give Ballantine a 3.75/5.
Drinks
---As I said earlier in this review we have been to Ballantine many times for drinks because they do offer a great craftbeer selection. It isn't as easy to find an east side bar that offers a wide selection of craftbeer (Outside of the
Winking Lizard
). Ballantine offers around 30 beers on draft at all times in addition to their bottled beer list. They also usually have a fair amount of seasonal craftbeer offerings. If you are not a beer drinker, they have different types of mixed cocktails and wine offerings to choose from. Draft beers range in price from $5-$7, and large bottles of beer (22oz) can be priced anywhere from $10-$20 a bottle. Glasses of wine were priced at $7-$10 a glass. They also offer $3 pints on Wednesday for drafts $5.50 and under. (
From prior experiences double check when you order because not all drafts qualify even though they are under that $5.50 price tag.
) With a good selection of quality craftbeer and a good drink offering outside of beer Ballantine gets a
4.5/5
.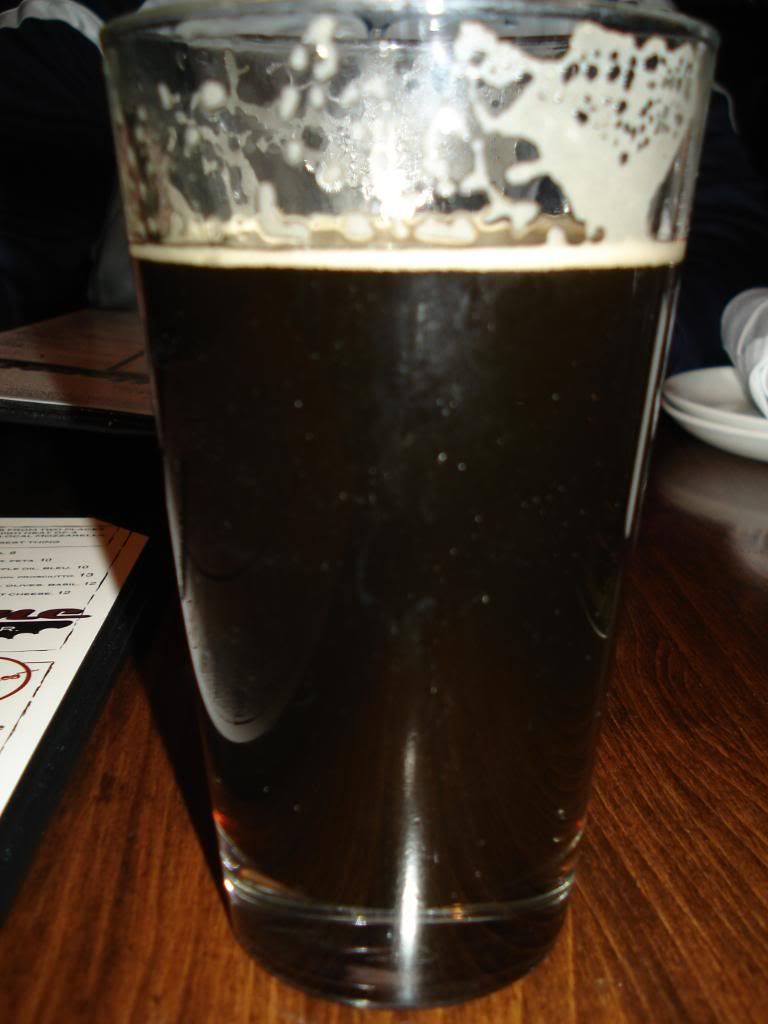 Atmosphere,
Service
and Overall
---Ballantine's atmosphere is really the tale of two stories. Before 9pm Ballantine is a medium noise, trendy place to eat and drink. It is a place you could enjoy a meal and a conversation with friends and family. After 9pm Ballantine turns into more of a bar/club atmosphere. The bar starts to fill up with people who are there primarily for drinks. Around 10pm the bar turns the music up from a medium level to a very high level. Having a conversation with people around you becomes difficult if not impossible. Sometimes the bar is so full just making a trip to the bathroom can take 10 minutes. Service wise our service this evening was very good. The server knew the menu well and was able to describe the dishes in detail. She was quick to get our drink orders and quick to fix the mistake of the missing chicken. Even though the restaurant was pretty busy, she remained on top of our table and provided us with very good service. Overall Ballantine is a good place to find a craft beer on the east side of town. If you don't like loud music just make sure you go between
between 4:30
pm and 9pm.
(Their hours of operation are 4:30pm-2:30am Monday-Saturday.)
The food for us this time was a miss but I'll go back and give them a second try sometime soon. Next time I'll just order one of their wood fired pizza's instead. Overall I'd give Ballantines a
4/5
.