Food---My choice for the evening was the Joshua Burger. It came with Lettuce, Tomato, Red Onion, Applewood Bacon, Smoked Cheddar, and house BBQ sauce. I ordered it cooked to a medium temperature which they did a very good job achieving. The burger itself had a lot of flavor to it, which was even more enhanced by the bacon and cheddar flavors. I really enjoyed the burger, but I would have liked a bun that was slightly more proportional in size. As I ate, the bun just seemed to disappear and I was left holding everything basically without a bun. (I think you can see that in the picture.) That being said, I did eat every bit of it in the end and enjoyed it. The fries that came with the burger were outstanding. They were soaked for a day in water and then fried to a crispy perfection and simply salted. These crispy, salty fries in combination with the softer texture of the burger were a perfect complement. Two others at the table also had burgers and our opinions were all the same about our burgers and our fries.
The fourth person in our party ordered the Mac and Cheese that was flavored with Fontina, White Cheddar, and Parmesan cheeses. I had a chance to try this as well and honestly the menu failed to mention one key ingredient that really dominated this plate, GARLIC! I am a garlic lover, but this Mac and Cheese could have been amazing with about half as much garlic as they used. The dominant garlic flavor took away from the great cheesy flavor this dish had.
I should also mention the appetizer that my friends ordered. They picked the German Pretzel with the Stout and Cheddar sauce. Everyone at the table agreed this was a hit. The pretzel was cooked perfectly, soft and warm on the inside and perfectly crispy on the outside. The Stout and Cheddar dipping sauce was something you could eat all evening!!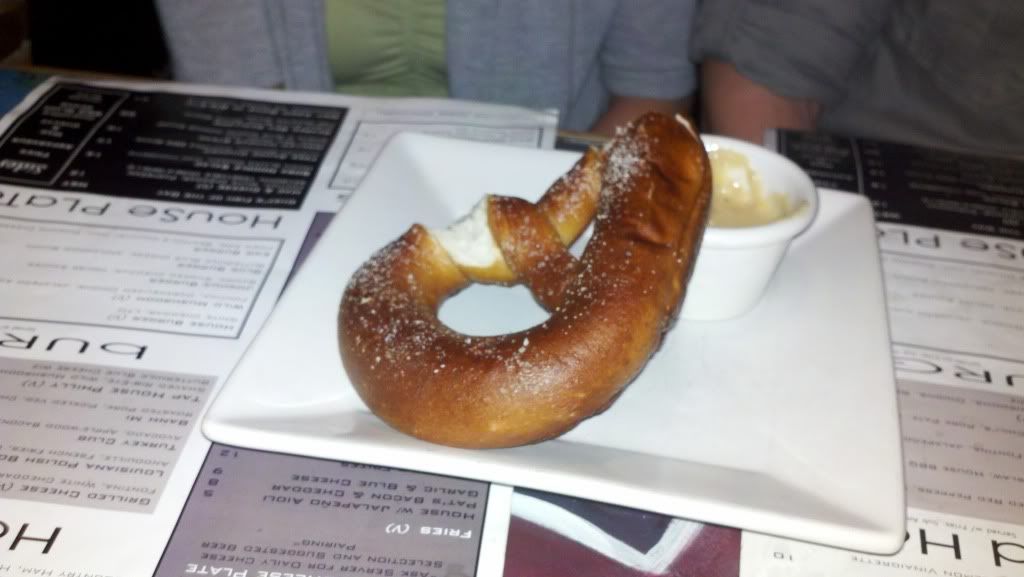 Overall we were pleased with the overall flavor and tasted of the food. If the buns were slightly more proportional and the mac & cheese wasn't as garlic heavy this could have been a higher score for overall food!
4/5
Drinks
---You don't go to the Tap House for wine or mixed drinks...you go there for great beers and that is what we had all night. The selection of bottled beers is excellent and the amount of different drafts will please all types of beer lovers. My choices for the evening were the
Bear Republic Bear Racer 5,
Brew Kettle 4C's, Ithaca Cascazilla, and the Weyerbacher Imperial Pumpkin Ale. All were excellent and full reviews of each of these brews can be found by clicking on their names or by going on the CraftBeer Reviews Page. W
hen it comes to beers the TapHouse does as good of a job as any place in Cleveland in terms of variety and selection!
5/5
Overall---In order to be fair I'm going to break this down into smaller more specific parts that will better explain our evening. At 6:40pm we called ahead for "Call Ahead Seating" and estimated that we'd arrive around 7:30pm. We arrived earlier than expected, 7:15pm, and our table was not ready which was fine since we were early. We managed to find 4 bar seats while we waited which gave us a chance to see how the bar service was. The bartenders were very helpful, friendly and prompt with our beers. You couldn't ask for more, and I would give the bar service a 5/5.
When our table was ready at about 8pm we quickly sat down and had our food orders in within 5-10mins of being seated. This is where the night went downhill in terms of service. The restaurant was full, but not packed. After 30 more minutes of waiting my friend spoke up and asked why it was taking so long for 3 burgers and a Mac&Cheese. Instead of being apologetic for the long wait, our server simply said we should have known because it says on the menu that we should expect to wait an hour. No where on the menu did we see that and honestly that should be something we are told ahead of time. We were also told that there were only 3 people cooking in the kitchen. Our problem with this is that if you have a popular establishment and the restaurant is full AND it is a Friday night...3 cooks to fill orders is being understaffed. In terms of getting our food in a timely manner and the service during this part of our night I'd give it a 1/5.
In terms of bar atmosphere we all thought the inside setup was very nice and the patio area outside would be a great place to kickback in the summer. I loved the great craftsmanship of the cement bar! I'd still recommend the Tap House because the bar atmosphere was really cool, we loved the food that we waited so long for, and the beers were great as well.