Food
---
The menu here is very diverse. They have fresh pasta, seafood, chicken and steaks. The meal starts with fresh bread that comes with butter and an amazing five olive, garlic and olive oil dipping sauce. I could have made a meal out of the the fresh warm bread combined with the olive dipping sauce it was that good! This was a perfect way to start this meal.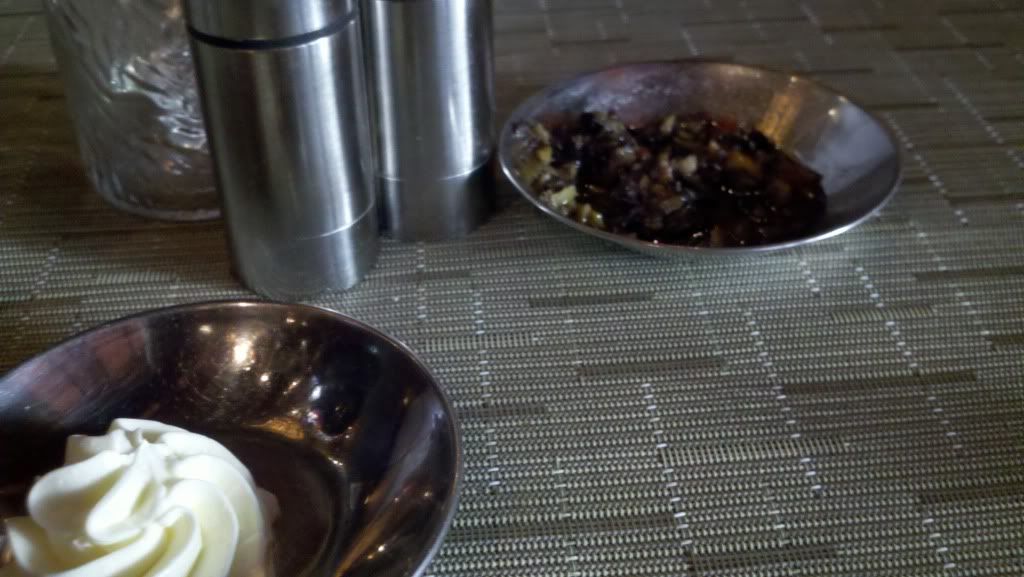 For my entree I chose one of the entree specials for the evening which was a 16oz Bone-In Rib Steak that was served with Yukon Gold potatoes that were encrusted in Parmesan cheese. The steak was topped with a finely chopped oregano/olive oil spread and grilled grape tomatoes. The steak was cooked to a perfect medium temperature and the flavor was amazing. The meat was tender and not fatty, it really just melted in my mouth. The oregano
spread on top added a great flavor to the meat without getting in the way of the wonderful flavor this cut of meat has. A lot of flavor comes thanks to being cooked still on the rib bone. The potatoes that were encrusted in cheese could have been a meal themselves they were so good. My girlfriend started with a french onion style soup which had wonderful flavors. For an entree she got the center cut Filet Mignon that came with a potato cake, vegetables, and a homemade steak sauce. Her steak was so tender and it was cooked to a perfect medium temperate and was absolutely delicious.
I let the restaurant know ahead of time that it was a special occasion (our 3 year anniversary) and they surprised us with a little desert that was made by their in house pastry chef. They were three small pastries...one with cinnamon, one with cream and strawberry, and one with chocolate and mousse. Simply put, I was very impressed by the food. The portions were all well sized and the overall food quality was top notch. The prices for entrees ranges from $15 up to $35 per entree.
5/5
Drinks---The wine list here is extensive. They have over 100 wines for you to choose from and the prices range from a very reasonable $28 a bottle to $1250 a bottle! Our waiter recommend Tacco Barocco, a negro amaro, vintage 2007 from Puglia. We told him we like dry red wines and with our choice of steaks he said this wine would pair well. This wine had a rich dark fruit and big tannins with a very earthy taste. We both loved the dry taste to this wine so his recommendation was spot on. The bottle was only $30 which we felt was a very reasonable price for such a tasty wine!. We were also given a short tour of where they store the wine which was really a nice touch on behalf of the waiter. 5/5
Overall---
I will have to say we went here for a special occasion and I would highly recommend this restaurant for your special occasion as well. The service from our waiter was top notch and so was the food and the drinks. The atmosphere of the restaurant was finer dinning and it was done very well. There was also a bar and lounge area if you wanted to kick back and have a cocktail or just a glass of wine. Our meal was not cheap by any means, but it was worth every penny because the food, drinks and service were done to perfection.
5/5