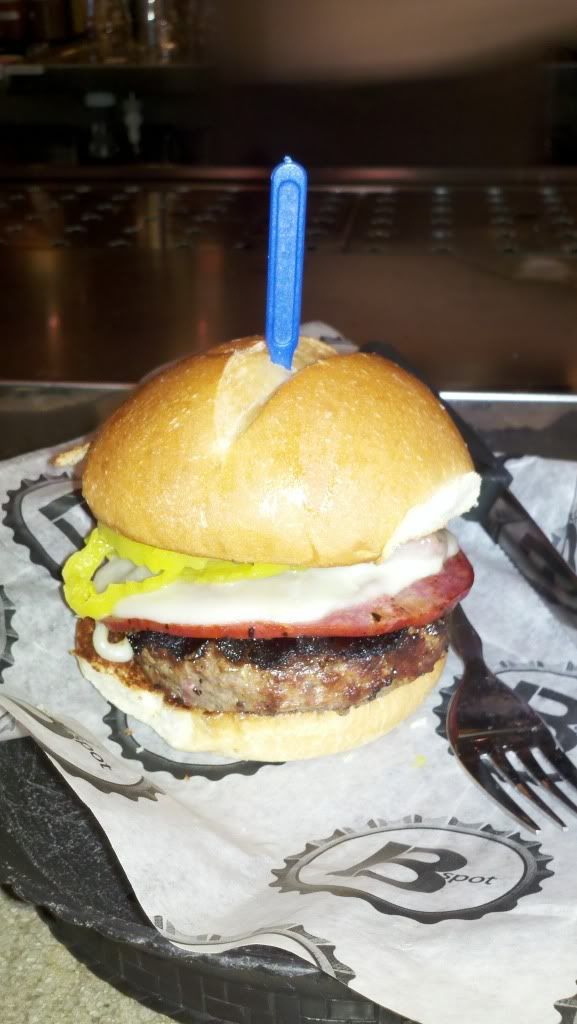 Yo! Burger
B-Spot is owned by Cleveland Iron Chef Michael Symon. The theme of B-Spot is gourmet burgers and good craftbeers. The seating area is somewhat limited which can have you waiting because B-Spot is usually pretty busy because the food is so good. The bar area provides a good amount of seating and you can even eat at the bar if you'd like.
Food---This is all about Burgers and Fries and B-Spot is spot on.

I had the

"YO" burger. It comes with fried salami, capicola, hot peppers, provolone cheese, and a house made hot sauce

. The level of spiciness was just right for me (I do like things spicy though.) I really like how the house made hot sauce enhanced the already naturally spicy flavor of the capicola (which is an Italian hot ham.) The burgers were cooked to the ordered temperature of Medium and they were well proportioned, I'd guess around 1/3-1/2lb patties. Even though fries don't come with the burger you have to get the Lola Fries. Rosemary and Sea Salt on thinly cut fries never tasted so good. You can easily eat 1-2 baskets of fries regardless of the price!

5/5
Drinks---

The craftbeer selection here is excellent for such a small bar/restaurant

. A craftbeer drinker could stay here all evening and have a great time! Some of the craftbeers I had were: Dogfish Head Apricot Ale--An IPA that is brewed with Apricots,

Bear Republic Racer 5--Another IPA, excellent flavor and hops combination

,

Brew Free or Die I.P.A.by 21st Amendment Brewery--An IPA in a can...yes a can! Great IPA and even better if you can find it somewhere on draft. All were excellent!! Reviews of the Beer can be found on my CraftBeer Review Page. 5/5
Overall---If I had to nitpick one thing it would be the service. Our server was a little slow in getting things like our order, our waters, and then our food. It wasn't horrible, but then again not great.
I'm a fan of the atmosphere at B-Spot. There are some options for seating that are shared, meaning you could be sitting right next to some strangers. I personally don't mind that, but for some this could be a put off. That being said you'll definitely see me back at the B-Spot again soon because the food really does speak for itself!
3.75/5