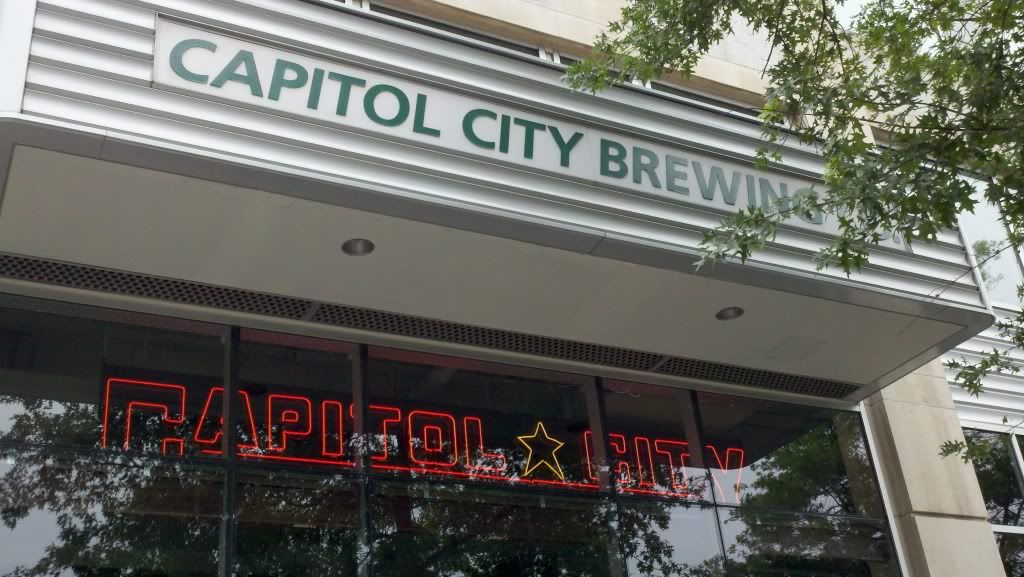 During our recent trip to Washington DC, I convinced my fiancee to have lunch with me at Capitol City Brewing's Brewpub. Captiol City Brewpub is located in a prime location downtown just a few minutes away from the White House. After doing a lot of walking all morning, we were in need of a good meal and a few pints!
Food and Service
The main options on the menu are pizza, sandwiches/burgers, and a selection of entrees mostly centered around steaks and seafood. Since it was lunchtime, we both decided to go with the Hickory Burger. Before deciding on a burger, we asked our server few questions about other menu items. However, our server responses were not very helpful because her answers were mostly yes and no with no real information about the food. When my fiancee asked about the Hickory Burger our waitress said "It is one of our most popular items." We asked her to describe it, and she basically recited what the menu said. We both decided to order it based on the menu description which was:
"A half-pound Certified Angus ground beef burger smothered with our signature chipotle barbeque sauce topped with cheddar cheese, bacon served on a brioche bun with lettuce, tomato, red onion and pickles."
I ordered my burger to be cooked to a medium temperature, while my fiancee ordered medium-well. After a few seconds our waitress came back to double check that I wanted medium and I confirmed. When our burgers arrived, we first noticed how the cheese was melted all over the place on my burger, while my fiancee's cheese was still basically as solid slice. The presentation of the burgers just was not very pleasing to the eye, so on to eating we went.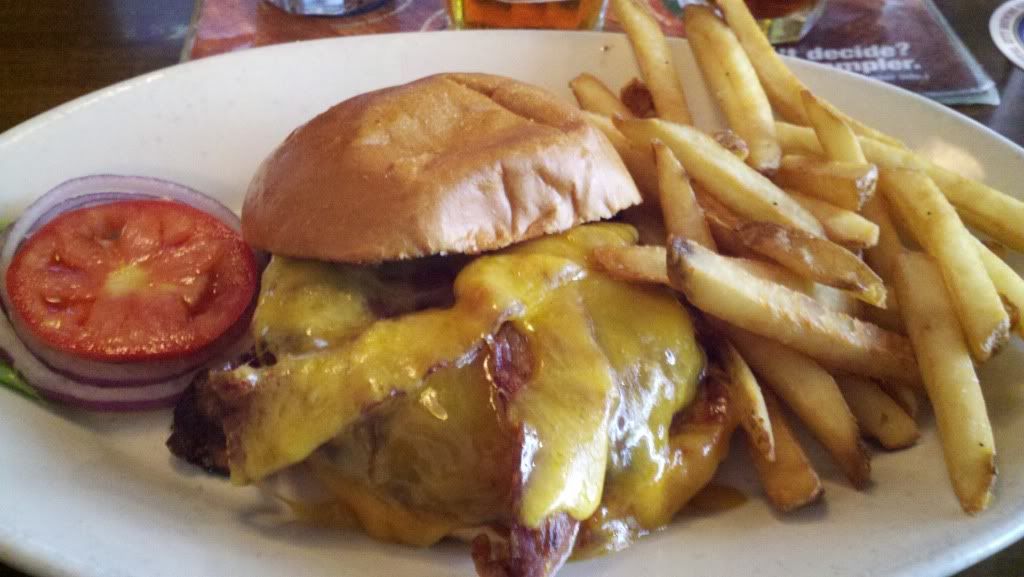 My Hickory Burger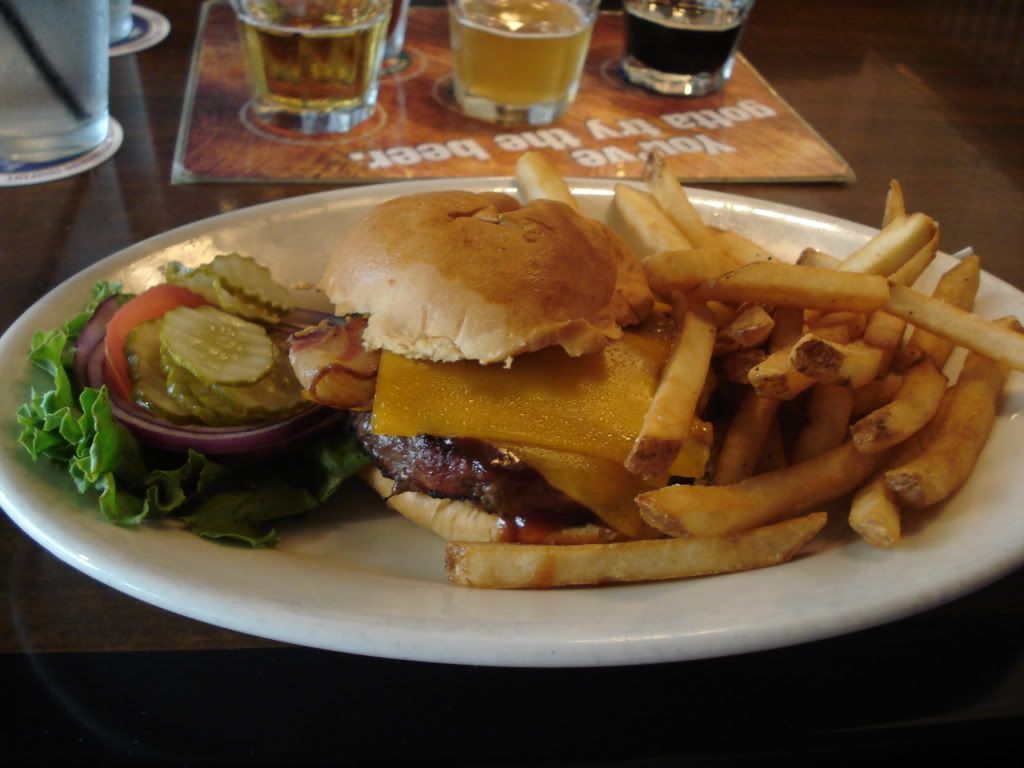 Fiancee's Hickory Burger
As we began to eat we both started to realize that our burgers were beyond well done. Our waitress was nowhere to be found and she never came to check to see how our food was. In fact, my fiancee had to wave her down just to get some ketchup. By this point I took 3-4 bites hoping the center of my burger would indeed be a little juicy, and it was not. I decided to deconstruct the burger to see what it looked like. They had cut the burger itself in half to check the "doneness"! I just had to snap a few pictures, pardon the bite marks.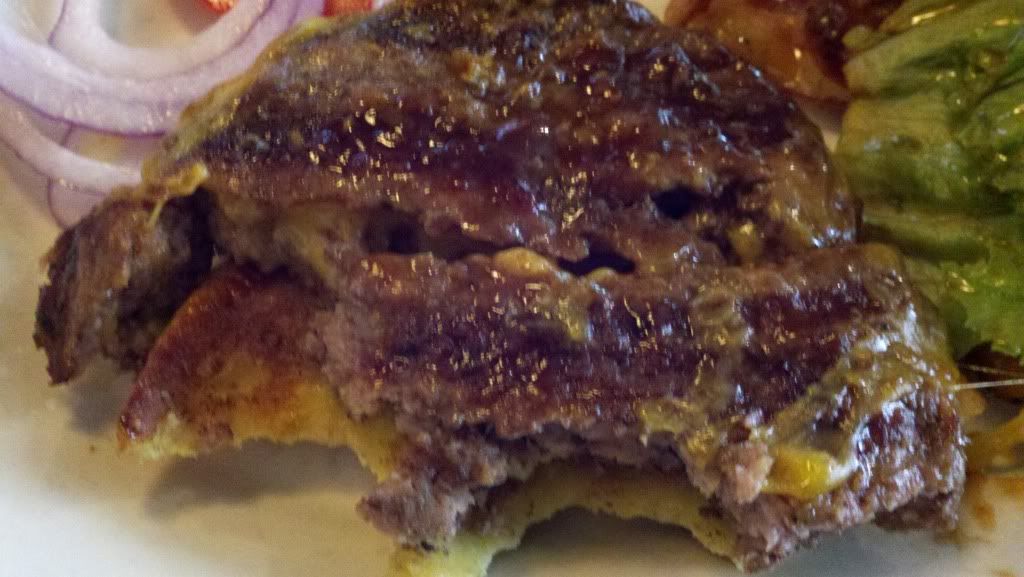 At this point I was annoyed, and finally the waitress came back with the bottle of ketchup that my fiancee had asked for 5 minutes ago. I asked if it was customary to cut their burgers in half, and she said they probably did it to check its temperature. I then informed her that my burger was cooked to the point of being totally dry. She quickly left the table saying she was going to get the manager. After a few minutes she came back without a manager and said the manager was going to comp our meals. Both of us were somewhat shocked by this, and the lack of an offer to fire us up new burgers considering we hardly ate anything at this point. It was clear the waitress was not happy, and I didn't want to push the issue further by asking for a refire, so we said OK and continued to eat what we could. I only finished a few more bites of my burger because it was awful and ate my fries. My fiancee's burger was not cut in half, and was slightly juicer than mine, but still cooked well past well-done. The other part of the burger that was somewhat unappealing was the amount of BBQ sauce they used. Sure this helped add some moisture to the dried out burgers, but it also made the bun a sloppy mess. The fries were somewhat of a saving grace, but by no means anything special. Food wise, we were very disappointed and would have to score this food a
1/5
.
The service part of this story continued. The manager came to check on us before we left. It turns out our server told her that we were in a hurry and that we did not want them to make us new food. When in reality, she never offered to remake our burgers. The manager then explained that when the waitress left our table after I commented on our burgers, she explicitly told the manager we were in a hurry and that is why the manager decided to comp the food. After hearing this information the manager was not happy and apologized several more times for what had transpired, and said she would take care of the whole bill because of the way our experience. She explained that their normal policy is not to cut the burgers and that she was very upset that they cut it, saw it was well overcooked, and it was still sent out to us.
The entire time we were there our waitress made us feel like she was just going through the motions. Our servers rating would be a
0/5
, but the managers willingness to try to make things right at least gets them some points in the service department, so I'll give them a
1.5/5
.
Drinks
Our server was even less helpful with drink selections. My fiancee asked how their bloody marys were, and how they were made and she responded "
I don't know, I don't drink those.
" I then asked what was their signature beer and she responded "
I don't drink beers
." Considering we were at a brewpub, I couldn't believe this response and decided to just order the sampler and decide for myself what to get next.
From Left to Right--Pale Ale, Porter, Hefeweizen, Kolsch and Amber Ale.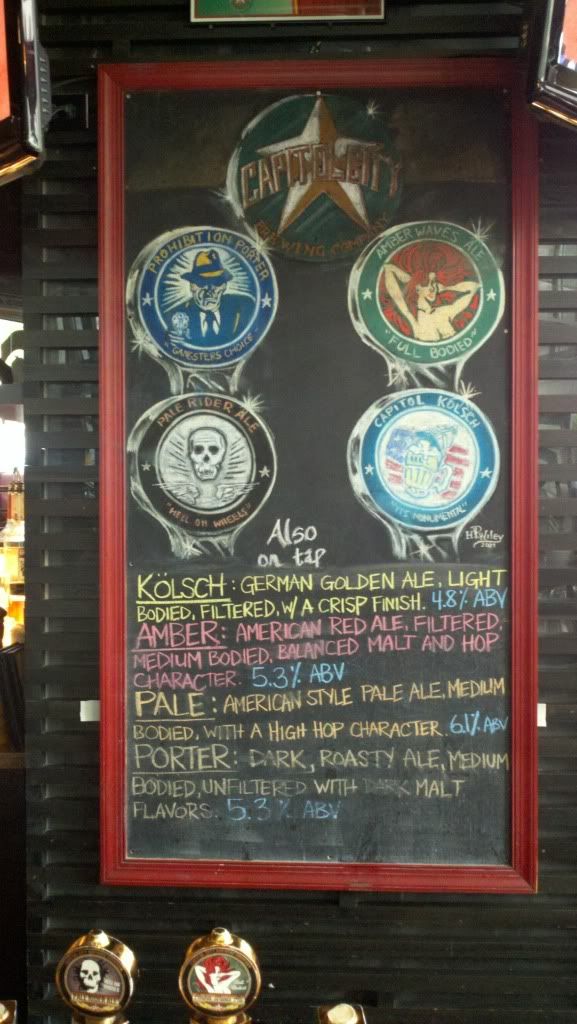 I was not impressed by any of these brews to be honest. If I had to pick the best of the bunch, I'd say the Amber and the Porter, but even these were not good enough to justify ordering a whole pint. The good news out of all this was that my fiancee did enjoy her bloody mary, but with average beers at a brewpub I can't score them any higher than a 2/5 for drinks.
Atmosphere
What was sad about our experience was that the set up of the brewpub was actually really nice. Glass everywhere gives you light from outside and also a view of what is going on downtown. The bar area was also very nice with ample seating a view of the restaurant. Going simply on decor and set up I'd give them a
4/5
.