My fiancee and I decided to take her parents out to dinner at Willoughby Brewing Company last night. This choice was made because recently I brought a growler of
Peanut Butter Coffee Porter
to a family function and my future mother-in-law loved it! Another factor was that we have not yet dined at Willoughby Brewing Company since changes were made to both the menu and the brewing.
Food
After looking over the new menu we had some serious decisions to make. The
menu
featured burgers, pizzas, steaks, seafood and even make your own mac and cheese!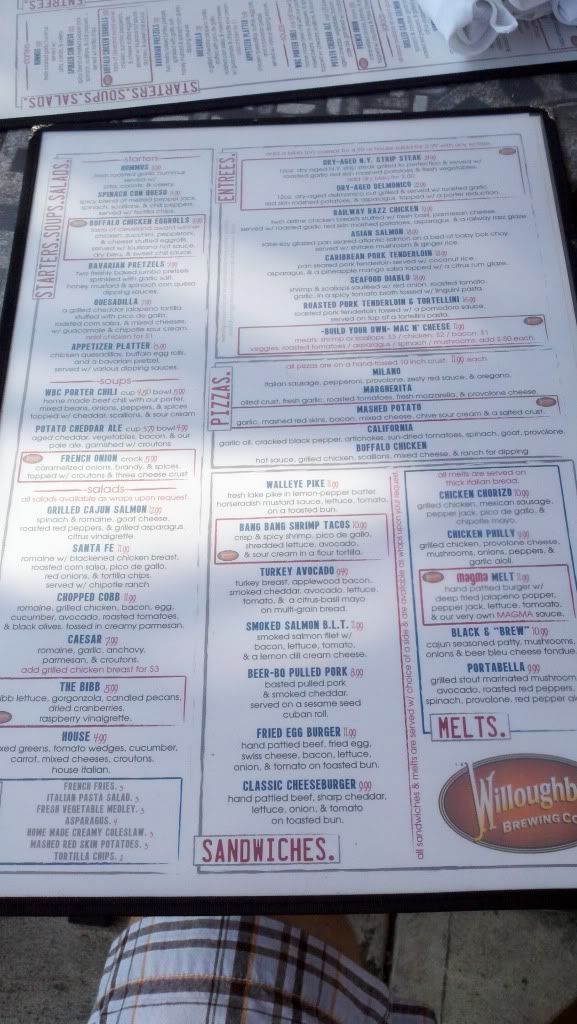 After careful consideration my fiancee went with the Caribbean Pork Tenderloin. This pan seared pork tenderloin was served with coconut rice, asparagus, and a pineapple mango salsa. It was then topped with a citrus, rum glaze. (
$18.99
) The pork itself was juicy and tender on the inside with a slightly crispy outside that was well seasoned. The seasoning had a little kick to it, but also had some sweetness to it from the citrus/rum glaze. The coconut rice was cooked properly and the asparagus and mango salsa added a nice fresh component to the plate. The four components of this dish worked really well together and when combined made for one very delicious bite.
My choice for the evening was the Seafood Diablo. This dish was composed of shrimp and scallops sautéed with red onions, roasted tomatoes, and garlic in a spicy tomato broth. It was then tossed with linguini pasta and served with two pieces of ciabatta bread..
($18.99)
The pasta was cooked slightly past al dente and the shrimp and scallops in the dish were cooked perfectly. In my dish I had 3 scallops and 4 shrimp to go with the large amount of pasta and roasted tomatoes. The broth really brought this dish together. It did have some heat to it, so if you are not a fan of spicy food you might want to take the word Diablo seriously! I was also glad the dish included bread so I could dip the bread into the juice along with the roasted tomatoes.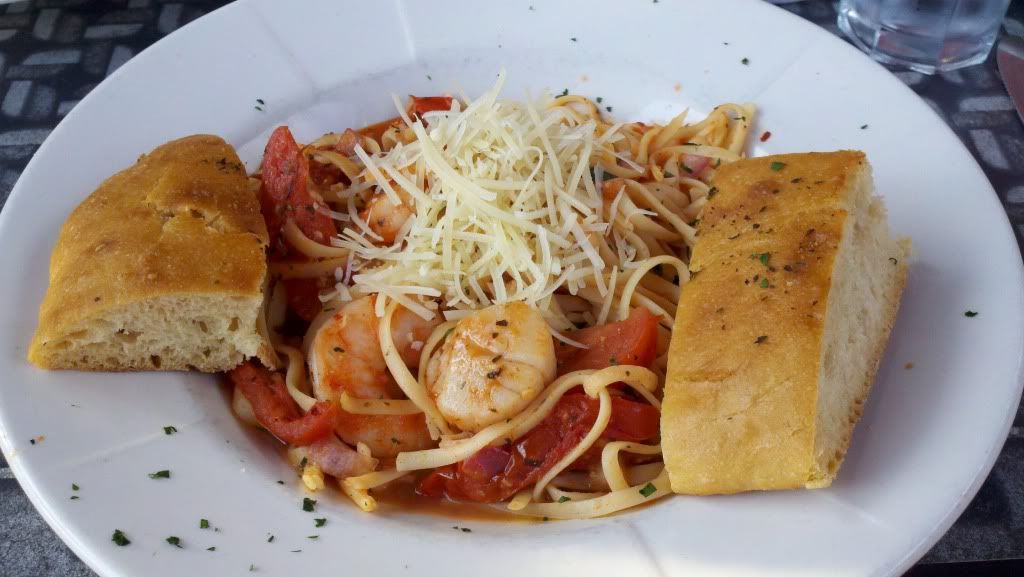 My future mother-in-law also got the Seafood Diablo and enjoyed it just as much as I did. She did find it to be a little spicy, but the fresh beers helped to quench that thirst! One inconsistency with the dish was that she only had 2 scallops and 3 shrimp in her dish which was different from mine. My future father-in-law had the fried egg burger and was very pleased with the temperature and flavors!
Overall everyone at the table enjoyed their meal. I was impressed with the menu changes and also how the quality of the food and presentation has improved. If you have not been to Willoughby Brewing Company in a while, I suggest you give their food a try very soon! Food wise they get a
4.5/5
!
Drinks
My friends and I have have been going to Willoughby Brewing Company for years to try different craft beers. Unfortunately, over time the beers were getting worse because of poor brewing practices and consequently we went less often. A few months ago new ownership took over and a new brewing regime began. They properly revamped the brewing system and dedicated themselves to brewing high quality beer again. To start our night out we decided to get the large sampler. For only $8.00 you get eight 4oz samples! This is probably the best sampler deal I've ever seen. Our waitress brought them to us with a clearly labeled piece of paper that had all of the beers names on it and then arranged them on the table for us. From left to right was the Toehead Blonde, Hazy Days American Wheat, Railway Razz,
Peanut Butter Coffee Porter
, GutterPup Porter, MoonShadow IPA, Rusty Rail American Pale Ale, and finally the WBC Maibock. What did not come on the sampler was the
Hopnotic Imperial Red Rye IPA
, which I gladly ordered for myself! Every single person at the table found at least 2 they really enjoyed. Personally, I liked all of them and was impressed with how each brew was very true to its style. My favorites of the samples were the Coffee Porter, the IPA, and the Maibock.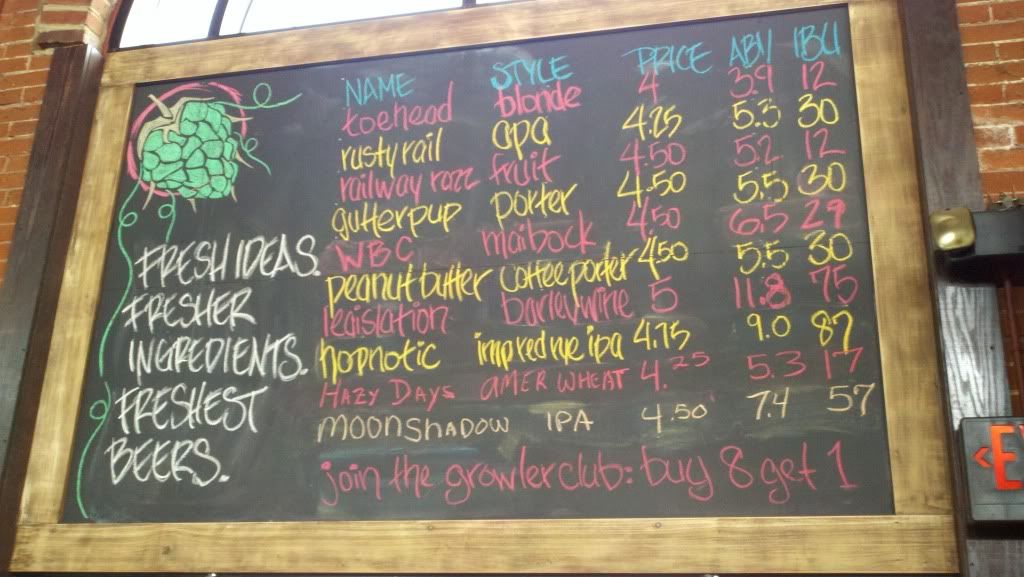 When it comes to high quality, fresh Craft Beer I can confidently say Willoughby Brewing Company is Back! If beer is not your thing, they do offer wine and mixed drinks as well. Drink wise I give Willoughby Brewing a 5/5!
Atmosphere and Service
Willoughby Brewing is a fun environment for all occasions, that is also family friendly. Here are some pictures of the bar area which offers high top table seating and also booth seating. There is also a back dinning area that is slightly more formal than the bar area. The decor is what you would expect in a brewpub and I think they did a nice job showcasing the brewing area behind the bar. We choose to sit outside on the patio since the weather was beautiful, but it was too dark to take a picture by the time we left!
Our service for the evening was also great. Our waitress was knowledgeable, friendly and around when ever we needed her. The atmosphere for a brewpub is excellent and the service was equally as good, and score wise WBC gets a
4.75/5.
Overall
If you have not yet made your way to Willoughby Brewing Company you don't know what you are missing. Excellent food, amazing craft beer, and overall just a great place to hang out with friends and family.