NEOFoodTours
event in Tremont. I was excited about this for a couple of reasons. First, we would be visiting three restaurants along the trip that I have not yet had a chance to try (Bistro on Lincoln Park, Lago and 806). Second, we would be walking around Tremont and talking about the history of this great area.
Fahrenheit
. I've eaten at Fahrenheit only once, and have been dying to get back there to see what else Chef Rocco Whalen has up his sleeve. Check in for the event was a breeze and we were directed to the back part of the dinning area that was made private for the event. There were approximately 20 people that attended the event, and there were two tables of ten set up for us. I enjoyed this seating arrangement because it really encouraged people at the table to engage in conversation. Before we really had a chance to say much to each other, our food was brought out to us. Our starting dish for the evening was a tuna tataki seared with peppercorns, cayenne pepper, sesame and hemp seeds that was served with a long, thin slice of cucumber that was wrapped around local pickled greens, citrus ponzu, and pea shoots. Chef Rocco then came out and spoke to the group about himself, his restaurant, Tremont, and about how all of the chefs in Cleveland have such great relationships with one another. Chef Rocco spoke with great passion and excitement and it was a great way to start the event. The dish itself was excellent too. The tuna was mildly spicy because of the peppercorns and the cayenne, and it paired well with the fresh and earthy cucumber and greens. Also, the acidity of the dressing really tied the whole dish together and getting everything in one bite made it clear what the chefs vision was with this dish.
Right before we were about to leave we were brought out a quick surprise that no one knew about, not even the NEO Food Tours people. Deep Fried Oysters!
Todd Gauman, the founder of NEO Food Tours, led us along the way to our next stop. During our walk he pointed out many details and facts about Tremont that I personally didn't know and found very interesting. I thought he did a wonderful job making the walk fun and interesting.
Bistro on Lincoln Park
. Myself and almost the entire table from the first stop all decided to sit together again since we had such a good time chatting at Fahrenheit. Once seated, Chef Pete Joyce presented us with a crispy piece of pork belly, some fresh greens that included basil, parsley, and chives, and a couple mixed berries. The single best bite on this dish was pork, basil and raspberry. The only problem was there was only one piece of basil and one raspberry. The whole table commented on how this portion was much too small, and we wish we could have had a chance to try different bites to see how the greens, berries and pork belly would have worked together. We all agreed though that the flavors on this dish were very good.
history of Lincoln Park
. We then continued on our walk towards Lago and stopped a few times to look at local architecture and to talk more about local history.
Lago
, and once again our newly formed group decided we would all sit together again. We were served a pan roasted halibut with a grilled vegetable ragu (asparagus, red peppers and a leak), and an English pea emulsion. I found the flavors to work very well together because the English pea emulsion added a wonderful freshness to the dish. The fish itself had a super crispy outside that needed a knife just to cut through it. Once through the crispy outside the fish was flavorful and tender on the inside. However, another comment around the table was that this portion size was just a little small considering we were at our 3rd stop on the tour and our 2nd stop really didn't fill us up at all.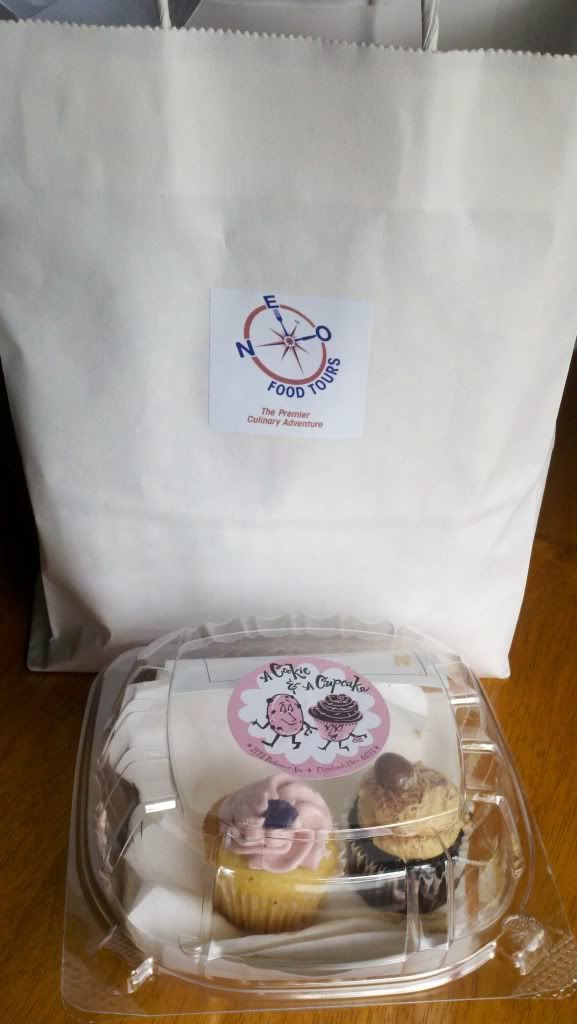 Overall I thought the tour was a fun and exciting way to show off Tremont, get people into new restaurants, and to create social interaction among Clevelanders! I also thought Todd did an amazing job giving the historical perspective of Tremont along the trip. After the event, over half of the attendees decided to go out for a drink because we had such a good time together. That really speaks to just how powerful food can be at bringing people together and making friendships on the fly! It was also a great time for everyone to reflect on the event. Improvements that everyone hopes to see would be to make sure that restaurants are providing appropriate portion sizes based on where they are lined up during the event, and to make sure what is listed on the menu is what we are actually getting (4th course). Myself and a few others shared these concerns with Todd and other NEO Food Tour employees and they too shared these concerns and vowed to improve these aspects during future events.
That being said, with the 4th NEO Food Tour event coming up July 20th down at East 4th Street I'm sure Todd and company at NEO Food Tours will be sure to knock our socks off with an amazing event. As soon as tickets go on sale for that event I'll be sure to post up a link on my "Upcoming Events" tab!
Disclosure: I attended this event with a free media pass. I agreed to help promote the event on my site and to also provide feedback to NEO Food Tours after the event. The thoughts and opinions expressed in this review are 100% my own and were also shared with NEO Food Tours.