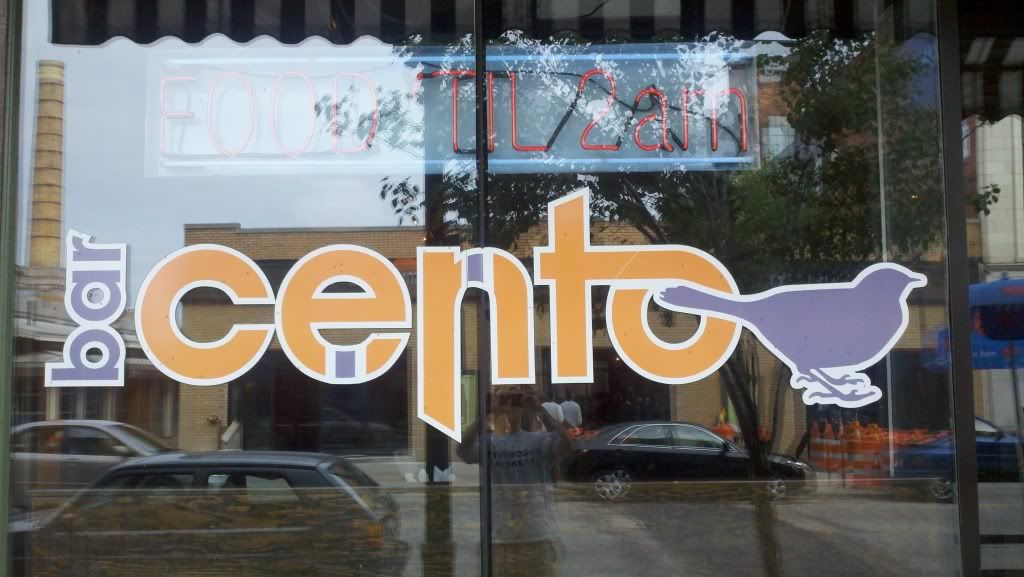 On Sunday my fiancee and I were running errands and neither of us really felt like going home to cook dinner. I had stated earlier in the day I wanted to have pizza for dinner and into her brilliant mind popped
Bar Cento
. We have dined at Bar Cento a few times before and both times got the amazing SunnySide Pizza, but have always wanted to go back and try some other menu items as well. So off to Ohio City we drove!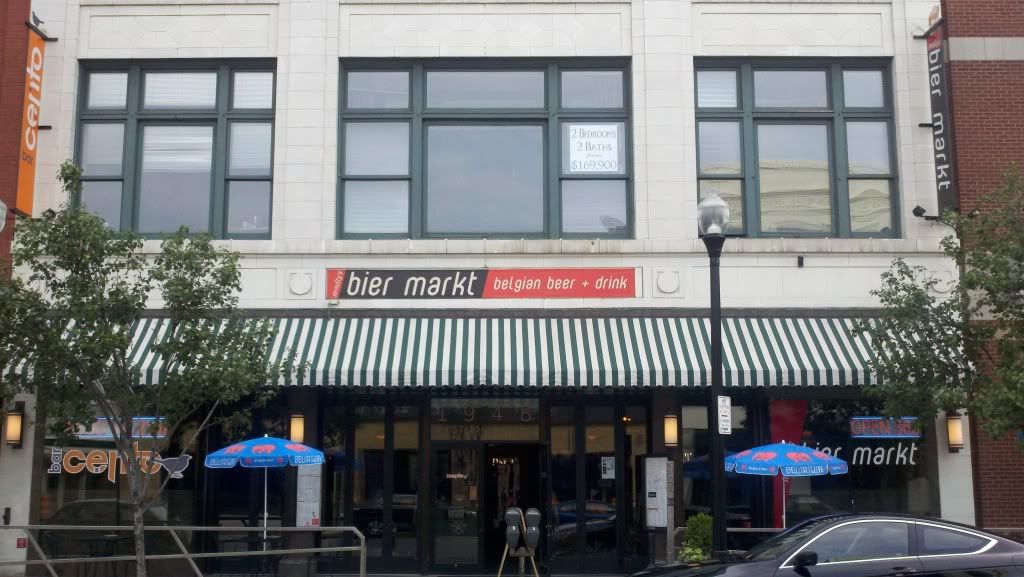 FOOD
We arrived around 5pm on a chilly Sunday afternoon and had no problems getting a seat inside without a reservation. We asked our waiter if there were any specials and he was quick to point out the Duck Confit Pizza that was back on the menu. The words Duck Confit and Pizza were enough for me to order it! We also wanted to order an entree so we could experience something outside of Bar Cento's pizzas, so we decided to split the Brick Oven Chicken.
The pizza was a work of art. It was piled with Ohio rhubarb, Lucky Penny Farms Chevre (goat cheese), chives, orange zest, and amazingly flavorful duck confit. With all of these ingredients on top of a thin crust, I was thoroughly impressed how crispy the crust remained from the outer edge all the way to center. The crust added wonderful texture to the creamy, powerful goat cheese. Neither of us could get over how good the combination of the duck, rhubarb, and goat cheese was. Sweet, Savory and Delicious all in one bite! The chives and orange zest also added a wonderful freshness that, in the end, had me proclaiming this as one of the best pizza's I've ever eaten!
If the pizza wasn't enough, we still had the Brick Oven Chicken dish to eat! It was served with spinach sformato, fennel and a tomato jus. It also came with a side of frites and our server was kind enough to bring us three dipping aiolis my fiancee requested. The chicken was cooked perfectly throughout. The inside was soft, warm, and juicy while the outside had a very thin, extra crispy skin. My fiancee usually will not eat the skin because of its soggy and soft texture, but the way they prepared this dish she loved it. We both appreciated when we bit into the chicken there was a flavor packed crunch and then the soft texture of the chicken. Combine that flavorful bite with a bit of the sformato and fennel dipped in the jus and again we were left with perfect bites. The frites alone are worth the trip to Bar Cento. These are fried to perfection in duck fat and served with a chili, curry, and garlic aioli. My favorite was the garlic with the chili coming in a close second. (I didn't get a picture of the aiolis.)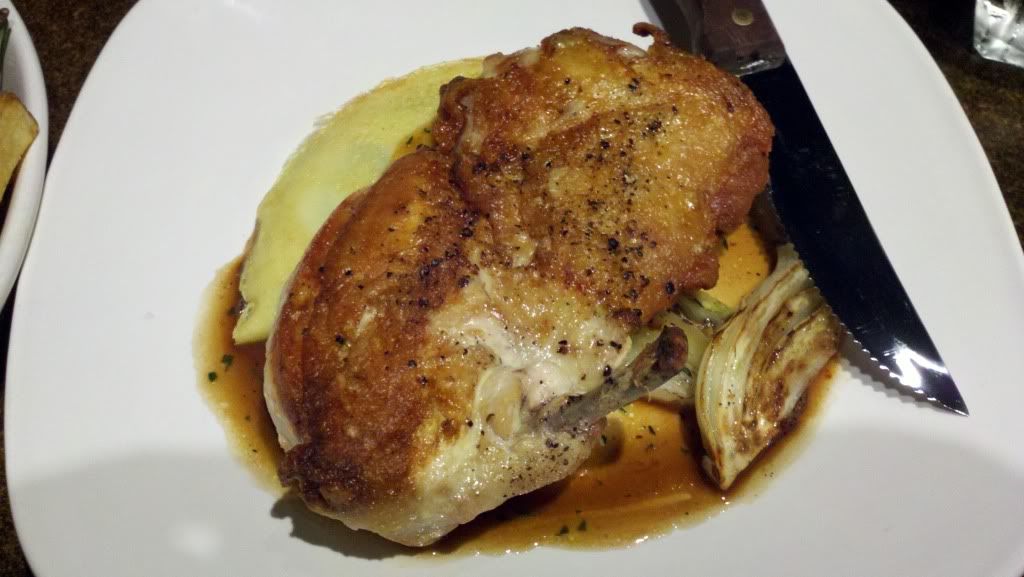 Overall our meal was amazing. We didn't have one complaint about any of the food. Everything was cooked and seasoned perfectly. If you have not been to Bar Cento, you should go, and if they have either of these dishes on the menu I highly recommend you try them! Food wise Bar Cento gets a 5/5.
Drinks
When you walk into Bar Cento a draft beer list is clearly visible for all to see. They also have a paper list that offers even more selections in terms of draft options and bottled beers. In the few times I've been to Bar Cento, I've never had a problem finding something very tasty to drink. Tonight was no exception, as I had a
Bell's Two Hearted Ale
and then a
North Peak Vicious Wheat IPA
which they tapped right away after kicking the keg of Heavy Seas Loose Cannon. If beer is not your thing, don't worry they have over 100 different wines available and they are all very reasonably priced. With a good variety of craft beer both on draft and in the bottle, along with an excellent wine selection and fully stocked bar nearly everyone will find something they enjoy drinking at Bar Cento, and for that reason they get a
4.75/5
for drinks!
Atmosphere and Service
The feel of Bar Cento is laid back and relaxing, yet still refined and elegant. By this I mean you could celebrate your first date or your 50th anniversary here in style, or if you were just looking for a place to grab a cold drink and a good pizza this is your place too! I like that they offer many different seating options from bar seating, to your usual tables inside the restaurant, to the booths that surround the room as you walk in the main doors, and finally the outdoor patio seating. The service also makes you feel very comfortable. Our waiter answered every question we had about the menu and he was extremely knowledgeable even down the smallest ingredient. Outside of the food knowledge our waiter also had a good understanding of the craft beer offerings and explained what some of the offerings would taste like. Friendly, prompt, knowledgeable service combined with a wonderful restaurant feel earns Bar Cento a
5/5
.
Overall
Did
Bar Cento
live up to all the hype surrounding it in the media/social media world? Absolutely! From the moment we walked in until the moment we left, we had a wonderful experience and look forward to going back to Bar Cento again. If you still have not made it down to Ohio City to see what Chef Michael Nowak and crew are cooking up, put it on your short list this summer!