On Saturday I surprised my fiancée by taking her to Ferrante Winery in Geneva. This was a special occasion because we had not seen each other in a week! We have been to Ferrante a handful of times over the past couple summers and enjoyed our meals and wine each time. I figured this trip to Ferrante would be a good surprise since we have been doing so much dinning around the city of Cleveland.
Food
The menu at Ferrante has many choices. Pizza, pasta, steak, chicken and seafood can all be found in some fashion on the menu. As I mentioned, we have dined at Ferrante in the past. We have usually stuck to some sort of pasta or Italian styled dish, but this time we decided to go a little different route.
Before our Entrée's came out a fresh warm basket of bread and butter were brought to the table with our salads. The salads were mixed greens with a cucumber and tomato slice and a

Peperoncini

. The house dressing that came with the salad was very tasty. So far, so good!
My fiancée ordered the Pollo alla Fontina Spinaci. This meal consisted of a seasoned chicken breast that was layered with Prosciutto, Roma tomatoes & Fontina cheese and was oven-baked. It was then topped with seasoned spinach. The dish was served with a side of redskin mashed potatoes. My fiancée began to eat her chicken and asked me to taste it. My initial reaction was the same as hers. The chicken itself was slightly overcooked, dry, and the blend of seasoning used on it wasn't all that flavorful. The prosciutto, tomatoes and cheese helped to add some flavor to the chicken, but they could not help with the dryness. The mashed potatoes, as you can see in the picture, look like they were prepared long before we arrived and simply warmed up and scooped on our plate with an "ice cream scooper". The color of the mashed potatoes was dark yellow and the flavor was not very appealing either. My fiancée was very disappointed with the potatoes both in terms of flavor and presentation, and wished her chicken had a little more moisture. For $17 we both expected a higher level of execution.
I decided to try something unusual when I heard they had it as a menu special. I've eaten Monkfish once before and I was a fan of the texture and flavor. I decided to give it a try because I don't see it on menus all that often. My Monkfish filet was served topped with braised spinach, capers, tomatoes and a white wine glaze.
As I cut into my very white monkfish I noticed something that I didn't see in my previous experience with this seafood. I can best describe it as a 1 inch very skinny pink "tube-like" piece. I immediately stopped eating the fish and showed this to my fiancée. She called the waitress over, but the waitress had no idea what it was. I asked to speak to the chef, but she said the chef was very busy. I agreed that she could take my dish back to the chef to ask. The chef sent it back out and we were told "It is a vein." The waitress did offer to have something else prepared for me if I would like, but going on what the chef said I decided to eat the monkfish. That being said, I cut out the other veins I found and very carefully ate the rest of the fish. The fish was good, but by this point I sort of lost my appetite because the pink veins in the white fish were pretty unappealing. My potatoes were more of the same of what my fiancée had. For $21 I was pretty disappointed in the meal. The next day following the meal I called a fishmonger to further investigate what I came across. I was told that it was indeed a vein that runs across the bottle of the fish but that it, and the grey matter, should have been removed. The person I spoke with likened removing this vein as you would a vein in a shrimp.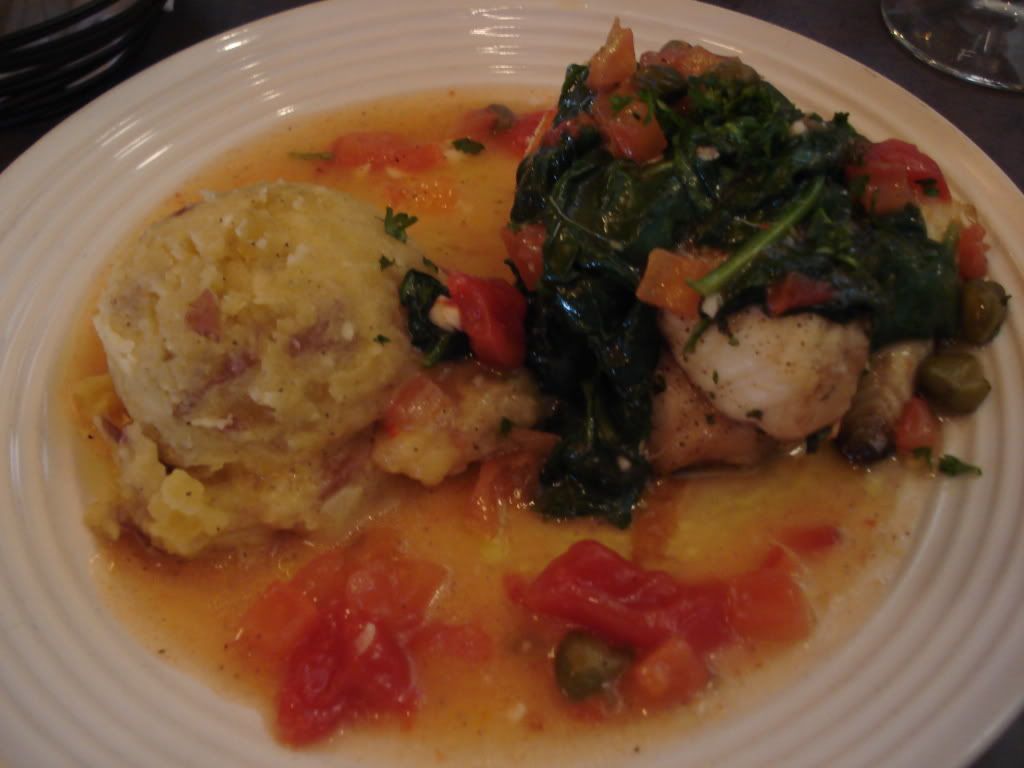 As I mentioned at the beginning of the review we have eaten at Ferrante several times and left very happy each time. Pizza, Pasta and Steak all have been executed well in the past so we went in with higher expectations. I understand every restaurant has a hiccup, I just hope that next time a dish is sent back for a reason like this, it isn't even brought back out. The positives for the night were the bread and salad (and wine). What I did eat of the monkfish was good, and besides being a little overcooked my fiancée did like her chicken with the Prosciutto. The downfalls of the food were the mashed potatoes, and the veins left in my fish.
The food we got this evening gets a 2/5.
Drinks
If you go to Ferrante you go for the wine! As much as I write about beer, I do love a good glass of red, dry wine. The Cabernet Franc at Ferrante is excellent so we ordered a bottle of that. If red and dry is not your taste they offer sweet and dry reds, blush and white wines. Ferrante does an excellent job making quality wines as far as I'm concerned. There are no other alcoholic offerings besides wine. We love the Cabernet Franc so drink wise I'd give them a 4/5.
Atmosphere and Service
The indoor area is open and airy, while the outdoor space is expansive and an amazing place to spend a summer evening. Building and décor wise Ferrante really has it done right for a winery/restaurant! Our server for the evening did an excellent job. She knew the menu well and if she didn't know the answer to a few of our questions about the specials she went and found the answers very quickly. She was friendly and attentive all evening and we were very happy with our service. Atmosphere and front of the house service get a 4.5/5.
Overall
Even though our food was a let down this time, we really do enjoy making the trip out to Geneva and to Ferrante. We'll definitely be back again for food and wine, next time I'll stick to the pizza and pasta which I know I like! Overall (this visit) 3.75/5.
All thoughts and opinions written on either of my sites are my 100% own and all reviews are written with 100% full disclosure.