This guest review comes to us by the way of Ed Butdorf of Ed and Friends. A little while back I through out the idea of having some people do a guest review for me. Ed responded and asked if he could do something a little further south of Cleveland, I said by all means! Thanks again Ed for doing such a great review of The Wooster Inn!
The super cool crew at Cleveland Food and Brews (aka Brad and his Fiancée) were soliciting guest restaurant reviews and since I consider Wooster to be a suburb of Cleveland, I immediately threw my hand in the air and offered to review one of the many outstanding restaurants we are lucky enough to have here. So, here it goes and I hope you all enjoy it!
Some friends and I were headed to a charity wine tasting Saturday evening and decided we should eat before tasting 30 some wines. We unanimously voted for The Wooster Inn. We all know Chef Ken, Chef Ben and many more of the top notch staff members. We love the fact that The Wooster Inn has made a big commitment to buying locally, humanely produced ingredients. We love that Chef Ken is a supporter of local charities and helps with charity events whenever he is called upon.
Now that I have sung the praises of the management and staff at The Wooster Inn, it is time to sing the praises of the fine meal we had. We started out with beer cheese soup and some scrumptious popovers. The soup was wonderful and I liked that the staff left some room for salt and pepper to be added by the diner in this and all of the dishes we ate. So many restaurants now serve dishes that are seasoned to the chef's taste which may or may not be too salty for some.
Next we had salad and the stand out by far was the grilled romaine salad. It was really one of the nicest salads I have had, crisp and tasty but with the charred smokiness that really put it over the top. I will skip dessert every day of the week to have room instead for a fabulous salad like this one.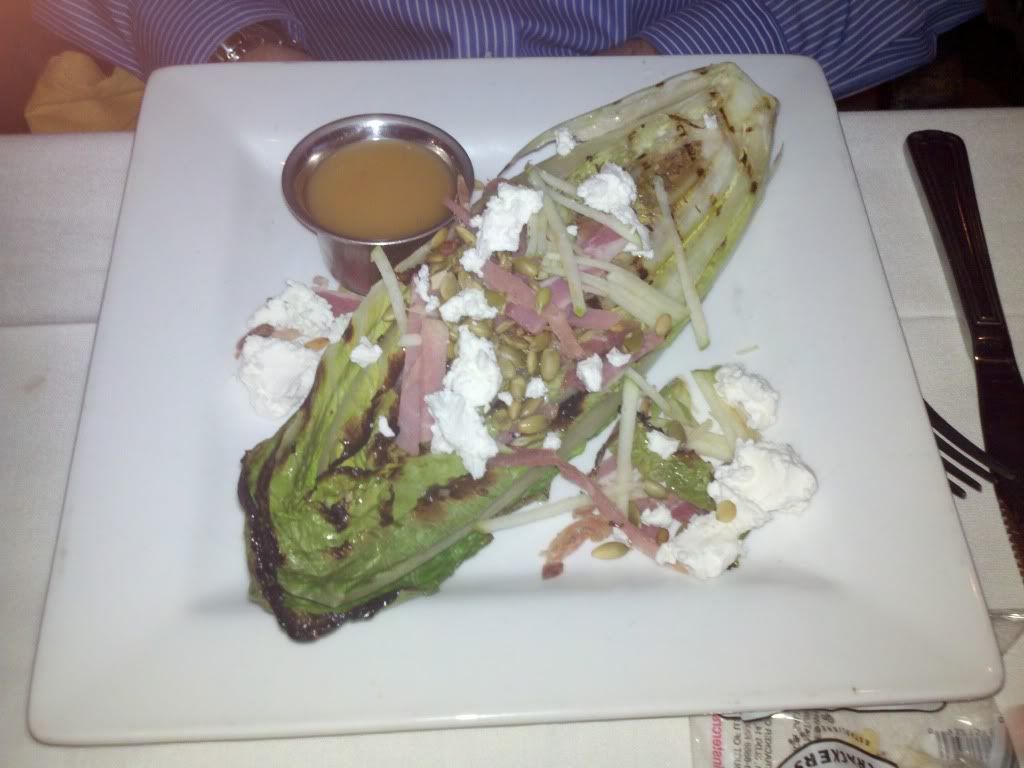 For entrees our table had a nice selection that included blackened tuna with a wonderful vegetable pasta and fresh grated parmigiano-reggiano. The pasta was cooked perfectly and the spiciness of the blackened tuna was the perfect contrast. I loved this dish and wish it was on the regular menu (chef's special tonight) so I could have it again;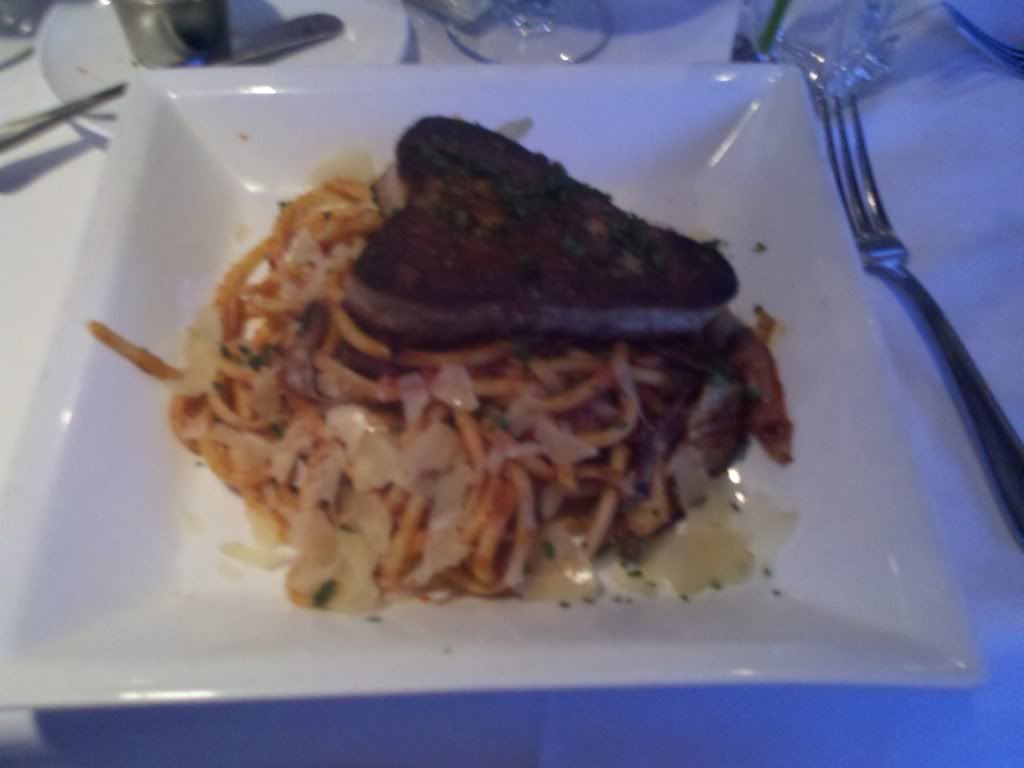 Braised short ribs with collard greens and garlic mashed potatoes. What can I say about braised short ribs but YUM? This example was cooked perfectly and the pairing with greens made a very hearty dish even heartier. The addition of the garlic mashed potatoes was wonderful as well. This dish is perfect for a big eater and my wife couldn't even come close to finishing;
And perfectly seared scallops with a very tasty and creamy mushroom risotto. This dish was very nice and I am excited to order it myself so I can eat the whole meal and not just a taste.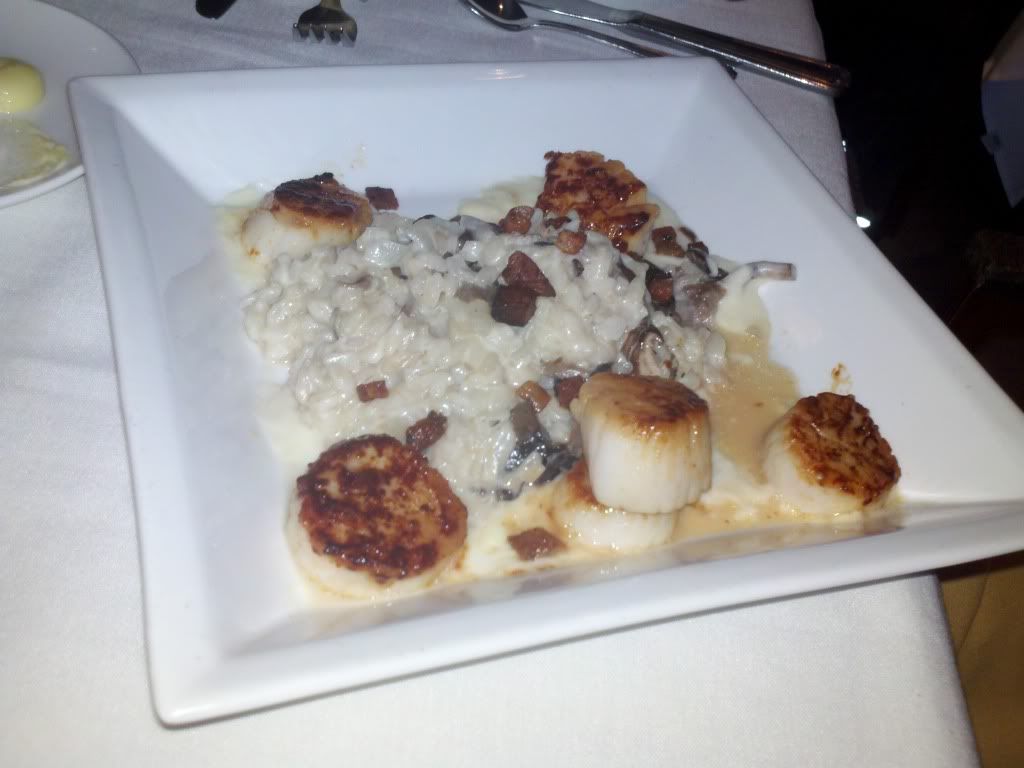 All of our meals were wonderful and our only regret is that we didn't have room for dessert!
The atmosphere at The Wooster Inn is very nice with the one exception being I would like some background music to create a pink noise between tables. Although we didn't have wine with our meals due to the fact that we were headed out to try 30+ wines, the wine list at The Wooster Inn is fabulous! The beer list is nice but could use a little improvement. If you (like me) really like obscure beers you may be a little disappointed. The Wooster Inn does have four beers on tap and they try to make it all micro brewed selections (although one was Stella on this night).
The Wooster Inn like so many other independent restaurants is a place where you can feel good about spending your hard earned dollars. The Wooster Inn's commitment to community service and local/humane ingredient sources along with the wonderful food make The Wooster Inn a place that I will visit again and again. I hope you all have the opportunity to come visit very soon!