What better place to go in Cleveland after getting over a foot of snow than a restaurant called MELT! I've reviewed Melt once before and had a wonderful experience. Melt Review #1. Here is my follow-up review.
My fiancée and I arrived about 45 minutes before the rest of our party. We decided to do this because of the long waits that often happen at Melt. When we arrived at 5:45pm the restaurant was full, but there was not a long wait for a table. We put in our name for a party of 6 and we told the hostess that the rest of our party was due to arrive around 6:30pm. She informed us that as soon as half the party arrived we could be seated. My fiancée and I then found two seats at the bar while we waited for our friends. While at the bar, we ordered some

pierogies to hold us over until dinner.

I also ordered a Founders Double Trouble while my fiancée ordered a Left Hand Milk Stout on Nitro.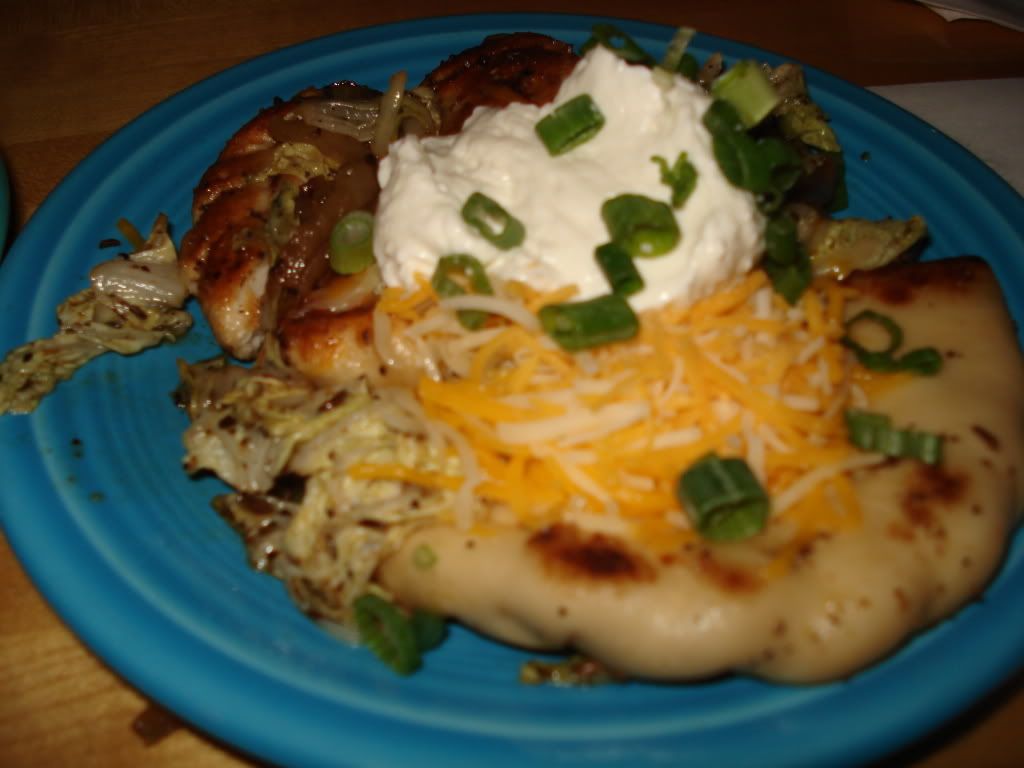 Food--These pierogies were filled with

potato and cheese and were pan fried with grilled onions and served with napa vodka kraut,

shredded cheese and sour cream. The pierogies were flavorful and well seasoned while the vodka kraut added a little kick to the dish. This was a perfect small appetizer.

At this point our friends arrived and we were seated within a matter of minutes.
For dinner I ordered the BBQ chicken Grilled Cheese. It came with
grilled chicken, grilled onions, sharp cheddar, and a sweet chocolate BBQ sauce. I loved everything about this grilled cheese. The chicken was flavorful and moist, and the sweet chocolate BBQ sauce was outstanding. The sharp cheddar and onions paired perfectly with smoky and sweet BBQ sauce. The bread was toasted perfectly on both sides and remained crispy throughout eating both halves. The portion size of this grilled cheese was very large, an excellent value at only $9.00! The fries were also very good, especially when doused with malt vinegar! If you liked BBQ chicken I'd highly recommend you try this sandwich.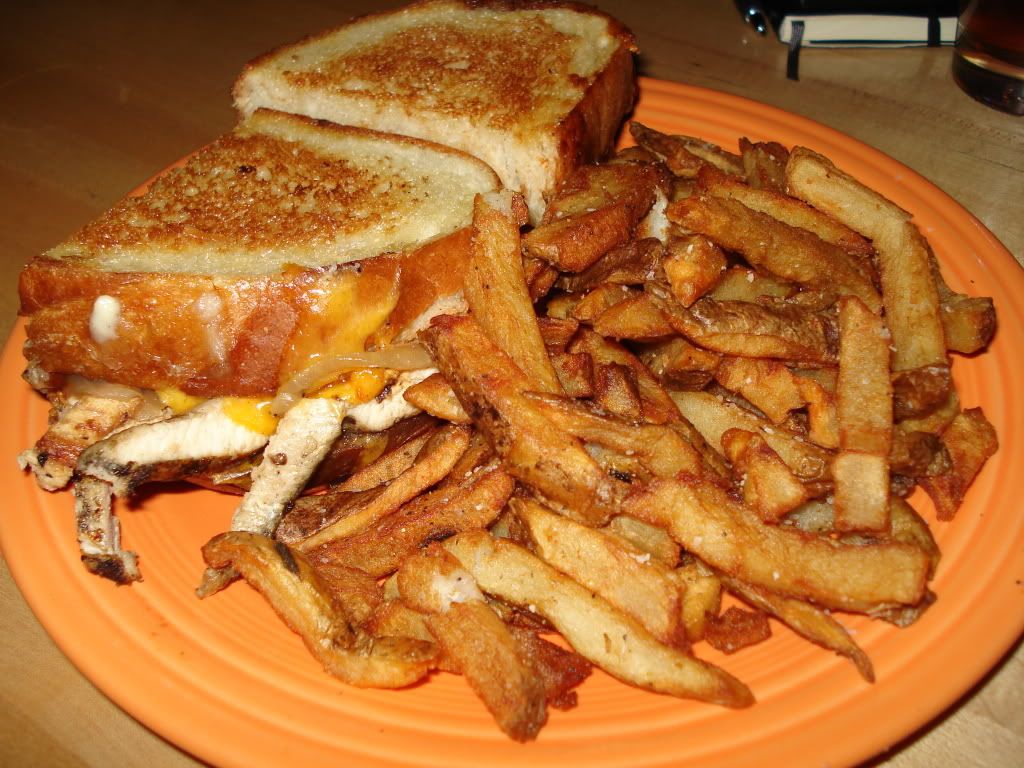 My fiancée ordered the Wake and Bacon, but instead of getting bacon she substituted avocado to go with the fried eggs and american cheese. It also came with a side of slaw and fries. She was a big fan of her meal too. The fried egg and avocado was something I thought was unusual to pair, but it worked wonderfully together. The bread and fries were just as well done on her plate as they were on mine. The coleslaw was a vinegar base and noticeably seasoned with pepper. At $7.50, this is a fantastic value.
The others that were at the table were also equally impressed with their food. Every single person at the table walked away 100% full and satisfied with their meal. Every bit of food we at during this meal was excellent. This marks the 3rd time I've been to Melt for dinner and have walked away impressed. If you have never been to Melt it is worth the wait! Food wise, Grilled Cheese done right gets a
4.75/5
in my book.
Drinks--What makes the wait at Melt even easier is the fact that they have a great beer selection. First, having nearly 30 beers on draft at all times is impressive. Second, adding a substantial bottle list that is broken down and sorted according to styles makes ordering a different beer every time around a breeze. Just to give you some examples, I had a Founders Double Trouble, a Brew Kettle Old 21, and a North Peak Diabolical IPA. If you are a craftbeer lover, Melt is a place you should visit, and visit often! If beer isn't your thing the fully stocked bar is sure to please you as well. Drink wise Melt gets a 5/5.
Atmosphere and Service--
Melt is a fun, laid back restaurant that is suitable for all ages. The decor is fun and playful and helped to keep the attention of the 6 month old that was dinning with us for the entire meal. The service at Melt is always friendly, and the drinks are served quickly. Sure the food takes a little while to come out, but when you are sitting around having some great craftbeers with friends, who's watching the clock? That being said, the appetizers that were order did come out rather quickly, which held everyone over until our meals arrived. Atmosphere and Service get a
4.75/5
Overall--Melt offers great grilled cheese done in creative and playful ways. They also offer a beer lover a night full of interesting brews. If you are in a hurry you might want to call ahead to check the wait time, but either way, Melt is worth the wait! 4.75/5