On a recent trip back home to Pennsylvania I convinced my family to meet me at North Country Brewing in Slippery Rock, PA for dinner. I found North Country Brewing by simply searching area brewpubs, and I figured it was worth a shot after reading some positive reviews.
Food--The menu at North Country is very diverse. A variety of starters from frog legs to hummus greet you as you open the menu. As you browse further, you'll find salads, steaks, sandwiches, and even seafood and pasta. It is clear from the menu that North Country is trying to have something for everyone who dines there.
My choice for the evening was the Black and Blue Bison Burger. (They have elk on the menu, but they were out and were offering bison instead.) This burger was pressed in cracked peppercorns and then cooked to a temperature of medium. It was then topped with bleu cheese crumbles and sugar-glazed peppercorn bacon. I was somewhat worried the bleu cheese might over power my palate, but it was quiet the contrary. The spicy peppercorn burger and bacon paired perfectly with the bleu cheese which made this burger a real treat to eat! I am a very big fan of bison because of its leanness, and anything over medium just won't cut it with me. They did a really good job of not overcooking this burger. If I had one small grip about my dish it was that the sweet potato chips that came with the dish were not evenly cooked. Some of the chips were crispy while others were soft and not appetizing.
My fiancée ordered the North Country Garden Cakes. These cakes contained zucchini, red onion, red and green peppers and finished with a cajun remoulade. They were served with a side of rice as well. The cakes were very flavorful and well seasoned. The onion and pepper flavors stood out the most in the cakes. The sauce was somewhat spicy, but didn't take away from the fresh flavors in the cake. The rice that was served unseasoned. However, the remoulade sauce on the cakes added some flavor when she ate the cakes with the rice. With a slightly better effort on the rice my fiancée would have loved this dish.
My 6 year old niece who joined us also wanted to be part of the review! She ordered the Mac and Cheese with Smiley Fries. The Mac and Cheese was nothing more than a "Kraft" version, while the fries were a playful smiley face. She said she really liked her mac and cheese and refused to share her fries with me because they were very good. :-)
Overall everyone at our table was mostly happy with their meals. If the sweet potato chips and rice would have been prepared as well as everything else this meal would have been a total success. That being said the food that we did like, we really liked and would order it again. Food wise, for a brewpub, I'd give North Country a
4/5
.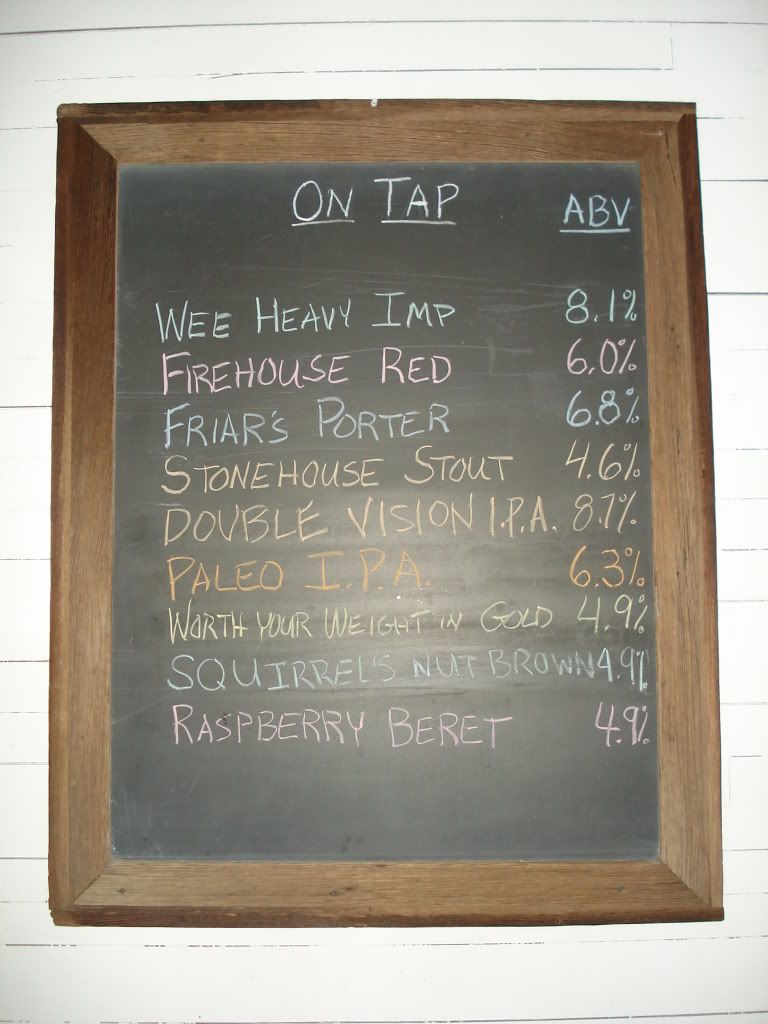 Drinks--
North Country is a Brewpub that takes great pride in their beer. They offer twelve house brews on tap at all times! I was very impressed by the fact they offered so many and were constantly brewing new batches to rotate through. Since this was my first time here I choose to start off with the sampler. The sampler contained six 4oz pours of the following brews: Paleo IPA, Double Vision DIPA, Friar's Porter, Stone House Stout (nitro), Fruit Bowl, and Wee Heavy IMP Ale (scotch ale). I really enjoyed each and every one of these except the fruit bowl, it was just too sweet. I would have loved to enjoy a pint of 5 of these, but time just wouldn't allow me. I picked the
Paleo IPA
for my pint to review. You can read my review of
Paleo IPA
by clicking the link or by visiting my
Craftbeer Site
. Overall I was impressed with the quality of the brews and the selection they offered (they only offer their own brews). If you are looking for a fun brewpub not too far away, I'd recommend North Country...
4.5/5
.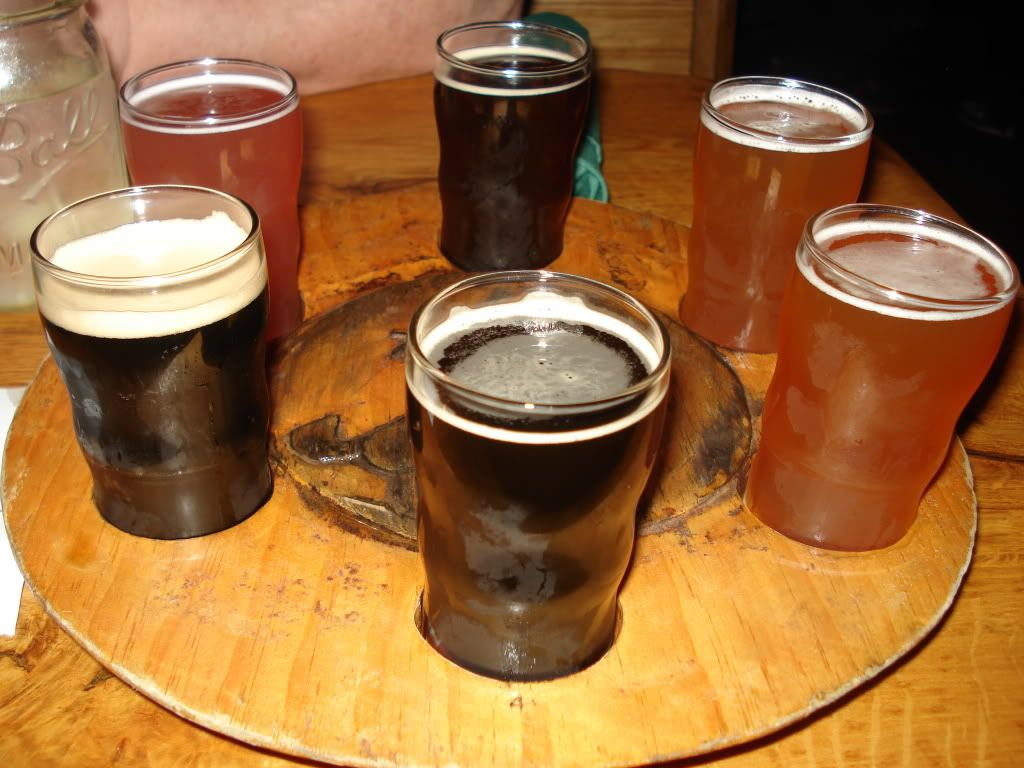 Atmosphere--This brewpub is pretty awesome. It is hard to put into words the history behind this brewpub, so to tell the story I've taken the following information from the North Country Website.
"
Peter Uber constructed the house and barn somewhere near 1805. By the time of the1835 census it had been registered as an inn. Peter's son William Henry Harrison Uber served as the bar keep in his father's inn.
In 1850 Peter and William added the existing storefront to the original house deconstructing the barn for building material. The rustic beams from the 1835 barn remain in place in our brewery today.
Soon thereafter, Peter and William went from inn keeping to cabinet making and by the time of the Civil War, to coffin making. Apparently business was very good and it soon occurred to the Ubers, in their dead reckoning, that undertaking was the next logical step. Soon their shop became "Uber and Sons Undertakers and Furniture Dealers." The business flourished, even if their customers did not.
Sometime in the 1800s the business and the building were passed on from William to his son Carrol. Under Carrol's leadership, the business continued to prosper. It was enlarged to its present size somewhere around 1920. Elton North Uber - Carrol's son - carried on the family tradition until his retirement in 1974. After Elton had the last funeral, Edward Uber continued the family business as a furniture store for 20 more years.
In the spring of 1998, Jodi and Bob Mccafferty fell in love with the old storefront and immediately started renovating. They personally rebuilt the structure from the foundation through the roof with gathered local hardwoods and recycled on-site materials. Artisan and friend, Gregg Kristophel handcrafted the hardwoods, as well as black walnut and curly maple left from the Uber's furniture store, into the custom feel found only in Slippery Rock, Pa. We graciously thank Gregg, not only for all of his labor-intensive efforts and care, but also for believing in our vision."
We dined in the bar area but we were curious about the rest of the brewpub! The manager was kind enough to give us a tour of the upstairs and where the fermentation tanks are located. Every step of North Country had so much character. The manager pointed out how some of the original materials of the building were incorporated in the new renovation. My fiancee and I were
extremely
impressed with the rustic building and decor. The "green" usage of materials from the restaurant to the food is commendable. You will just have to visit this place to see what I mean when I say this brewpub is a classic
5/5
!
Service and Overall--
The brewpub was absolutely packed. So busy in fact that even though my family arrived nearly 45mins before us and put our names in, we still had to wait about 15 minutes once my fiancee and I arrived. Once seated our server was friendly and knowledgeable both about food and beer. The food and drinks were both brought out very quickly considering how busy the brewpub was. Service wise we were a very happy table. Overall, the food, drinks, and service were all very good, and the atmosphere of the brewpub itself is top notch. I would highly recommend that you take a day trip to Slippery Rock to see what you think of
North Country Brewin
g!
Overall 4.5/5
.