While at work on Thursday I got a message from a friend telling me that tragedy struck the Bostwick family. I immediately felt horrible and wondered how on earth Chef Adam Bostwick was going to be able to cook for the event. A little while later I learned that Chef Bostwick would not be cooking for the Theatrical, but I was told they had some help coming in. The word "Help" doesn't even begin to describe what took place at the East 14th Theater. Chefs

Matt Creighton, Jeff Jarrett

, Brian Doyle,

Brian

Okin

, Kimberly

McCune

, Chris McCarthy, and

Chris Quinn all stepped up and volunteered to help in Chef Bostwicks absence. To see this type of camaraderie between chefs is something special, and it is the reason Cleveland is quickly becoming the "go-to" place to eat!
When we arrived at the East 14th Street we all gathered in the lobby/bar area before the doors opened. This was a great opportunity to catch up with friends and foodies! Once the doors opened we were able to see how the theater was transformed for the meal. The front area was set up with a movie screen that would display movie clips that inspired each course. The tables were set up around the room and dressed in black! The venue itself once again was perfectly matched for the theme of the evening.
Course 1 "The Preview"
The movie 9 1/2 weeks and the sensual refrigerator scene was the inspiration for this course. We were presented with a halved hard boiled egg white filled with tuna and strawberry tartar and chopped
kalamata
olives. It was paired with a strawberry
jalapeño
shooter (strawberry/jalapeño simple syrup and champagne). The saltiness of the olives paired very well with the tuna and the sweetness of the strawberry. Combine that with the creamy texture of the egg white and you have yourself and tasty and successful start to the meal. I didn't get much strawberry or
jalapeño
in the drink, it was more straight champagne.
Course 2 "Feature Presentation 1"
This course was inspired by Forrest Gump and the scene where Bubba is talking about how to make shrimp in about 100 different ways. The dish was a "Cleveland" shrimp gumbo, that included a shrimp pierogi and fried rock shrimp. The drink was an adult Dr. Pepper. It was made with amaretto, southern comfort, gin, sour mix, grenadine, and coke. The gumbo was simply out of this world and hands down my favorite dish of the night. The broth itself was super savory but not overly thick, it was also lightly seasoned which let the flavors really stand out.
This dish also had a small spicy note to it which I thought was outstanding.
The shrimp three ways was excellent all around, but the fried rock shrimp and that wonderful pierogi were my favorite. The drink was a well balanced mix of all the ingredients and it was not overpowering in terms of alcohol.
Course 3 "Feature Presentation 2"
This course was inspired by both The Social Network and Meet Joe Black. Chef
Creighton explained that Meet Joe Black's infatuation with peanut butter had a lot to do with this dish which was chicken stuffed chicken. The chicken was stuffed with a chicken confit and thai peanut butter sauce and paired with a peanut salad. It was served with a glass of stella artois with a salted peanut rim. The chicken was moist and tender and the thai peanut butter sauce was excellent. Getting all of it in one bite was a real treat. I personally didn't care for the "slaw" like salad due to my dislike of slaw in general, but my fiancée really enjoyed it! The pairing of Stella with this dish was perfect because of how light it is compared to the chicken and peanut butter. Adding the salted peanut butter rim to the glass was a great idea too!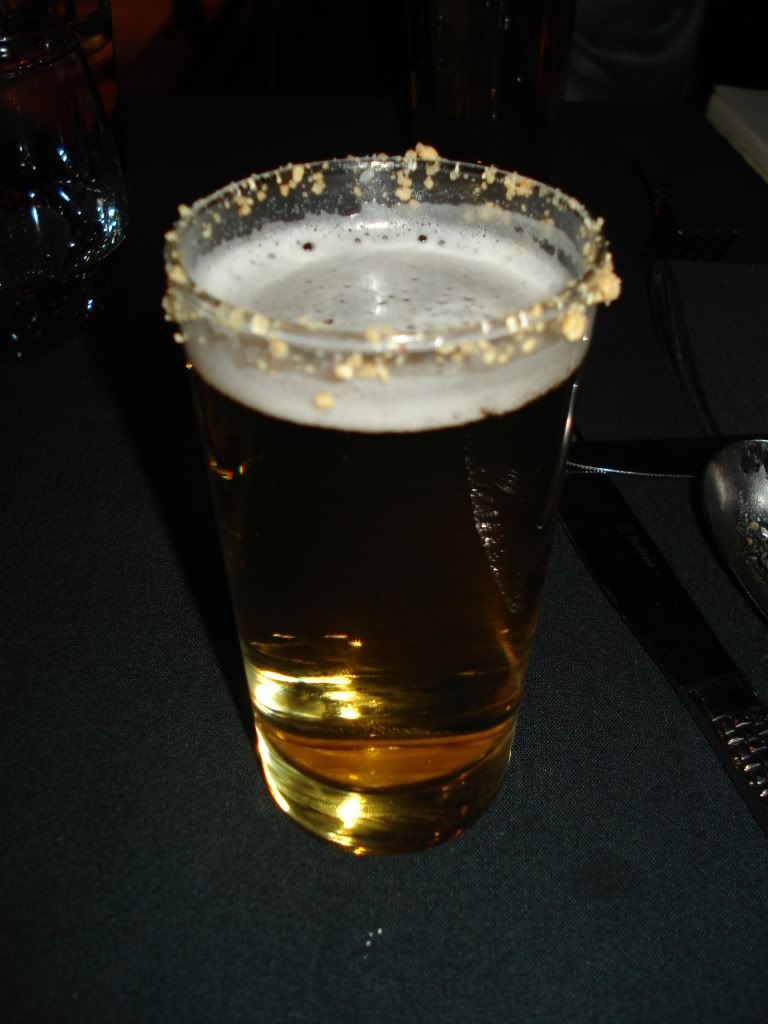 Intermission
For intermission we were presented with a liquid take on sour patch kids. A somewhat sweet/sour hazy green beverage that really didn't taste like there was any alcohol in it (kind of scary good!!)
Course 4 "Feature Presentation 3"
This course was inspired by one of my all time favorite movies, Pulp Fiction. We were served a take on the "Royale with Cheese". Instead of a traditional burger they used a short rib pave which was pressed into a cube. It was then topped with aged cheddar, tomato/kornichon brushetta, crispy onion, pickles and placed in a ketchup broth. It was served with what they were calling a "$8 milk shake". It was was made with vanilla vodka and godiva dark chocolate. I really enjoyed the pave and its moist, tender texture. Ketchup and pickles are on my list of foods I dislike immensely, but I ate everything and really enjoyed it! The milk shake was tasty, but I let my fiancée drink it because she likes vanilla way more than me.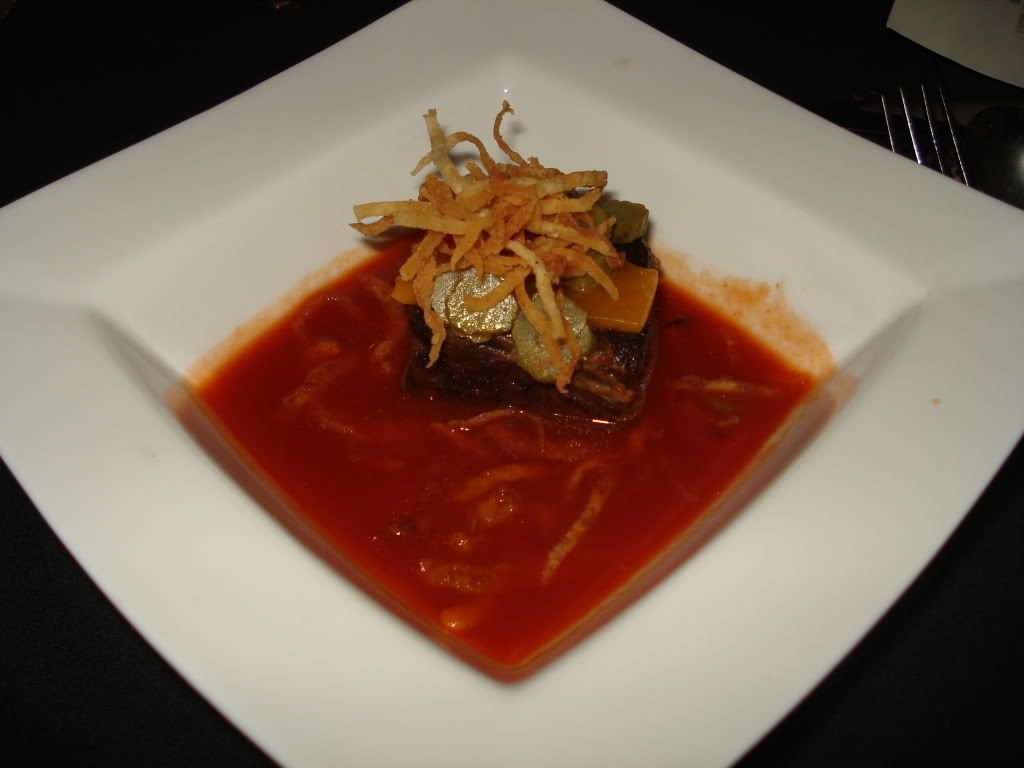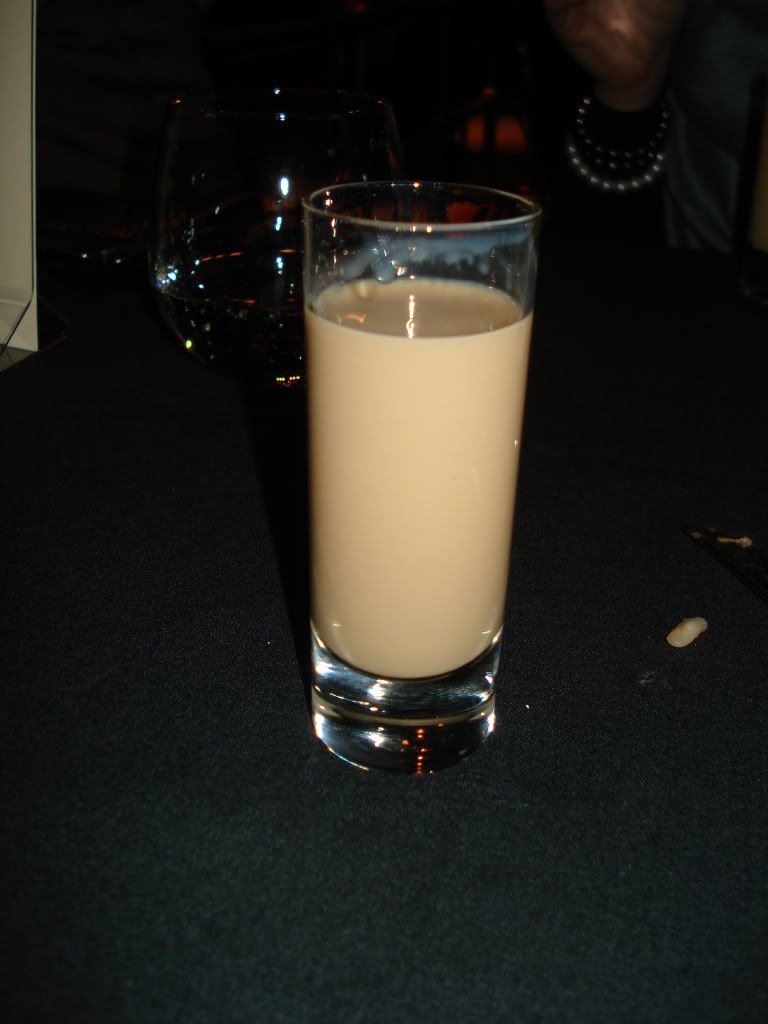 Course 5 "Feature Presentation 4 The Desert"
This course was inspired by Charlie and the Chocolate Factory. It was a blueberry bar, gobstopper brittle, and a chocolate "Wonka Bar". It was paired with a "Fizzy Lifting drink" (Brut Champagne, spiced blueberry simple syrup, and a pop rocks rim.) Everything on this plate was good, but my favorite part was the white chocolate gobstopper brittle! For the drink, who doesn't love pop rocks! Also, if this desert wasn't enough we were lucky enough to leave with a Cannoli inspired by none other than The Godfather! (Which I ate so fast I forgot to take a picture of it!)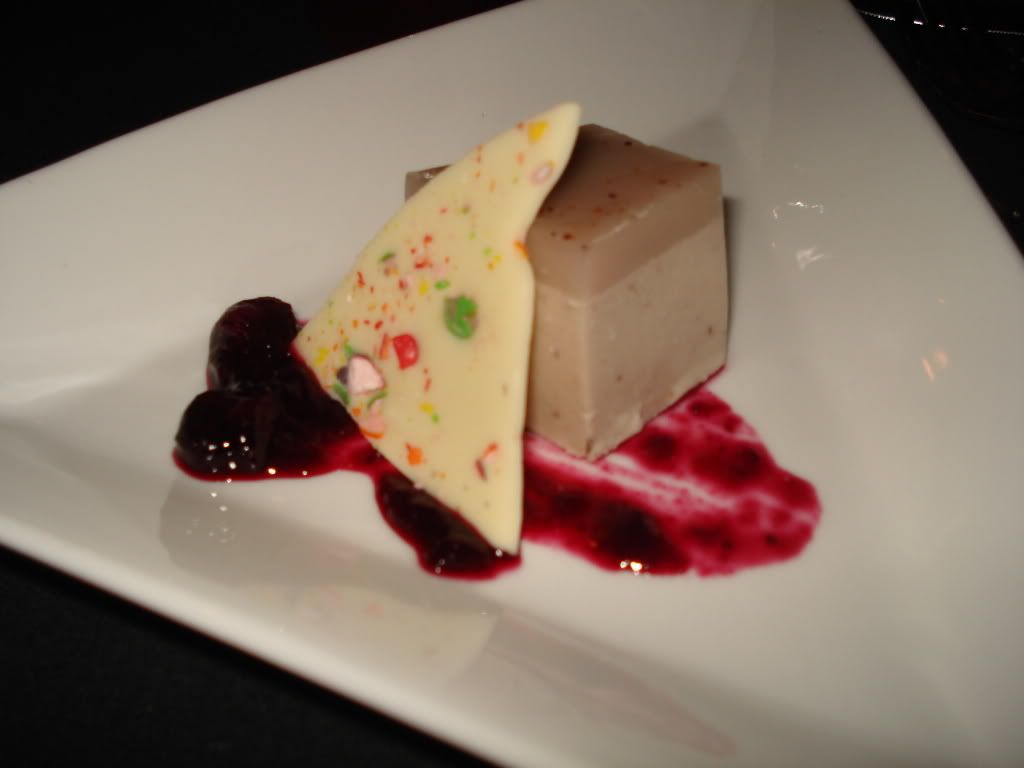 Once again Emerging Chefs hit the nail on the head with a fun and flavorful event. The food and drinks were all top notch, but I have to mention again just how great it was to see all of these fantastic chefs come together on such short notice and produce amazing food. They truly showcased Adam Bostwick's vision and Foodies around Cleveland are all lucky to have such great chefs cooking for us!!
I am already looking forward to the next Emerging Chefs event which is scheduled to take place on April 13th. This event is called "Dinner by Design" and will feature none other than Chef Ellis Cooley of AMP150. Click here for more details on this upcoming event!
Disclosure: I was given a single free media pass to attend the event. My

Fiancée's

Ticket was purchased with my own money. This review is 100% my own thoughts and opinions.