Last week Chef Sawyer invited me to the Apps and Brew event at The Greenhouse Tavern. Apps and Brew was a happy hour event that
The Greenhouse Tavern
and
Victory Brewing
teamed up together for. The menu for the evening consisted of five appetizers all paired with a matching Victory brew. Pairing proper beers with food is a passion of mine so I was thrilled to accept Chef Sawyers invitation to the event. I was also very happy to learn that my friend Renee from
The Brewers Daughter
would also be attending the event. I arrived at the bar around 5pm and Renee arrived shortly after, and so we began our food and brew tasting journey together!
Course #1
Warm Baliley Hasen Blue Cheese Gougeres with Belgium candy sugar blue cheese and dry cherry soubise.
This was paired with the Victory V12.
The blue cheese with candied Belgium sugar was something I would have never thought of doing in a million years, but the taste was out of this world. The sweet caramely sugar contrasted by the salty and sharp flavors of the cheese was outstanding. The gougeres was soft and flaky on the outside and packed with a wonderful creamy cheesy filling. The soubise that was brushed onto the plate was a perfect compliment to the gougeres and the blue cheese. Now comes the best part. The V12 is a Belgian-style ale. It has a mild fruity taste with a little pear. It finished a little dry and was very drinkable. It went remarkably well with the blue cheese, so well in fact that for every bite on this plate a sip of beer went with it and took the food to another level. The flavor of the dish and the way the beer enhanced the food makes this my #1 ranked food and brew pairing of the night
Course #2
Warm Lager Steamed Moules Frites with crispy mussels, bay leaf, pommes frites and tomato style duxberry and mussel aioli.
This was paired with the Victory Lager.
Anyone that has eaten at Greenhouse knows that they make some of the best frites you can find. This dish was no exception. The bites of mussels were warm, moist, and super flavorful thanks to the lager steaming. The frites were crispy, hot, and seasoned to perfection. The mussel aioli drizzled on top of everything was creamy and added a little hint of spiciness to the dish. This spiciness was cut perfectly by the Victory Lager. Victory Lager is a very light beer that is a great session brew. Very light on hop and malt, and easy to drink and not filling at all. Although the frites were outstanding, I think something a little hoppier would have pushed this pairing higher on my list because the food was great. This was my #4 ranked food and brew pairing.
Course #3
Artisinal American County Ham Trail Mix. It contained crispy hominy, herbs de provence, roasted chick peas, oven dried tomatoes, dry jack cheese fricco, tasty oats and moroccan black olives.
This was paired with Victory Smokin' Oats.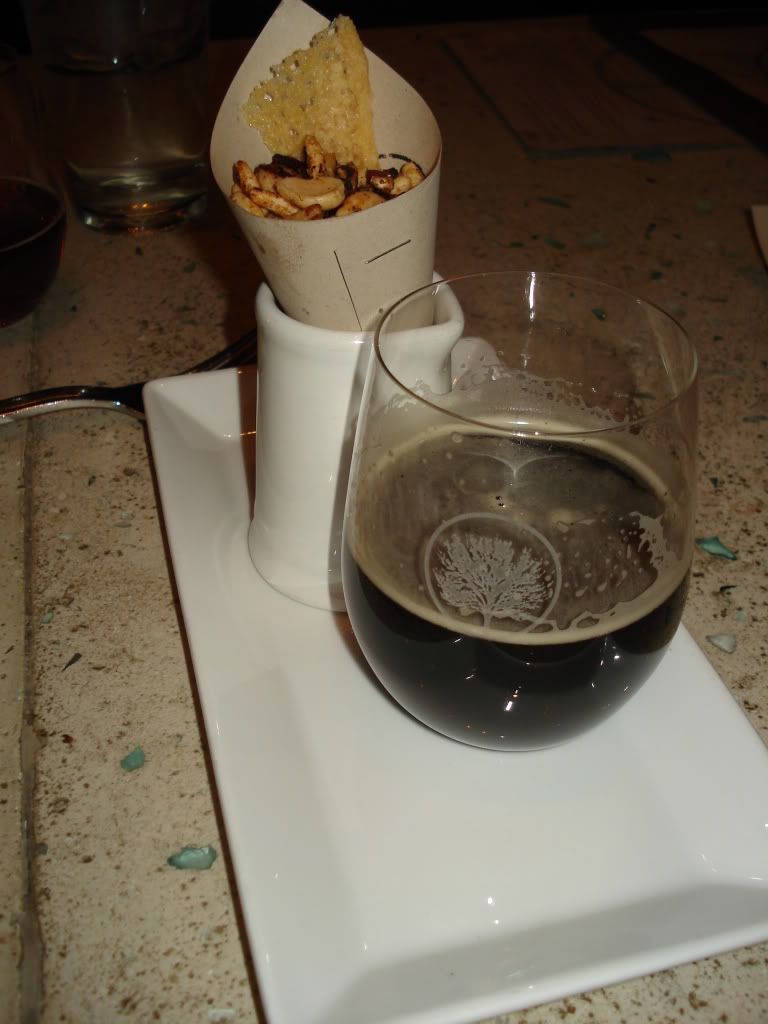 Trail Mix, Yes Trail Mix. Chef Sawyer and his crew whipped up trail mix that could easily be sold on any menu as a fun and playful appetizer. Smokey flavors with textures of crunchy hominy and chick peas made you feel like you were sitting next to a fire at home. Here is another example of where food and beer worked to each others advantage. Smokin' Oats is, as its make suggests, a smoked oatmeal style porter. The beer literally smelled like a campfire, and had a smokey, earthy taste. However, when you drank it in combination with the trail mix the beer took over a different flavor profile. The oatmeal in the beer came out more because the smoky flavor of the trail mix. When food and brews combine like this it is hard not to appreciate it. This was my #3 ranked pairing of the night.
Course #4
Blanc et Noir with spiced boudin noir, chicken and St. Victorius boudin blanc, padron pepper, pickled onion, all on top of rice pilaf.
This was paired with Victory St. Victorius
To explain this skewer I am going to translate what you see. On the right is a pickled onion. The dark piece second from the right is blood sausage combined with rice. The second from the left is another house made sausage with chicken and pork. The padron pepper is on the far left. I'll admit this right from the start that I am not a fan of rice. I know as a foodie that is hard to believe, but it is true. That being said, I ate the entire dish!! The texture of the rice was much softer and palatable for me. The onion combined with the two sausages was very tasty as was the mild, yet flavorful padron pepper. This dish was paired with the St. Victorius which is a Doppelbock. This pairing for me was just ok. I liked the dish, but the beer pairing didn't enhance the flavors as much as I would have liked. This ended up being my #5 ranked food and brew pairing.
Course #5
Crispy Pork Tongue Nuggets with Cola BBQ sauce, chili paste, and new potato tots.
This was paired with the firkin of Victory Hop Devil.
Pork Tongue Nuggets....I know what you are thinking and STOP thinking it! The outside of these nuggets had a wonderfully crispy, yet light crust while the inside was soft and only slightly dense. Sure the texture was a little odd at first, but when you get down to the flavor these were very, very good! The BBQ sauce was prepared by using cola and Hop Devil beer! The sauce was smooth, light and packed with bold flavors. The tots were also amazing. They were crispy on the outside and super light and airy on the inside. The firkin of Hop Devil was very special. A firkin version of a beer is special because firkin beers are unpasteurized, unfiltered, and naturally carbonated (conditioned). This happens by yeast transforming sugar into alcohol and creating carbon dioxide which gets trapped in the firkin which means a much smoother and less carbonated beer than a most are used to. The Hop Devil inside was excellent. Low carbonation, closer to room temperature, and mildly hoppy. I couldn't wait to try this brew and it didn't disappoint! This was very close to my favorite, but came in as my #2 ranked food and beer pairing.
Overall, The Greenhouse Tavern and Victory put together a great event with well thought out dishes and beer pairings. It was very fun to talk about the dishes and pairings with Renee and Chef Sawyer. The bar staff also did a great job all night and was a pleasure to talk food and beer with. An added bonus to the night was
@JoeG2001
and
@KellyandJose
stopping down as I was about to leave. I decided to stay and chat with them while they ate. It was great to meet another set of great Cleveland bloggers! If you have not been to The Greenhouse Tavern you really should check it out, you won't be disappointed!
Bonus
---Video of the Firkin being tapped! Thanks to Dean for sending this over to me!