While in Columbus for the annual Tech Conference I stopped by Gordon Biersch for dinner with some colleagues. Gordon Biersch is located in the Arena District right next to Nationwide Arena and very close to the Columbus Convention Center.
Food
---Before I talk about the food I ate, I have to talk about what we didn't order. When looking over the
menu
everyone around me commented on how expensive the entrees were. Most entrees were between $20 and $30. The tables initial impression of the menu was that it was overpriced for being a brewpub. For example, Lobster and Shrimp Mac and Cheese was priced at $20. Many of us wanted to order this dish, but just didn't feel right paying $20 for Mac and Cheese. We were hoping that what we did order justified the hefty price tags.
I ended up choosing the Steak Frites. (After dinning at the
Greenhouse Tavern
just a few days earlier, and my fiancee having amazing Steak Frites, $24, I thought it would be fair to compare the dishes.) These Steak Frites were a flat iron steak marinated in Märzen beer. I ordered my steak cooked to a medium temperature. The steak was served with Garlic Fries and came with a side of Gordon Biersch Steak Sauce. This dish was priced at $20.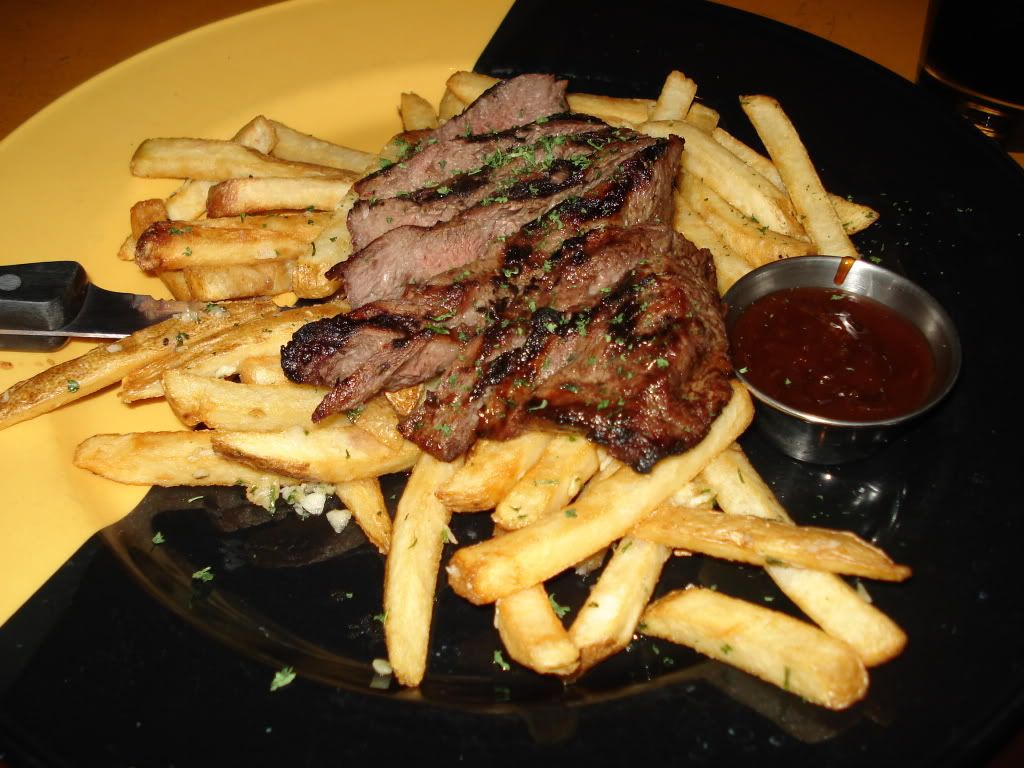 First, I'll talk about my steak. The portion size was average, and the steak was presliced for me. I didn't like the steak being sliced for me because all of the juices escaped and by the time I got to the last bite the steak was no longer warm. The steak did have good seasoning, but as you can see in the picture below the steak was very unevenly cooked. The left side of every slice was only slightly pink, more of a medium well, while the right side of the steak was closer to well done. Since they presliced my steak, I would have liked them to have noticed that it was unevenly cooked and clearly not medium. The fries under my steak soaked up all of the juices that they steak had lost from being presliced. The fries that were not underneath the steak were actually very good. They were well seasoned and very crispy and fresh. The steak sauce tasted like Arby's sauce, which on the fries wasn't half bad, but I don't feel it paired well with the steak at all.
Time to compare Gordon Biersch's steak frites to Greenhouse Tavern's. I've posted two pictures below, the top being Gordon Biersh (GB), the bottom Greenhouse Tavern (GT). An obvious difference is presentation and plating. GB cut their steak and placed in on top of the fries, while GT left their steak whole and placed it next to the fries. This simple change in preparation and plating made a world of difference in terms of how good the steak was. The GT steak was more flavorful, cooked evenly, larger in portion and didn't take away from the fries. The fries at GT also were vastly superior. Their seasoning and the aioli dipping sauce was just better tasting. The GT steak and fries are worth every penny of $24 and when compared to GB there is no contest.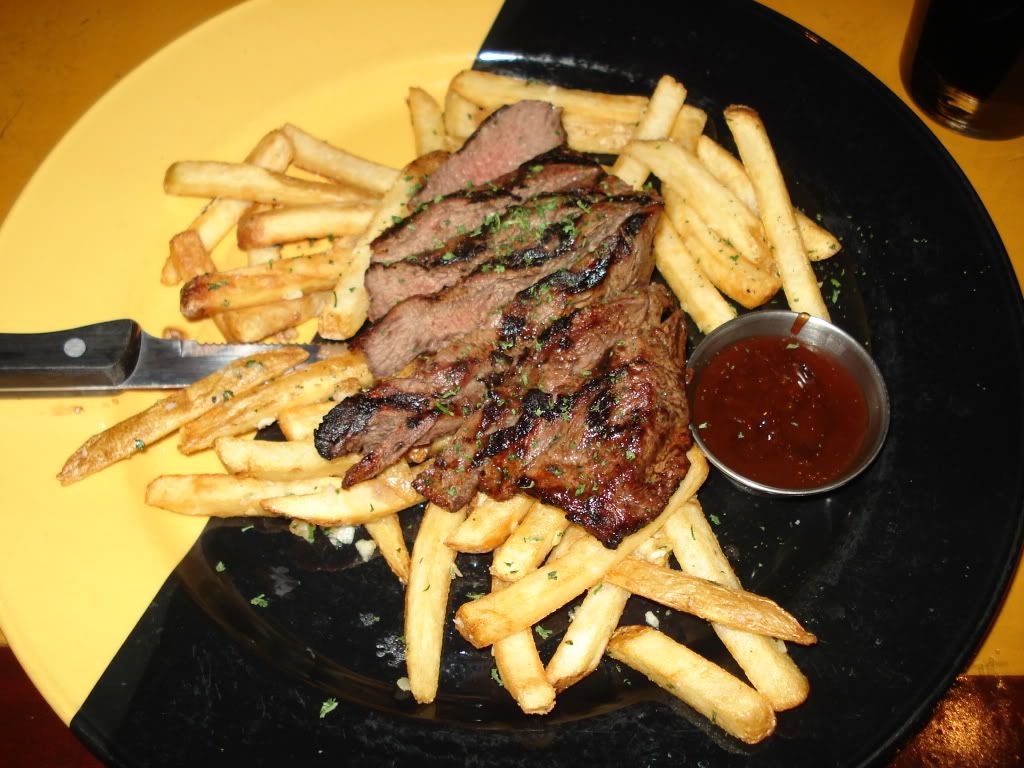 Gordon Biersch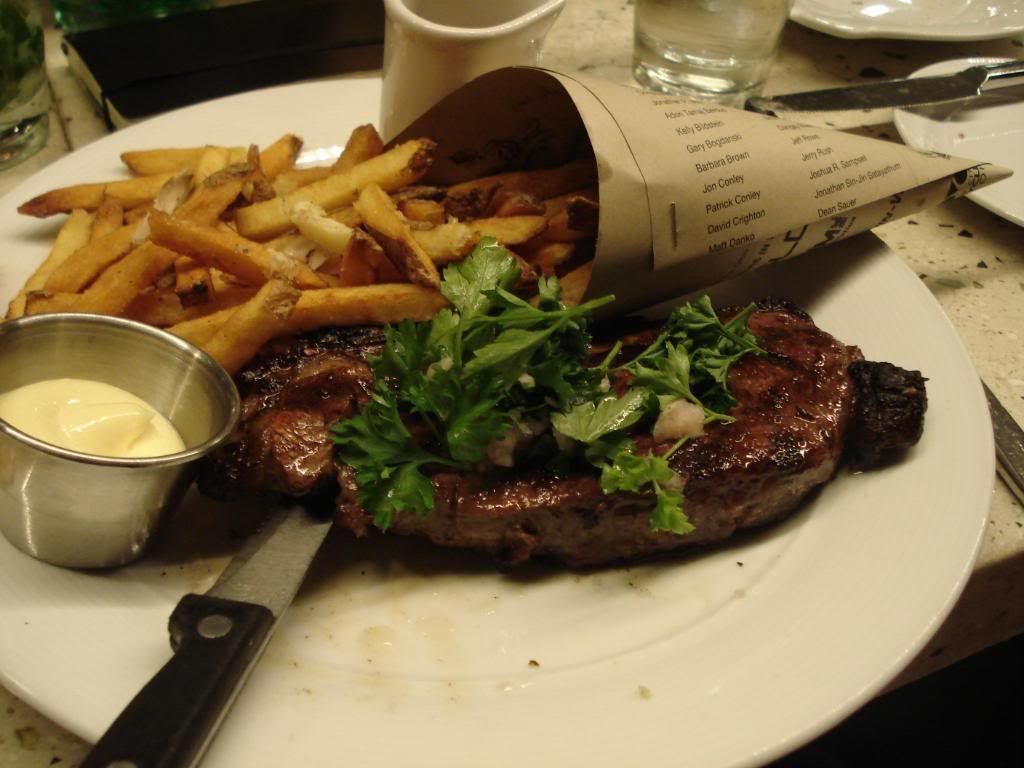 Greenhouse Tavern
I didn't totally dislike the Gordon Biersch meal, but I also wasn't crazy about it. I don't think I'd order it again considering the preparation, the flavor and the overall quality of the meal. I feel a more reasonable price would have been $15. Considering the menu pricing, food preparation, plating, and flavor I give Gordon Biersch a 2/5.
Drinks
---Gordon Biersch is a German style brewery. They offer Hefeweizen, Marzen, Pilsner, and a few other house brewed German styled beers. Other than their house brews they only offer Bud Light and Miller Lite, along with mixed drinks and wine. I had the Baltic Porter which was good and I will review it on my
Craftbeer Page
. Personally, I'd like to see them also offer some other craftbeers in addition to their offerings. Not everyone is a fan of German style beers and I think by offering something other than Bud Light or Miller Lite, they might bring in a larger craftbeer fan base. Drink selection and quality I'd give Gordon Biersch a
2.5/5
.
Atmosphere and Service--I liked that the restaurant had an open feel. The glass windows between the brewing area and the dinning area were a nice touch. The style is a little more upscale than your standard brewpub, but not up to a fine dinning restaurant. Our service throughout the night was good. Our two waiters were friendly and provided some insight into the menu, but not much. There were a few times when people had to wait for drinks, but other than that the meal from a service prospective went smoothly. 3.75/5
Overall---
I wasn't overly impressed by Gordon Biersch. I felt, as others did at the table, that the menu was overpriced and the food didn't reflect the pricing
.
The beer selection is limited to basically only house brews, which also really limits your clientele. Although our service was good, overall I'd give Gordon Biersch a
2.5/5
.