When we walked in, I checked in with the hostess and she said we had two options for seating. The first table she offered us was up front by the window and the door. The second option was to sit downstairs. I've never sat downstairs, or even been downstairs, so we had no idea what to expect. The girls immediately declined the upstairs seating because they were worried about being cold sitting right next to the door and the windows. As we were walking down the steps Chef Sawyer saw us, greeted all of us, and thanked us for coming to dinner again. We were then seated at bar style seating that was open and facing the kitchen. (The picture below was the view we had.) A very friendly conversation then ensued between the chef and I. I asked him if he knew I was coming. He said that he and the staff saw it on Open Table. I laughed and said he was making it hard for me to do a "secret" review. He also laughed and I said I wanted to do a "secret" review to see if my experience would be the same as last time. He then told me a little bit about his time in New York. He explained that in New York he was taught to try to know each person who enters his restaurant, but even more so, provide high quality food and service to everyone as if everyone was writing a review. I greatly appreciated his honesty, and his vision of equal quality for all is one that makes so much sense. It is actually the same vision that I apply in my job every day.
Food---With the Chef only feet away I asked him what I should order and he pointed me in the direction of their take on Surf and Turf. Their take on surf and turf contained braised beef, poached scallop, capon roulade, BBQ pork belly, fennel sausage and new potato and was priced at $24. The scallop was cooked perfectly. When the scallop was combined in the same bite with the pork belly it created one of the tastiest bites I've ever eaten. The broth you see in the picture smelled great and just lightly dipping each bite in it added just an extra layer of flavor. The beef and fennel sausage were also amazingly tasty, but to me the scallop and 'bacon' stole the show. The I only wish there were more scallops and pork belly because I could have eaten a whole plate full of just those two ingredients.
My Fiancee ordered what most consider a go to dish at the Greenhouse, The Steak Frites ($24). The dish comes with a grass raised Ohio beef strip steak, pommes frites, parsley, shallot mignonette and buerre rouge. The steak itself was cooked perfectly, excellent outside sear and wonderfully juicy inside. The pommee frites were crispy and seasoned perfectly with rosemary and garlic. Alone the pommee frites are good, but with the aioli dipping sauce they are simply perfect. The only thing my fiancee wasn't crazy about was the shallot mignonette, which she simply moved off to the side.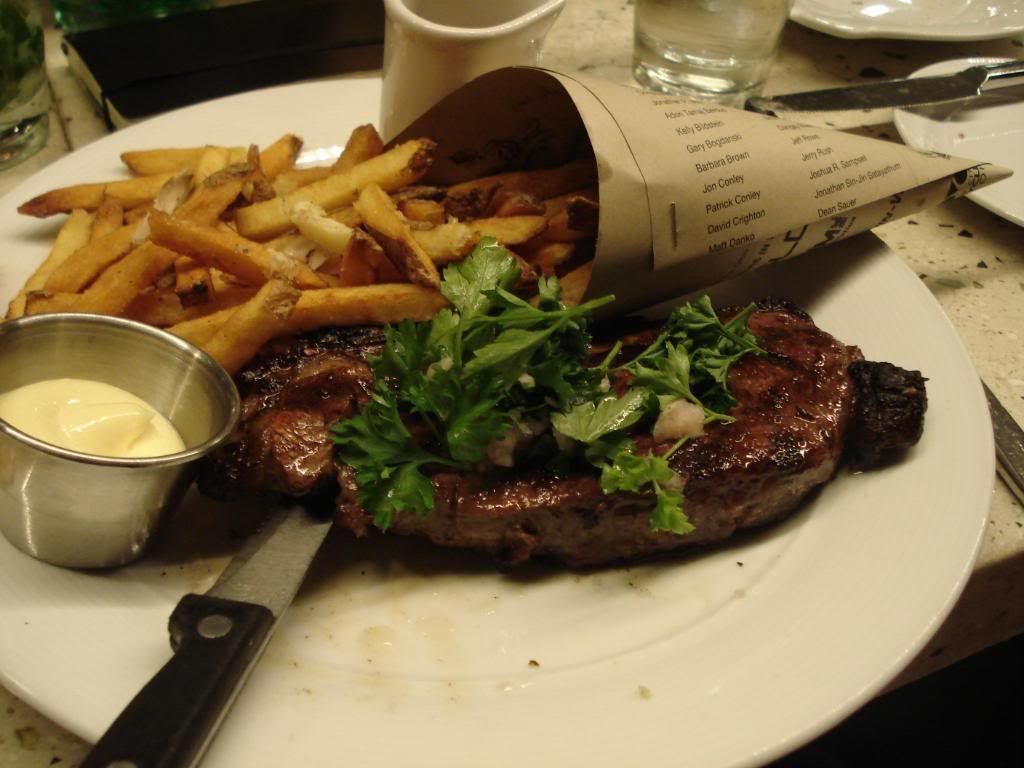 I didn't have to chance to sample the other couples dishes, so I am not going to personally review them. They ordered the Grass Fed Ohio Beef Burger, and the Fresh Market Fish Bacalao which came with braised oxtail, mussels, clams, and grilled bread. Here are pictures of there dishes just to give you a visual. They both said they loved their meals and would order them again.
When we were finished with our meal, Chef Sawyer brought us a little treat. He said he knew how much we raved about the wings before so he brought us over a small plate of the Crispy Chicken Wings Confit with roasted jalapeno, lemon juice, scallions and garlic. These wings are simply great.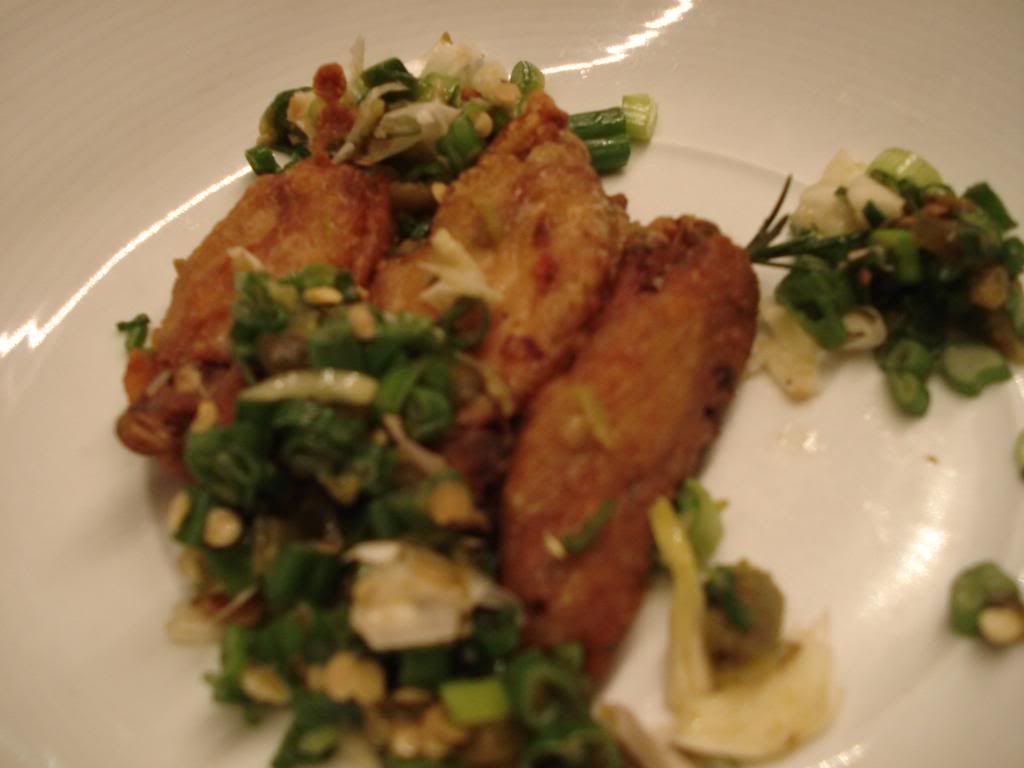 He then brought us a different plate of wings that are prepared in a "CCR" style. He explained that CCR stands for Cure, Confit and Recook. The recooking part involves grilling the wings to give them a crispy outside texture. These wings were flavored with at a sesame BBQ sauce. When you picked up the wing the meat fell off the bone it was so tender. The flavor was out of this world. It honestly was the most tender, most flavorful wing I have ever eaten. We highly suggested that this be a regular menu item!
After the wings the girls wanted something sweet so they ordered the Apple Tart that came with Jeni's Caramel Ice Cream ($7). An open faced apple pie paired with creamy caramel ice cream...need I say more? Just writing this and looking at the picture is making me want more of this great desert.
Once again Chef Sawyer and his talented staff made some amazing food. Across the board every dish we ate was cooked properly, seasoned perfectly and plated in a very tasteful manner. Overall the food at Greenhouse Tavern gets a 5/5.
Drinks
---Greenhouse Tavern continues to offer unique seasonal craftbeer options both on draft and in the bottle. They don't have the largest selection on tap, but what they do have at any given time is sure to please most craftbeer drinkers. Last night I had the 21st Amendment Oak Aged Hop Crisis (Review coming soon),
Bell's Hopslam
, and a
Southern Tier Krampus
. Reviews of each beer can be read by clicking on the link or by going to the
Craftbeer Review Homepage
. I have not seen Krampus on too many menus in Cleveland so this was a nice find! I also had a chance to talk craftbeer a little bit with Chef Sawyer and it is clear that he is also passionate about the world of craftbeer in addition to his love of food. If you are not a beer drinker don't worry, both wine and mixed drink options are available in their fully stocked bar. They were willing to recreate a specialty drink that we had there previously but not on the menu. Drink selection and quality earns a
4.75/5
.
Atmosphere, Service and Overall
---Sitting in the basement is something that all patrons of Greenhouse Tavern should do at least once. You right there sitting in the kitchen watching every dish be prepared. Here are a couple shots right from where I was sitting.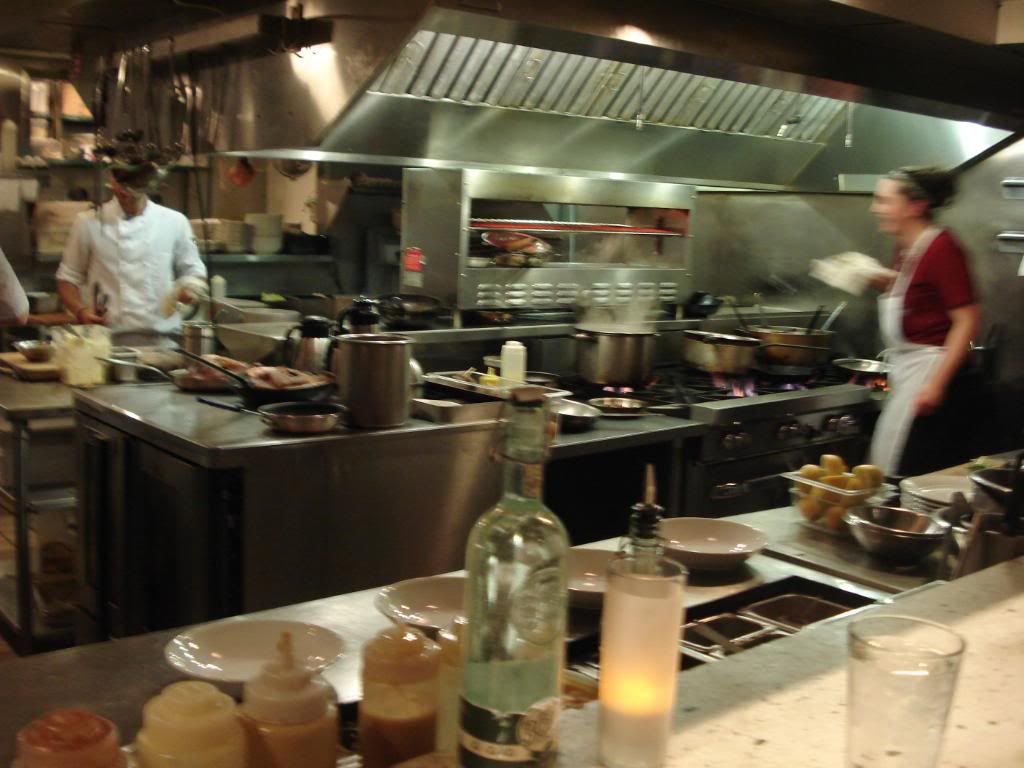 The atmosphere is full of energy, you feel like you are watching a reality TV show, only it is even better because it is live and in person. Orders were being called out by Chef Sawyer while his talented staff called them right back to him and then got right to work. Each person in the kitchen was focused and working hard. There was a real sense of teamwork and pride in the kitchen. Great looking dishes were flying out left and right. Sitting here was also fun because the people cooking the food were very friendly and talked to each of us throughout the night about food. They also answered any questions we had about ingredients or preparation. With these seats, the dining experience and service was outstanding. Food, drinks, everything was quick and friendly. A funny side note was that our waitress grew up only 30 minutes from me back in PA! Atmosphere and service were both top notch
5/5
.
Overall
---Our experience at the Greenhouse Tavern was once again amazing. Being able to see the food being prepared and seeing the behind the scenes action of Greenhouse Tavern was awesome. What is really unique about this is that anyone can have this experience! Just make a reservation and ask for the chefs table downstairs. It is clear that Chef Sawyers passion for food is equally shared by everyone in the kitchen. Overall, Greenhouse Tavern gets a
5/5
.