This is a review from Sonis Restaurant in New Castle, PA! For 18 years I grew up and lived in a small town in Western Pennsylvania. This weekend I went back there to see my 5 year old niece in the Nutcracker. (She clearly was the star of the show!) Before the show my family went out to dinner at Sonis Restaurant with her fathers's family. My parents and sister were talking about my new blogging experience and I thought it was fitting to do a review of my dinner experience!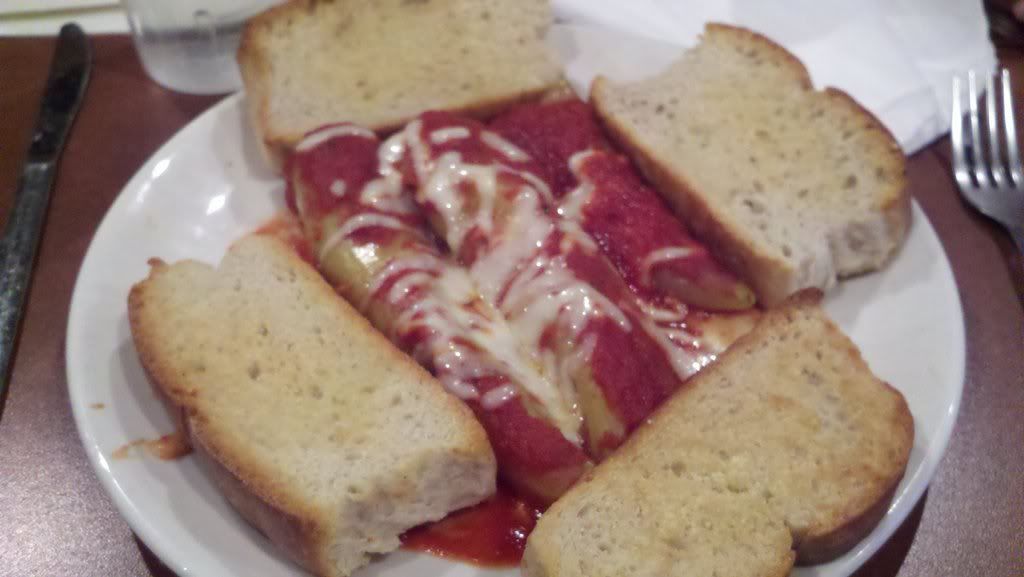 Food---For an appetizer my girlfriend and I ordered the stuffed banana peppers. The peppers came stuffed with pork and Italian sausage, and topped with a homemade sauce and melted mozzarella. The peppers were also served with four thick slices of garlic toast. The banana peppers were average in terms of heat, but were very flavorful. The sauce was sweet and tangy, and complimented the mildly spicy peppers very well. The garlic toast was well seasoned and very crispy, and made scooping up the sweet sauce a pleasure. Overall I was pleased with these stuffed peppers and would order them again.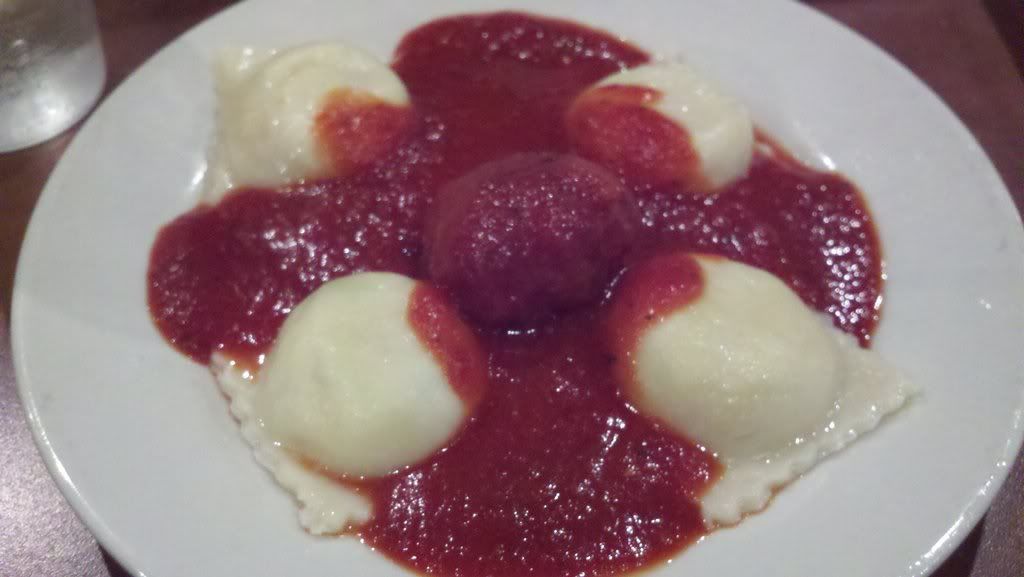 For my entree I ordered the cheese stuffed ravioli. These ravioli were not made on site. They were produced by a local homemade pasta producer that does make some very high quality ravioli. Even though they were not not fresh made, they still had a great ricotta, garlic, and oregano blend. The sauce was the same as on peppers and was sweet and tangy. It went well with the pasta and ricotta. I appreciate how much cheese was stuffed into these ravioli. There is nothing I dislike more than getting a ravioli that is all pasta and very little cheese! The meatball that came with it mostly got consumed by the small 5 year old monster that was seated next to me, but from what I tasted it was seasoned well, but lacked a little interior moisture.
My girlfriend ordered the roasted red pepper and chicken Florentine The penne pasta came topped with wilted spinach, roasted red peppers, Parmesan cheese and olive oil. This dish was very pleasing to our palates. The peppers were properly roasted and full of flavor. The spinach was soft in texture and complimented the dish nicely. The chicken slices in the dish were moist and flavorful. Overall this dish was a hit and was one that we would both order again. Overall our meal was very good. Sonis is a restaurant that is serving very tasty food at a very reasonable price. In terms of small town New Castle I applaud Sonis efforts and I would give them a 4/5.
Drinks--Pennsylvania is very different from Ohio, not every establishment serves alcohol. Since this restaurant did not serve any alcohol, I will not judge that portion of the meal. NA/5.
Overall--Considering how many people were there and half of them were my family, I thought our server did a great job of taking our orders quickly and in a very friendly manner. She was very prompt in checking on our table and filling up our waters. She was also very mindful of the fact that my sister and niece needed to leave rather quickly to make it to the show early. I was very pleased with our service and I hope that more restaurants in New Castle will take notice of what quick, friendly service is all about. Sonis is a very quiet and quality place to eat at in New Castle. I do wish that more of the pasta would be homemade by the restaurant themselves, but that being said we all enjoyed our food. In rating this restaurant in terms of New Castle, PA restaurants I would give Sonis a 4/5.