I had to find a quick meal tonight before I had to return back to work for a 7pm meeting...YES, a very long day. The requirements for dinner were that I had to find a place close to work that had something good to eat and after reading some other bloggers thoughts on
Dewey's Pizza
in Cleveland Heights I thought that I'd give it a try. So consider this my first "Mini-Review."
Here is short summary that the Founder of Dewey's write on the webpage. "So my vision for Dewey's was to create a neighborhood spot with great micro beers on tap, great pizza and salads, and a group of cool, genuine, like minded people making the food and providing authentic hospitality to our patrons. Of course, great music was absolutely mandatory. The Muzak guy really had no chance. I hope you enjoy it. I certainly have had fun creating it. Andrew E. DeWitt Founder"
Again, this review isn't going to be as long as others I've written since I really had to eat and run, but I did get a chance to see the place, experience the food and see what drinks they offered.
Food--Dewey's is all about Pizza...they have many different options from Red and White Pizza to create your own pizza. They come in 3 different sizes, basically small, medium and large and they have just about every topping you can think of to add to your pizza. I however went a different route. I saw the word Calzone and said that's what I want! The Calzone comes standard stuffed with Mozzarella and Ricotta Cheese. I had the option to add 3 additional stuffings for no additional charge. I choose Prosciutto, Green Peppers and Red Onions. My Calzone came out pretty fast which had me a little worried about the dough being cooked enough. There were a few thicker pieces on the ends that were slightly doughy, but for the most part the thin dough of this Calzone was cooked properly. The amount of cheese inside could have been more for my personal liking, but that's just me being a lover of cheese. The amount of peppers, Prosciutto and onions were all very plentiful. The calzone's size to me was perfect…I ate every bite and it left me full but not bursting at the seams. It also came with a side of marinara sauce that was decent in flavor with a little kick to it. 3.75/5
Drinks--I was somewhat impressed by Dewey's craftbeer selection. When I think of a Pizza place I don't normally think of them having 6-7 taps of craftbeer and 4-5 different selections of wine to pick from. As far as the craftbeer is concerned they had handles of Bells, Rouge, Lefthand, Great Lakes, and 2-3 others. Since I had to eat and run my choice of craftbeer was the Bell's Two Hearted Ale. A review of it can be found by clicking on the link of the brew or by visiting the Craftbeer Page. Overall Dewey's isn't a bad place it you are looking for a good beer with your pizza or calzone! 3.75/5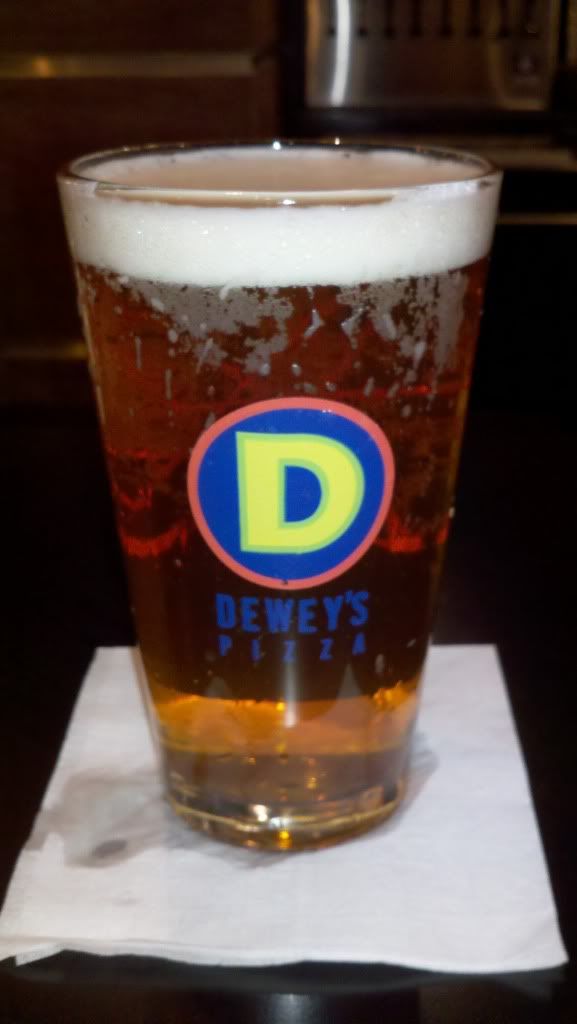 Overall--This was a very quick meal...in and out within 30 minutes so judging service is sort of hard, especially considering I was there at a time when there was honestly 5 people in the restaurant and at least 6 staff members standing around the bar (where I chose to sit). The service was good, the bartender got my beer and water right away, and my food came out promptly. I plan on going back for dinner one night with my girlfriend when I'm not in a rush to get somewhere and when I have time to really assess the overall quality of the pizza and service. The Restaurant was very modern, new and clean. I felt like it was an inviting place to eat a meal in unlike some dark and not so clean pizza places I've been in! 4/5