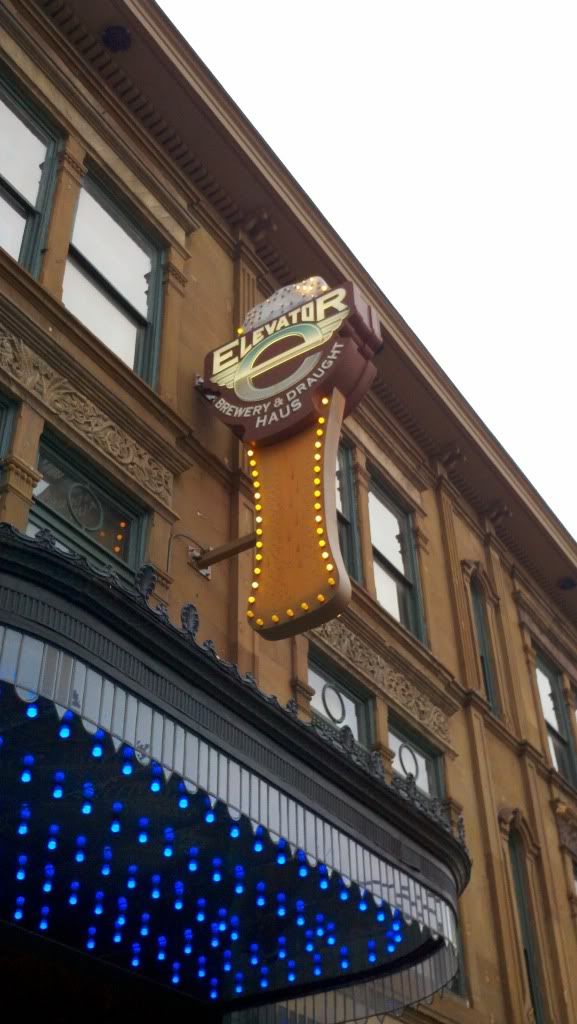 For something new we decided to make a trip to Columbus Ohio for the evening to do a little brewery hopping. We picked Elevator Brewery and Draught Haus for dinner. Elevator is in the historic Columbia building which was built in 1897 by the Bott Family. The buildings original function was that of the Bott Brother's Billiards and a gentleman's saloon. What makes Elevator special was their decision to leave the space virtually unchanged. The Bar and Bar-back are absolutely stunning!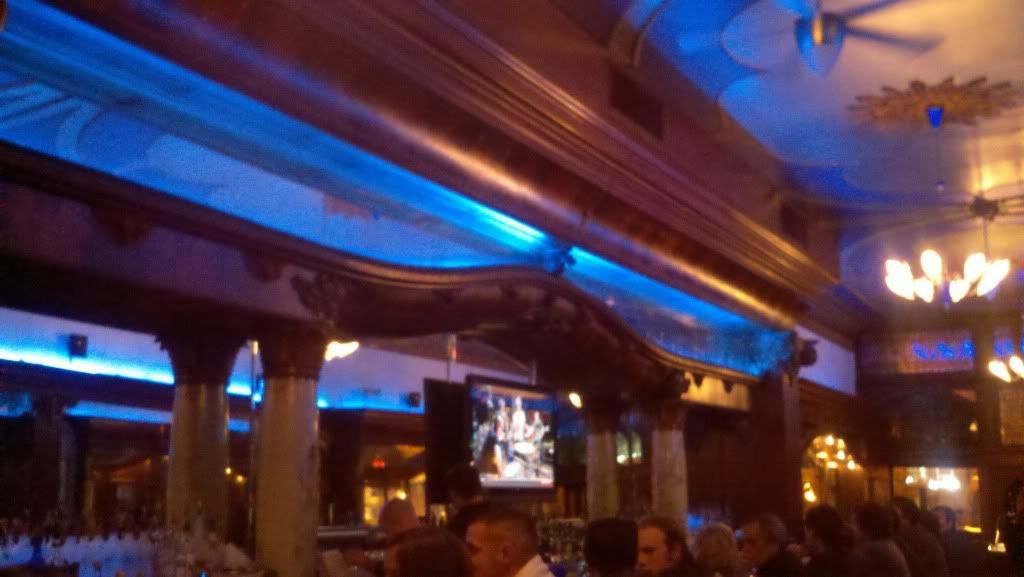 Food---I will start by saying that this is not your ordinary brewery menu. In fact, the menu is more of an upscale restaurant style than brewery. For my meal I went with their signature dish which is their Surf and Turf Rock. The meal came with a 4oz. filet, 3 jumbo scallops and 3 large shrimp. All proteins are raw and they are presented on a Finnish Tulikivi firestone. The stone is heated to 450 degrees and this type of stone holds the temperature long enough to cook every single bite to perfection. The meal also came with a choice of salad, my choice was the wedge, and finally a side, which I choose the chipotle cheddar mashed potatoes. You'll also notice 3 dipping sauces, which honestly were not needed because I don't like to mask the flavors of great seafood and meat with sauces.
The steak was trimmed very well with virtually no fat left on it. It was cut to 1inch thickness. The steak was top notch and since I was in charge of cooking it I was able to ensure each and every bite was cooked to my liking. The 3 scallops were huge and the 4 shrimp were slightly larger than average. The seafood was marinated in a slight butter sauce and when cooked on the stone their flavors just exploded. As far as the proteins go this meal was a huge hit for me. The wedge salad, which I somehow forgot to take a picture of, was good, but nothing special. It did come with some bacon pieces which of course added some flavor to the salad. The dressing was a creamy house blue cheese, which I was only slightly a fan of. The chipotle cheddar mashed potatoes had a slight kick to them because of the chipotle, but I would have liked them to be a little more evenly heated. Overall everyone was pleased with their meals, but a couple of the dishes were slightly overpriced for what they got. I thought My meal for $30 was priced just right. 4/5
Drinks
---Going to a brewery I expect to find at least one brew that is going to knock my socks off and make me say "I really want another one of those." Tonight, that didn't happen. Before I get into more specifics I know that this Brewery does rotate what they brew and I do know that they do brew some amazing beer. I've been to Elevator once before only for drinks during a conference. When I was first there I had two amazing brews. A coffee flavored porter and a bourbon aged stout. Both made me say "I really want another one." Back to my current night of drinks. I had a sample of something horrible and three different brews that all underwhelmed me. The sample that was brought to the table was a barrel aged pomegranate ale. I couldn't get past two sips of this beer. To me it was like drinking heavily sweetened pomegranate juice. I passed it around the table and the overall feeling was this beer was just horrible. My first real beer was the
Three Frogs IPA
. As a hop head I wanted to love this, but I just couldn't because something was missing. A floral smell and taste that was good initially but the after taste just didn't leave my palate wanting more. My second choice was the
Mogabi
. This brew was American ale, brewed with white wheat and Amarillo hops. It was a good American ale, but the wheat side of this beer masked the citrus flavor a little too much. Finally I had the
Procrastinator Dopplebock
. If I had to pick a favorite of the night this would have been it. My problem was that again after drinking about half of it I was bored. You can find an in-depth review into the flavors and into the brew itself by clicking on the beer's name or on the
CraftBeer Review Page
.
3.5/5
Overall
-
--The Restaurant itself is visually stunning. I had a great appreciation for the details and the styles that were left unchanged in this structure. The waiter was friendly and had no problems bringing a few samples of beer to people could make selections. He even brought a small sample of the soup for my friends fiance to try. She ended up loving it and ordered it...the sample really paid off!
If you are looking for somewhere new to eat and you are in Columbus the Elevator Brewery would be a great place to start. Even though they didn't have beers that I loved I know they are very capable brewers based on a prior tasting. I look forward to going back to Elevator in January when I return to Columbus for a conference.
4/5