Our good friends who just arrived back from their honeymoon asked us us to see if we wanted to go out to eat and have a few craft beers with them. I suggested that we try Market Garden Brewery, since I've not been there. We arrived on a Wednesday night to find they were pretty busy. We were told that it would be 30-45 minutes before we were seated, but that quickly turned into only about ten minutes and our experience began.
Food
The menu at Market Garden offers something for everyone. Starters include chicken wings, soft pretzels and a scotch egg! They also offer sandwiches, burgers, tacos and larger entrees such as the steak frites that I ordered.
Before we ordered our main courses our table decided to try the wings. We ordered half a dozen mild ($6.00) and half a dozen hot wings to start. The wings were soft and tender on the inside and well seasoned. We all really enjoyed the flavors of the mild wings and the hot wings. The wings were served with a very different sauce than the usual ranch or bleau cheese. It was very rich and we all noticed a goat cheese flavor to it.
I also much note that my friend requested all "flats" which the kitchen accommodated with no problem. If we had one wish, we all would have liked the skin on the wings to be crispier instead of the somewhat soggy texture.
Mild Wings
Hot Wings
After enjoying our wings we moved onto the entree round. I decided to go with the Steak and Gravy Frites ($19.00). I ordered my steak cooked to a medium temperature. When my meal arrived, the steak was served precut as shown in the first picture. I noticed right away that my steak was under-cooked, more along the lines of very rare as the second picture shows. I showed the waitress when she returned to check on us and she did offer to take it back and have it cooked more. I decided to eat it as is because with it already being cut, I didn't want it to be refired and dry out. Outside of the steaks temperature, the flavor of it was very good and the seasoning was spot on. I also enjoyed the thin cut fries and the gravy that went along with them. The gravy had chunks of sausage integrated with it which I enjoyed, but I don't think it complemented the flavor of the steak. I did enjoy my meal, but the execution on my meal was slightly off.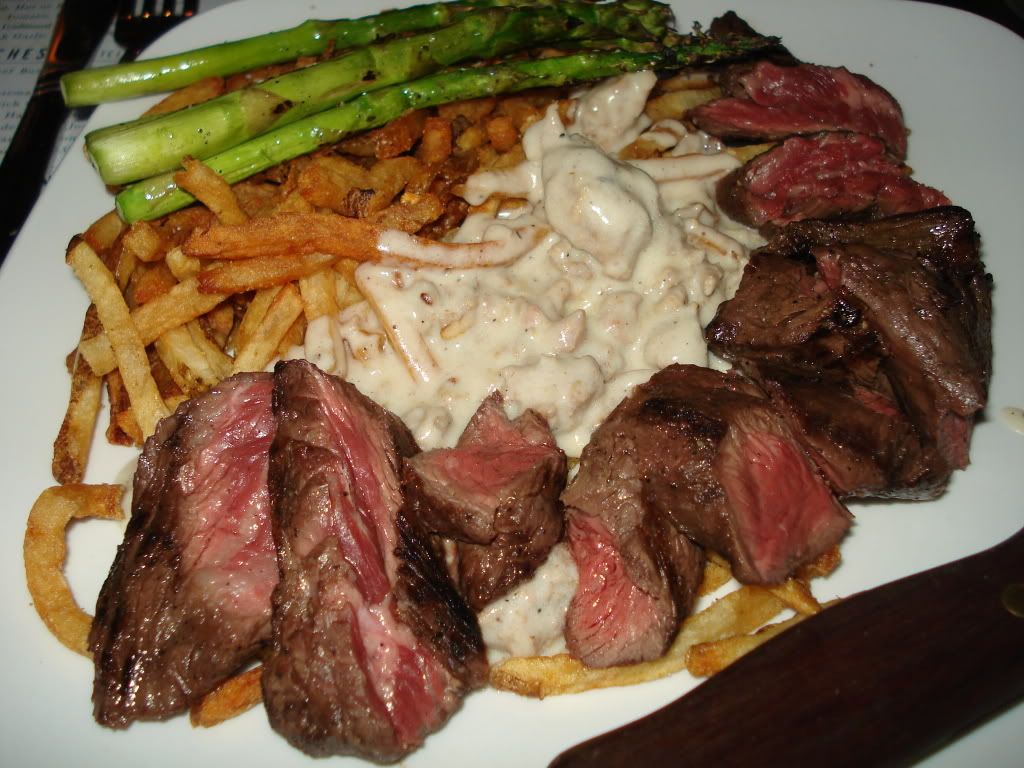 My fiancee ordered a burger that came topped with chimichurri, and underneath had lettuce, tomato and red onion. She ordered her burger cooked to medium temperature but it was slightly overcooked to a medium well, close to well done which rendered it slightly dry. The bun on this burger was very good. It had a heavy dense texture and was very flavorful. The chimichurri was good, but she wished there was a little bit more because it really helped to add a little flavor and moisture to the slightly dry meat. The fries were well seasoned with salt and the mayo and mustard aolil complement the fries and burger very well. Overall she thought it was a very average meal and was not too crazy about her burger.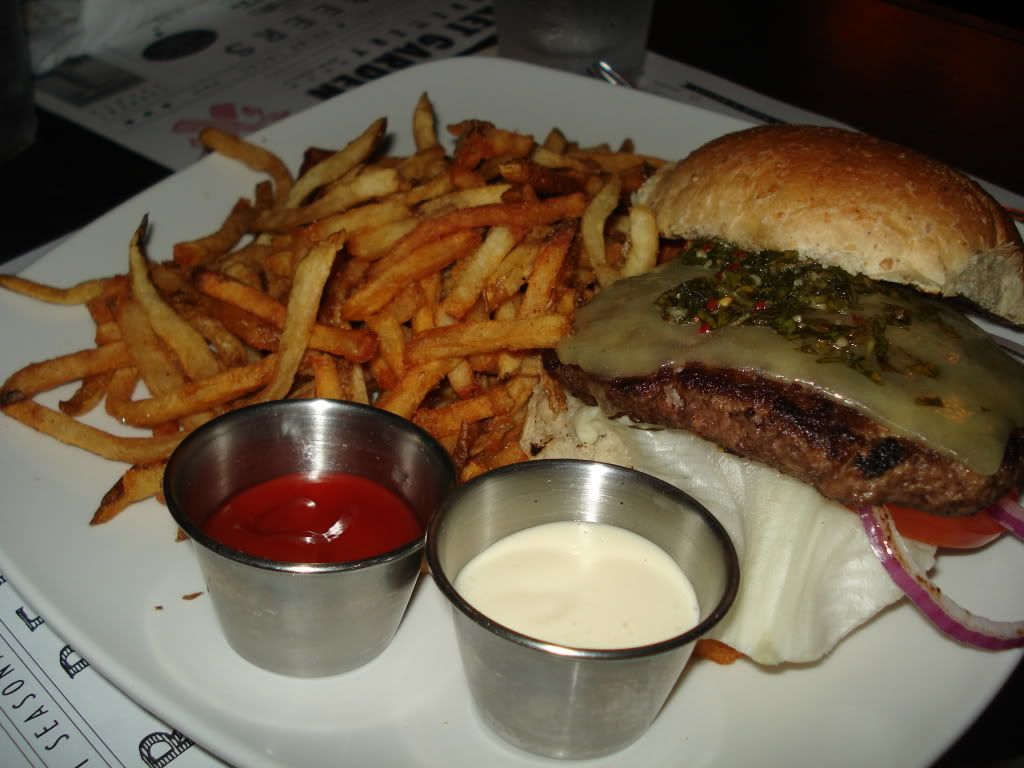 Overall, our food experience was average tonight. Market Garden has a very promising menu. I'm sure as more time goes on, they will be able to improve and tweak it as they have done across the street at
Bar Cento
. I know that when you first open a restaurant kinks have to be worked out, so I look forward to going back to Market Garden later this summer or early this fall to see how things progress. Overall Food wise Market Garden gets a
3/5.
Drinks
This drink section will only be talking about one thing....Craft Beer. Being a brewery we were very excited to try the beers, especially the Cluster Fuggle IPA and the Viking Pale Ale. Unfortunately they were out of both of these beers, which really disappointed myself and my friend. We got past our disappointment and we got a sampler for our table. Here were the beers available, minus the Viking Pale Ale but including a Summer Ale not listed on the board.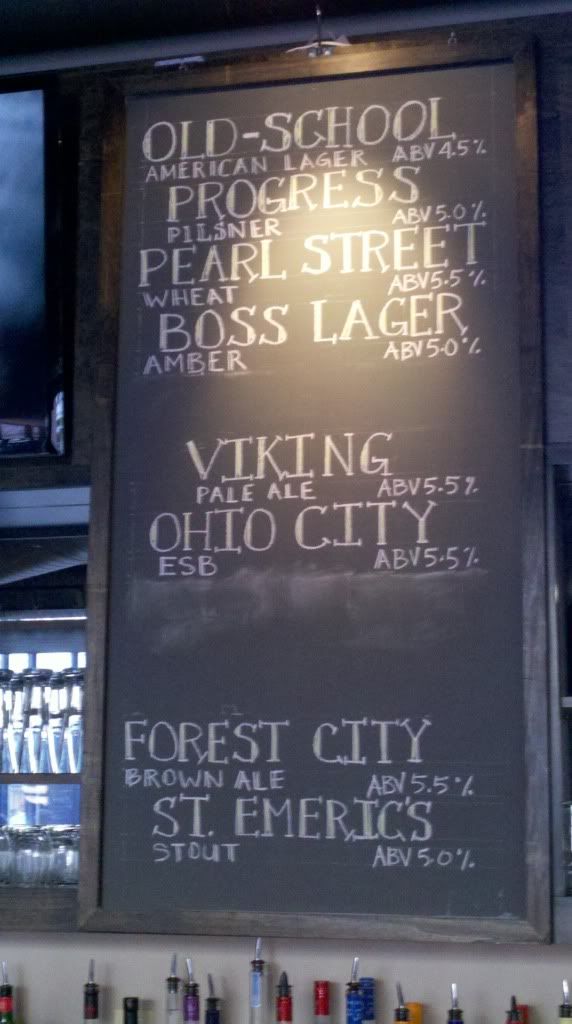 You could pick 6 four ounce samples for the sampler. I picked the Stout, Brown Ale, Wheat, Amber Lager, American Lager and the Summer Ale. When I cashed out I was told that the total was $16 (The price of the sampler was not posted anywhere we could see, nor were we told before ordering it)! I was very shocked by how expensive 24oz of beer was considering the 16oz pints were selling for $5-6 each. Basically each 4oz sample cost $2.66. It also got me thinking about how much samplers are at other area Breweries. Here are just a few examples.
Willoughby Brewing charges $8.00 for eight 4oz samples = $1.00 per sample
Fat Heads charges on average $1.50 per 4 oz sample, so Six samples would cost $9.00
Great Lakes charges a flat $15.00, which buys you a 4oz sample of everything they have on tap, which last night was 10 beers = $1.50 per sample
I appreciate and like the fact that they offer customer choice on the sampler, but that to us didn't justify $16 for only six 4oz samples of beer which were no higher than 5.5%ABV. I hope to see them adjust this price to something between $10 and $12 which would be more in line with other area breweries.
In order from left to right--Summer Ale, American Lager, Amber Lager, Wheat, Brown Ale and Stout
Now onto the beers themselves. The first thing we noticed across the board was the carbonation levels on all of the beers seemed high, especially the stout and brown ale. The tables favorite of the bunch was the wheat. The banana flavor in it was just enough without it being overpowering. The Stout came in 2nd place for us even though we wished the carbonation was less and I thought the flavor for a stout was somewhat lacking. The Lagers were good, but then again nothing that is going to make the craft beer geek go crazy. The least favorite of the night was the Summer Ale because it lacked flavor. Overall, I understand where Market Garden is trying to go with their beers. The focus is to create good, session beers for the masses to enjoy. Not one of these brews weighted in over 5.5% ABV, which is a testament to their mission to create session beers. I do look forward to trying the Pale Ale and the IPA soon to see what their flavor profiles are. I commend Market Garden for coming out of the gates brewing so many different beers. I hope to see as time goes on that they can dial in the recipes and produce session beers with slightly more flavor. Will I be back at Market Garden for another pint or three...You bet. Overall Market Garden gets a 3/5 for Drinks.
The venue itself is hard to beat. Vast amount of space inside and out, combined with hand crafted wood and concrete provide a wonderful setting to eat and drink with friends. We all absolutely loved the space. Our service during our meal was good, not great. Our waitress did provide us with a few food recommendations, but not a ton of detail or descriptions to go with it. There were also a few times when we needed her for either drinks or to place an our entree order and we had to wait a while because of how busy the restaurant was. She did comment that the kitchen was super backed up and did apologize for the wait. Our experience was what we expected at a new restaurant and we hope to see improvements when we go back. Atmosphere gets a 5/5 and service for the evening gets a 3/5.
At only three weeks young Market Garden is off to a good start, but going through the growing pains of any new restaurant. The key now is to see growth the next time we go back in terms of food, craft beer and service quality. Being such big fans of Cleveland and Craft Beer we all hope that Market Garden doesn't just do well, but we hope they thrive! So the question you are asking after reading this....should I go there? Yes, by all means get down to Market Garden, support local food and craft beer, and help this new establishment grow, but understand they are still young and have room to grow. Cheers!
For more information on the Beer Side, check out
Bobby Like's Beer and his feelings on Market Garden Brewery
.