On April 19th my fiancee and I attended the AMP150 Great Lakes Beer dinner. Chef Ellis Cooley is a huge supporter of Great Lakes Beer. In fact, he mentioned to us that his favorite beer in the world is Conway's Irish Ale. Before dinner, Chef Cooley talked to everyone about how he was given an opportunities to try every beer used to he could really dial in the menu to the beer. I was very interested to see how he would work his culinary magic with the beverage that I love so much Craftbeer, so on with the review!
The Amuse
The first dish brought to the table for the evening was the Hop Sausage and Mustard. It was paired with Great Lakes Burning River Pale Ale. The sausage was prepared with the pale ale and some cascade hops. The sausage had a wonderfully crispy outside and a soft and flavorful inside and the mustard added a little kick to the plate. I thought the the Burning River paired well with the sausage because the mild hoppiness of the beer complimented the flavor of the sausage.
First Course
The first official course was the Spicy Mussels and was paired with Holy Moses White Ale. The mussels were cooked perfectly and the broth was packed with garlic, fresh cilantro and red peppers. The red peppers really gave a kick to the dish which was washed down wonderfully by the White Ale. A beer with this type of light profile is a perfect pairing for a bold and spicy flavor because it doesn't get in the way. I was very happy to eat both my portion and my fiancee's portion, who is not a fan of seafood!
Second Course
The next course to come out was the Warm Beet Salad, with Bacon and Blue Cheese Flan. It was paired with one of Great Lakes newest offerings, Doppelrock. This dish was absolutely amazing. The Blue Cheese Flan was light, creamy and yet packed such a bold and savory flavor by itself. Once the flan was paired with the fresh, warm beets and bacon a perfect balance of sweet and savory struck your palate. Then I took a sip of the Doppelrock to see how it would work with this amazing flavor profile. The rich caramel and burnt brown sugar flavors that Doppelrock possessed not only complemented this dish, but elevated it to another level. This dish exemplifies why Chef Cooley is truly a genius in the kitchen!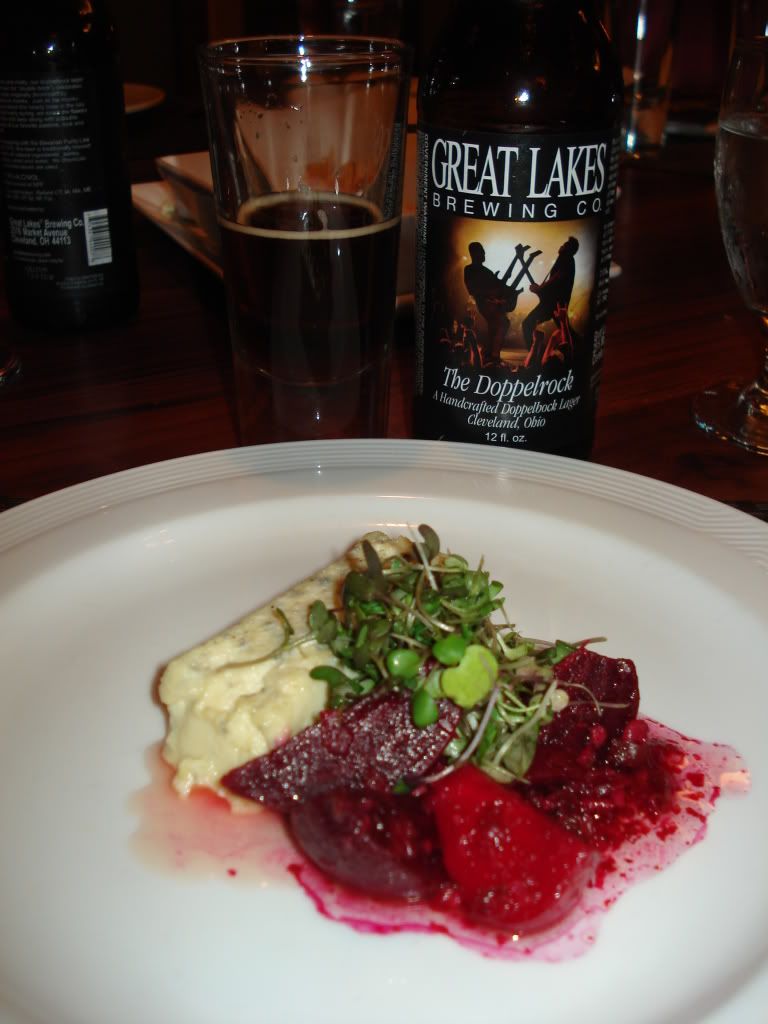 Third Course
Our next course was the Mushroom Gnocchi and Smoked Beef Tongue paired with Elliott Ness. First, the positive. The beef tongue had good flavor, was well seasoned, and had a dense texture to it. The sauce also was not overpowering with mushroom which I liked, and had a nice consistency to it. The downside to this dish was that the gnocchi didn't survive the trip from plating to our table. The gnocchi simply disintegrated into the sauce. The Elliot Ness was is a good beer, but for me it really didn't do much to complement this dish. After dinner we did ask Chef Cooley about this dish and he explained that the gnocchi didn't hold up as they planned.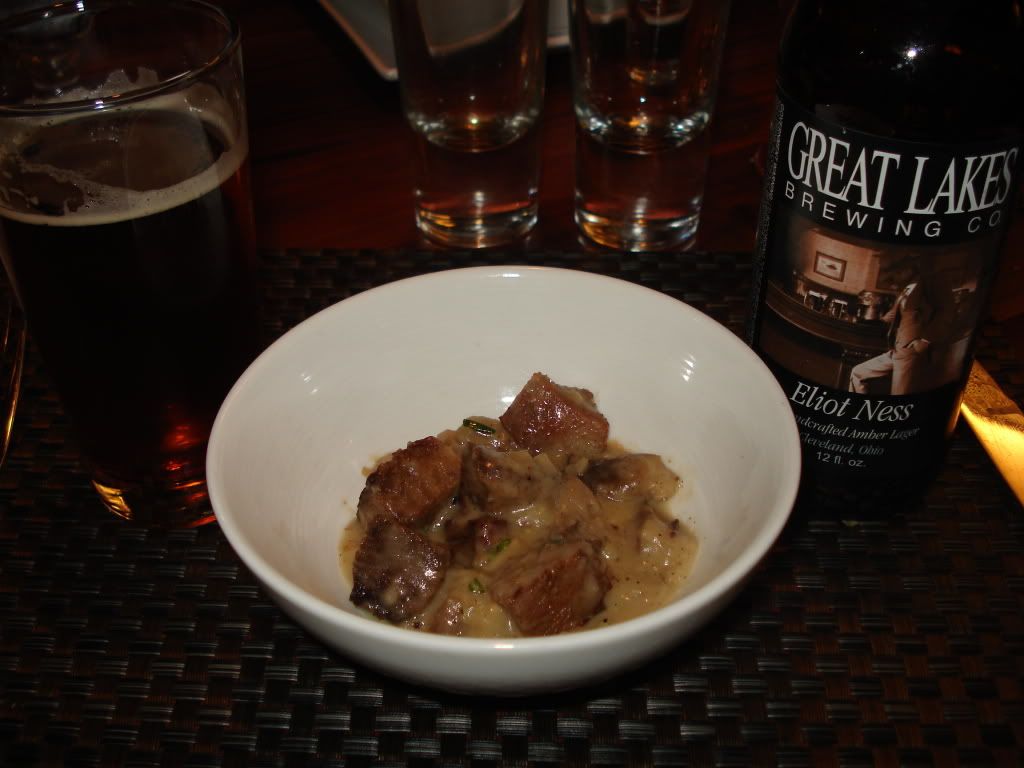 Fourth Course
Roasted Hake with Bouillabaisse and Aioli paired with Great Lakes flagship beer, Dortmunder Gold. The fish was perfectly cooked, flaky and moist. The bouillabaisse had a wonderfully spicy note to it. The Aioli was made using the Dortmunder Gold and was rich, creamy and had a little of the Dortmunder taste in it. This was another dish that when all of the components were consumed together everything worked to each others advantage. This was another excellent food and brew pairing.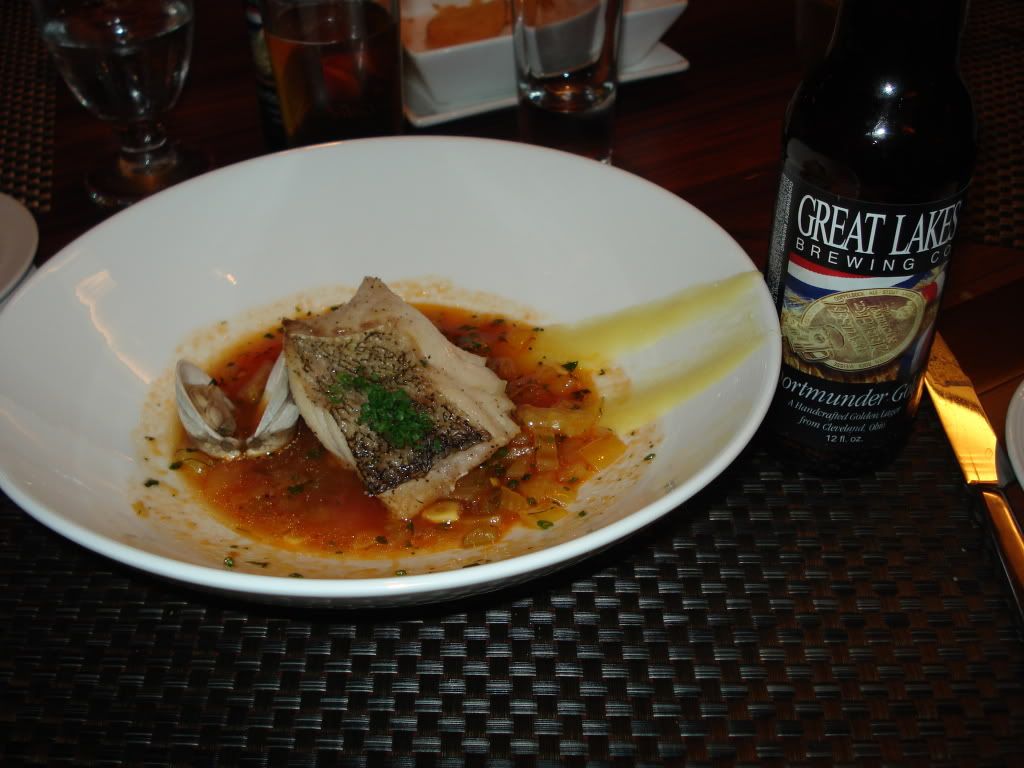 Fifth Course
Our final main course was the Pork Shank with Sauerkraut, Beer Gravy and Tasso paired with Commodore Perry IPA. I must say that I was really looking forward tot his course because of my love with IPAs paired with a protein such as pork. I'm happy to say that I was not disappointed. The hoppier nature of the beer really paired well with the lightly seasoned pork. Pork is naturally a little saltier so I was glad Chef Cooley had a light hand with the salt on this dish. The beer gravy was delectable and overall this dish was another example of food and beer that works together very well.
Dessert
For dessert we were treated to an Oatmeal Stout Beer Float with Jennies Vanilla Ice Cream. A picture is worth a thousand words! This was out of this world good, and I plan on making some of these at home this summer to cool me off!
So what were the best Food and Brew pairings of the night?
Course #2--Warm Beet Salad with Doppelrock
Course #5--Pork Shank with Commodore Perry
Course #1--Spicy Mussels with Holy Moses
Dessert--Beer Float with Oatmeal Stout
Amuse--Hop Sausage with Burning River
Course #4--Roasted Hake with Dortmunder Gold
Course #3--Mushroom Gnocchi with Elliott Ness
My slogan is "
Every Great Meal Deserves A Great Beer!
" and Chef Cooley delivered on that throughout the entire meal. I love to see a chef take craftbeer so seriously because I am a firm believer that craftbeer and food can be paired just as well, if not better than wine!
Disclosure: Chef Cooley extended an invite to my fiancee and I to attend this event. The thoughts and opinions expressed in this review are 100% my own and are in no way influenced by Chef Cooley's invitation.