After reading
The Chubby Cook's Review
of
Fire Food and Drink
I made a reservation for my fiancee and I to go there for her birthday dinner. I've always to wanted to try Fire, but for some reason I never managed to make it there. Fire is a member of
Cleveland Independents
. This is an organization of locally-owned and operated restaurants that all share one thing in common. Each restaurant is dedicated to the local community and each strives for excellent food and service. These are the types of restaurants we both love to try, so on with the review!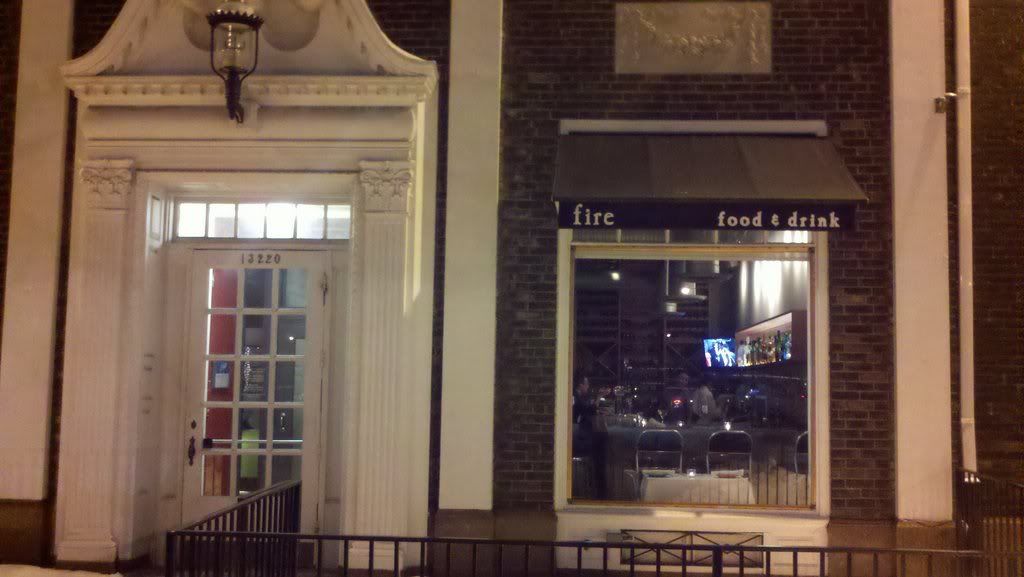 Food--- Fire offers a variety of modern American cuisine. Dishes include steak, seafood, chicken and even some vegetarian options. There really was at least one dish for every type of foodie. While looking over the menu, a paper bag of Tuscan style bread was brought to the table along with olive oil dipping sauce. The bread started off the night with an ultra crispy crust, which I love, and a soft and fresh inside. This was a great way to start our meal because I am huge fan of this style of bread.
After snacking on some bread and looking over the menu we decided to share an appetizer of fire-roasted banana peppers. They were stuffed with house made sausage and topped with a tomato ragout. The sweet banana pepper itself was perfectly roasted and soft. It was not spicy at all, which was perfect because my fiancee doesn't care for super spicy dishes. The sausage stuffing had wonderful flavors of basil, garlic and oregano with just a hint of heat. The tomato sauce that topped the peppers was sweet and tangy. We both loved the different flavors from the mild heat of the sausage to the sweetness of the tomato sauce. Although the peppers were wonderful, if we had one small grip it was that we both felt $11 for this appetizer was slightly over priced considering we only got two stuffed peppers.
For the entree round of dinner I picked the pan roasted Idaho trout that came atop a crispy potato cake and braised kale. The Kale was drizzled with a house made bacon-shallot brown butter. The first thing I did when I got the dish was I removed the fish from a top of the crispy potato cake. I did this because I wanted to retain the crispy texture of the cake, and I didn't want the juices from the fish to soften it up too much. I'm very glad I did this because by doing so this dish really had a chance to let different textures shine. The fish was cooked absolutely spot on. The skin on both sides was crispy, while the inside was moist and flaky. I loved that this fish was lightly seasoned because trout has excellent flavors by itself. The crispy skin and soft inside of the fish went perfectly with the crispy potato cake. The outside of the cake was definitely extra crispy while the inside remained soft and warm. The cake had a mild salty flavor to it which I think paired well with the fish. Finally, the braised kale was simply amazing. It was soft, but not chewy, and the flavor that the bacon shallot brown butter added to it was out of this world. The presentation was simple, yet effective. There wasn't anything flashy. The fish was the clear star of the dish and the focal point of the presentation. Overall, my dish can be summed up with two words: Texture/Flavor. Both were aspects were perfectly executed and for a price of $24 I'd order this dish again and again.
My fiancee had a hard time ordering because there were a few dishes she was torn between. She eventually settled on the crispy duck confit. It came with herb spaetzle, sauteed spinach and a red wine-jus. She asked that the mushrooms be left out which was no problem at all. The duck itself was bone in and skin on. The skin was crispy and packed with flavor while the meat was super tender and juicy. To my delight the skin was something my fiancee wouldn't eat so I gladly scooped it up and ate it. The amount of flavor and seasoning just in the skin was mouth watering. The herb spaetzle had great texture as well. It was a little crispy, and paired with the soft sauteed spinach it really became a complete dish. The presentation of this dish was much more artistic. The duck was still the star, but the other components added even more to the visual nature of the dish. Overall, this dish had great flavor and even though my fiancee didn't care for the skin, she still loved this dish. At a price tag of only $14 for the one leg of duck we really thought this might be the best deal on the entree menu. (The two legged dish would be $26.)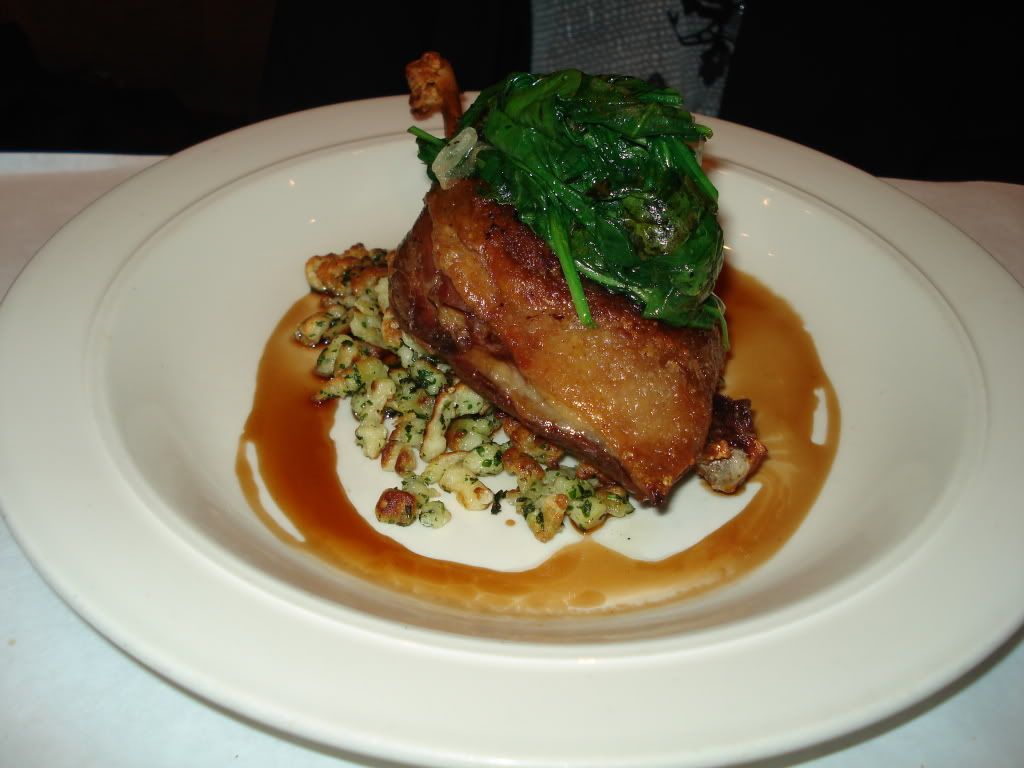 To end our meal a small sweet treat was brought to our table. Two bite sized chocolate chip cookies for a sweet end to a great meal. Overall, the food quality and taste were outstanding. If the appetizer was slightly over priced, we thought the entrees were spot on. Overall we loved the food and would go back any day! Food taste, quality, and value gets a 4.75/5.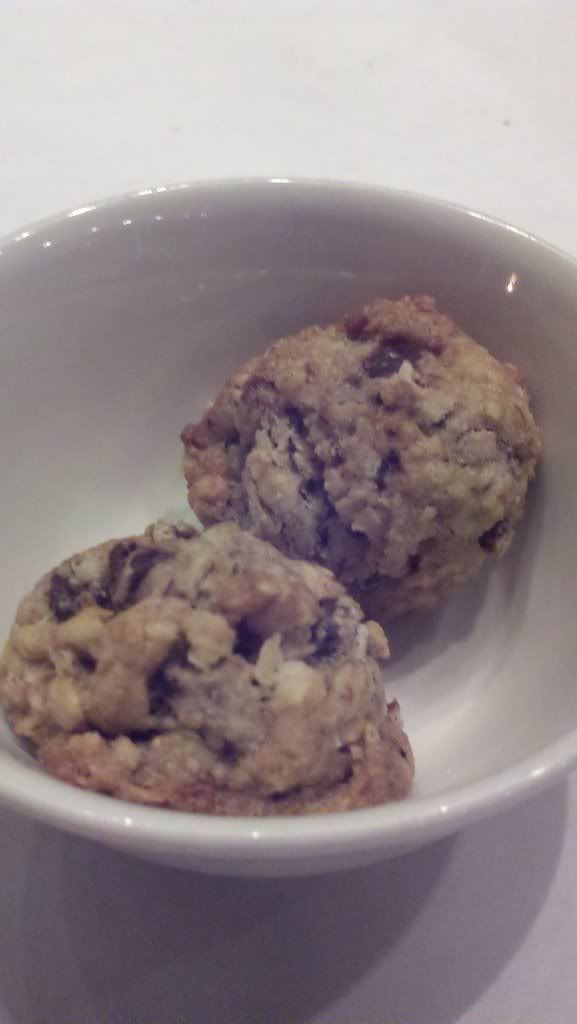 Drinks
---The drink menu consists of beer, cocktails and wine The menu featured 5 specialty beers, 12 bottled beers and 7 draft beers. The craftbeer options were good, but there was clearly some room for improvment. My choice during dinner was the
Southern Tier IPA
. You can find a review of it by clicking on the link or by visiting my
Craftbeer Review Page
. The cocktail list was all priced at $12.50 each and there were 8 different options to choose from. My fiancee's choice for the night was a glass of Cabernet that was priced at $8 a glass. Fire's strength in terms of drinks is definitely their wine list. I'd like to see Fire increase their beer offerings a bit to meet the needs of the growing popularity of pairing beer with meals. Drink quality and selection wise Fire gets a
3.75/5
.
Atmosphere, Service and Overall
---Fire is a very cool and trendy place to eat. I appreciated that the decor reflected the period in which the buildings were built, yet it contained a modern flair as well. Exposed brick, high beamed ceilings and the wonderful old hardwood floors really give Fire a great feel. Foodies beware, Fire can get a little cramped and you might find yourself in shared seating or very close to another table. That being said we had no problems on a somewhat busy Sunday night with noise or comfort. The service throughout the evening was great. Complementary valet parking is offered which is a very nice thing when going to Shaker Square. We were kindly greeted and were seated right away. Our server was very knowledgeable about the menu and described in detail several options that we were considering. She was prompt with drink orders and our appetizer and entrees came out in perfect timing. Overall, we couldn't have asked for better service and a better quality meal. We both were very impressed with Fire and would highly recommend it to anyone looking for a great meal and great service. Chef and owner Doug Katz has really done a great job with
Fire Food and Drink
, Overall Fire gets a
4.5/5
.
(A note to readers, if you buy the
Cleveland Independents
Deck you could save $10 on your meal like we did! Check out their website for details.)