Browns vs Steelers, Ohio State vs Michigan, Red Sox vs Yankees, Celtics vs Lakers, Miami vs Florida State.....what do these all have in common? Well, they are all bitter rivalries that people will argue to the death about. Another one that I am going to stir up is the Primanti Brothers Overstuffed Sandwich vs the Panini's Overstuffed Sandwich.
I was born and raised about 40 minutes north of Pittsburgh, PA. Even though I was in Steeler and Pirate country my father had an ounce of sense in him and raised me a Browns and Indians fan. All that being said,
Primanti Brothers
is the original overstuffed sandwich and I fell in love with it when I made trips down to Pittsburgh for sporting events or to visit friends!
Here is a little history from their website: Back in the 1930's, Joe Primanti opened a cart in the Strip District selling sandwiches to truckers on the go. It was decided that he should expand to a small restaurant on 18th Street. The hours were 3am to 3pm to accommodate truckers and the like. His brothers, Dick and Stanley, joined him along with nephew John DePriter who was the cook. According to John, "One winter, a fella drove in with a load of potatoes. He brought a few of 'em over to the restaurant to see if they were frozen.
I fried the potatoes on our grill and they looked pretty good. A few of our customers asked for them, so I put the potatoes on their sandwiches." And the rest is history. The Primanti Sandwich: a true taste of Pittsburgh.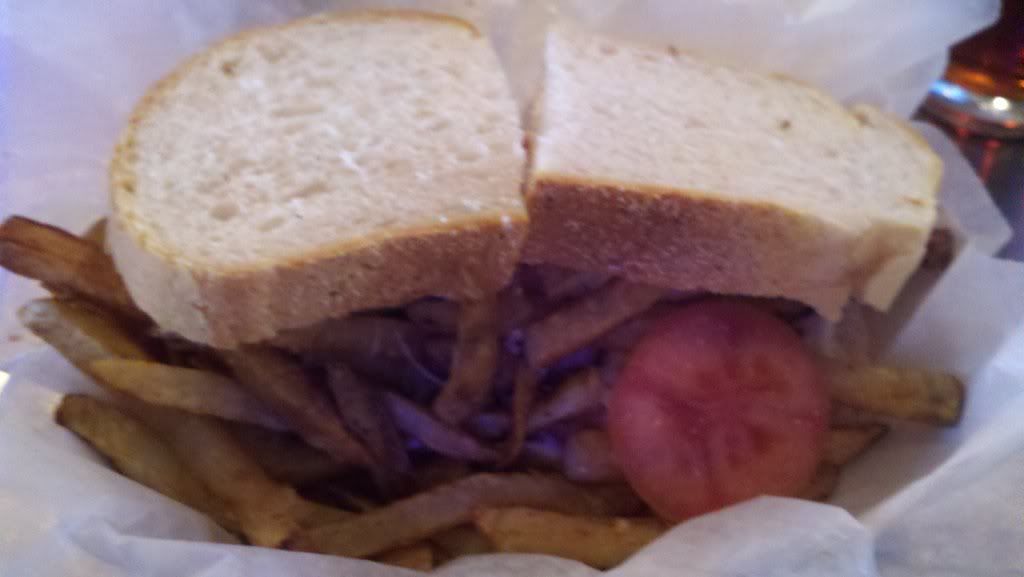 Food
--I am not going to sit here and compare Panini's to Primanti because honestly they are both good in their own right, but to eat the original of anything always has a place in my heart! What I can tell you is just how good my Capicola & Cheese
sandwich was. The sandwich starts out with two thick slices of fresh Italian bread and then is packed with sweet capicola, and piled high with fresh cut fries, tomato and provolone cheese. I don't get the slaw because I don't like any form of coleslaw. What I like most about the Primanti Bros version of this sandwich is the type of capicola they use and how much you get on just a regular sandwich. The sweet, not hot, capicola is mouthwatering good, especially combined with fresh fries. I know this is a pretty simple sandwich, yet there is something so satisfying about it. When it comes to an overstuffed sandwich Primanti Brothers wins hands down in my book. I know I am bias but this sandwich gets a
5/5
!
Drinks
--Primanti Brothers had a decent selection of craftbeer on draft. A few selections from Samuel Adams and of course good old Yuengling! If you have never had Yuengling it is worth the trip to PA because they do make some very good beer! The rest of the bar is stocked for mixed drinks. I still wish they had more PA craftbeers on draft or available in bottles. Drinks wise they get a
3.75/5
Overall
--We sat at the bar because the restaurant was packed with a wait at lunchtime. There were two bartenders working. The service at the bar was quick and efficient. We were served our beers quickly and our order was also taken quickly. Overall the service at the bar was exactly what you would expect at a sports bar. This would be a great bar to watch a sporting event because they had flat screen HDTVs everywhere. (I just recommend not wearing a browns hoodie like I did because I got more than a few dirty looks!!) Overall service and restaurant quality
4/5
.
If you love this style of sandwich as much as I do, I urge you to make the trip to a Primanti Brothers just once to try it. I would recommend the original restaurant which is in the Strip District at 46 18th Street. The nearest location to Cleveland is the one I ate at over the holidays which was in Grove City, PA right next to the Grove City Outlets.